Majestic - The World's Largest Ship - White Star Line - 1922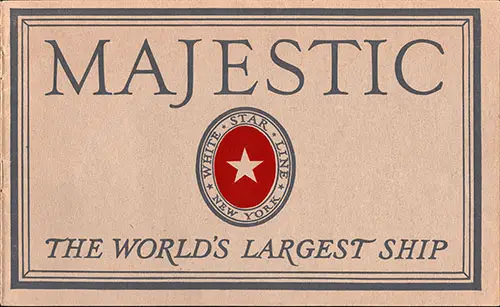 Front Cover of 1922 Brochure Majestic - The World's Largest Ship from the White Star Line. GGA Image ID # 11dcb226ec
One of the most exceptional brochures issued by the New York Office of the White Star Line covers the first-class accommodations with a visual record of the grand luxury of the public areas, dining saloon, lounges, and more.
Majestic: An Ocean-Borne Palace
MAJESTIC, the world's largest ship, heads The Magnificent Trio, carrying out the schedule of weekly sailings of the New York-Cherbourg-Southampton service of the White Star Line. The two other members of this splendid group are the world-famous Olympic and the beautiful Homeric.
As the world's largest ship, the Majestic has a claim to distinction apart even from that of her celebrated associates, while the proportions and elegance of her passenger accommodations are in consonance with her size and dignity.
Majestic is 956 feet long, zoo feet broad and 102 feet deep, with nine decks, 1,245 staterooms and capacity for 4,100 passengers. As at present measured, she is 56,551 gross tons register. Her displacement (weight) is approximately 64,000 tons. She has turbine engines of 100,000 maximum horsepower, with quadruple screws.
She has crossed between New York and Cherbourg in 5 days, 5 hours and 21 minutes, and to Southampton in 5 days, ii hours and 3o minutes. All her regular crossings are made in less than six days. The impressive size and superlative luxury characterize her public apartments, while her staterooms represent the highest standard of excellence in equipment and facilities for service.
First Class Accommodations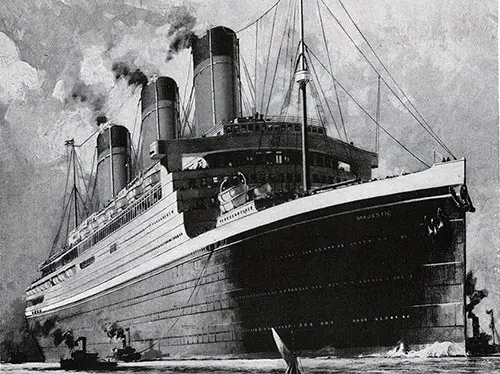 The RMS Majestic Crosses Between New York, Cherbourg, and Southampton in Under Six Days. GGA Image ID # 11dd2fe06c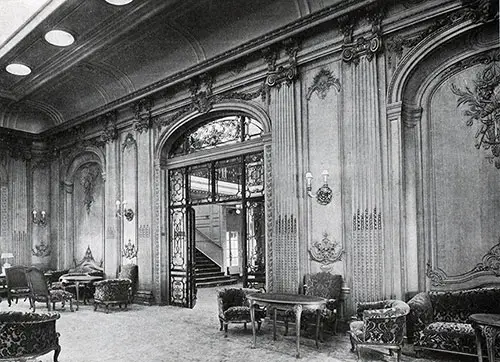 Entrance to the Lounge Showing Oak Paneling. GGA Image ID # 11dd98d6a1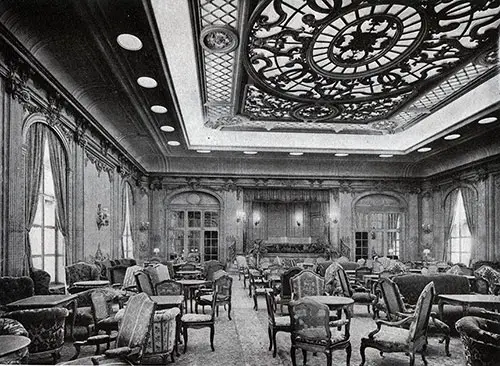 Lounge Ceiling of Carved Wood and Crystal. GGA Image ID # 11ddb1af63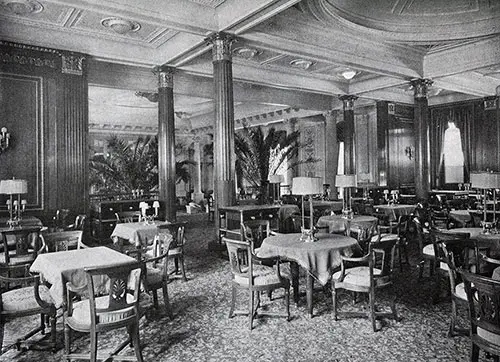 Elegant à la Carte Restaurant. GGA Image ID # 11de246492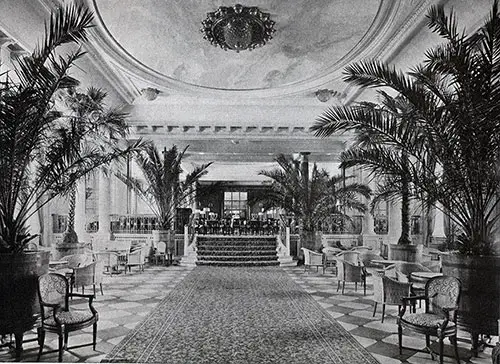 Palm Court Showing Approach to Restaurant. GGA Image ID # 11de26b9a7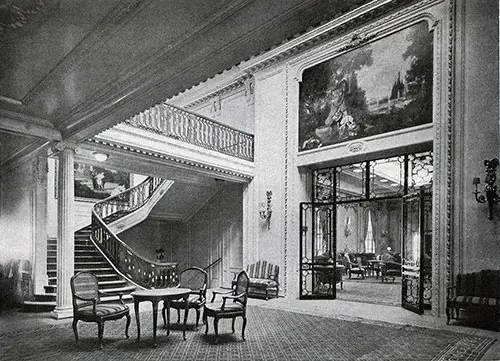 Foyer and Entrance to First Class Lounge. GGA Image ID # 11de98b86e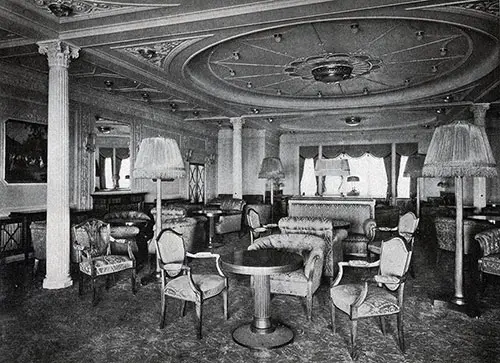 Spacious Reading and Writing Room. GGA Image ID # 11df21d54a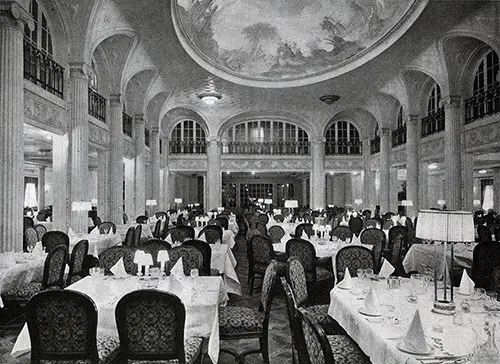 Lofty Central Hall of First-Class Dining Saloon. GGA Image ID # 11df70188a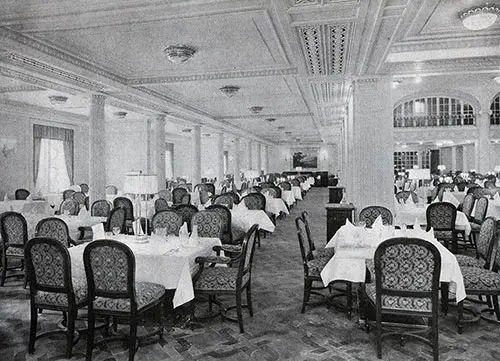 One Side of the First-Class Dining Saloon. GGA Image ID # 11dfb39f9e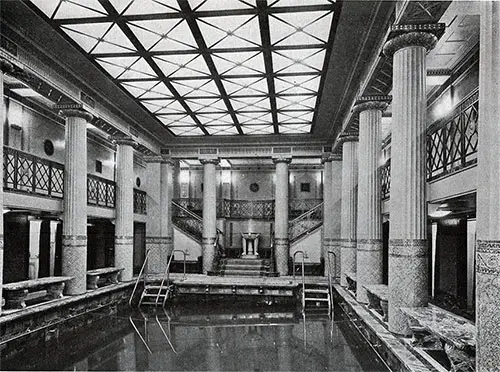 Splendid Pompeian Swimming Bath. GGA Image ID # 11dfdefadc
Old-World Hall Style Smoking Room. GGA Image ID # 11dffb4056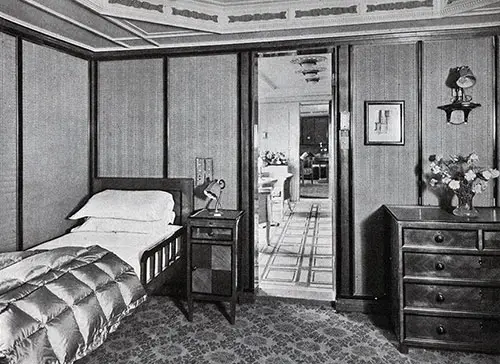 View Through Sun Verandah in a Regal Suite. GGA Image ID # 11e01718e5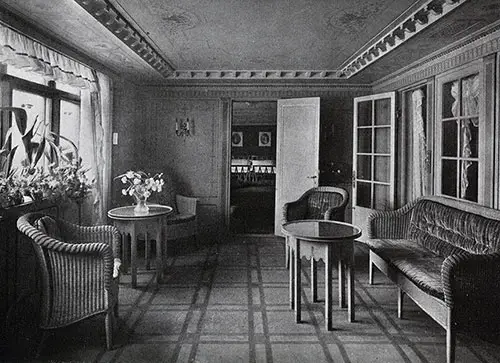 Sun Verandah with Window Flower Garden. GGA Image ID # 11e03f4f26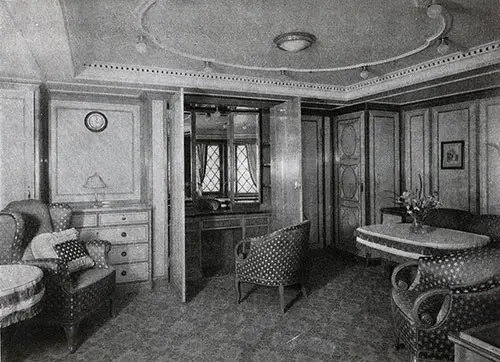 Drawing Room in One of the Many Suites. GGA Image ID # 11e0480d9d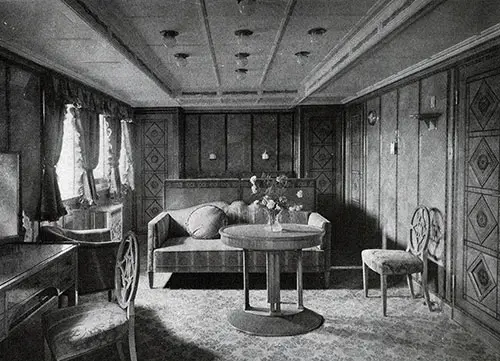 Regal Suite Bedroom with Inlaid Walls. GGA Image ID # 11e04ae780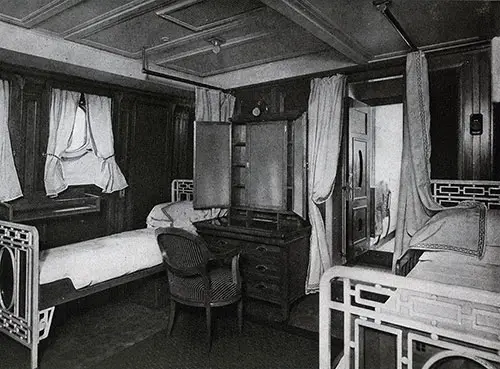 Two-Bed Stateroom with Connecting Bath. GGA Image ID # 11e07b69b1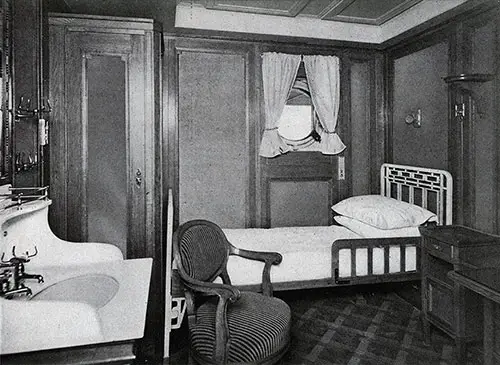 Typical Single-Bed Stateroom. GGA Image ID # 11e0887830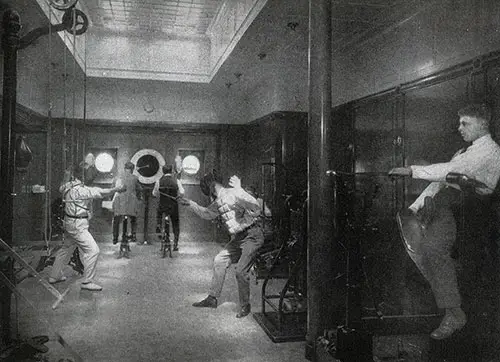 Passengers Exercising in the Gymnasium Using Varied Equipment. GGA Image ID # 11e0bb0a39
Second Class Accommodations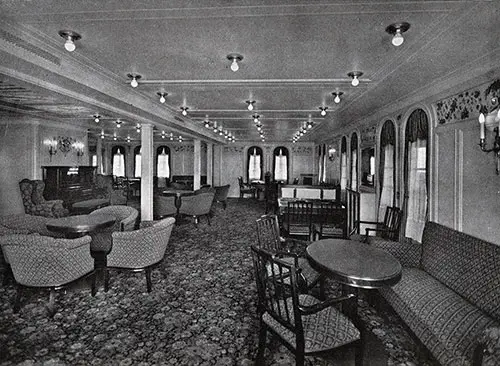 An Attractive Second-Class Lounge. GGA Image ID # 11e0d4c196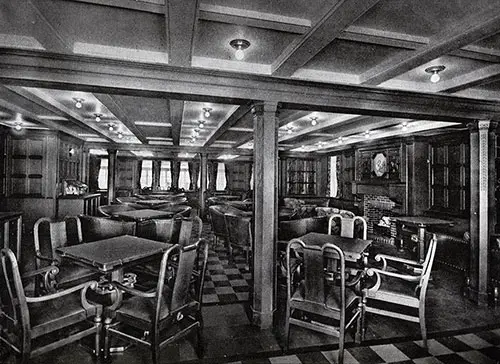 View of the Second-Class Smoking Room. GGA Image ID # 11e0d58e3d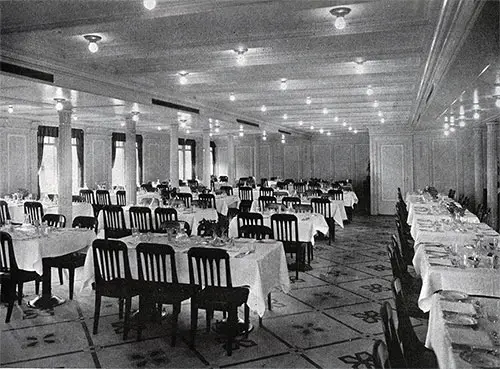 Second Class Dining Saloon - Light and Airy. GGA Image ID # 11e1244ea4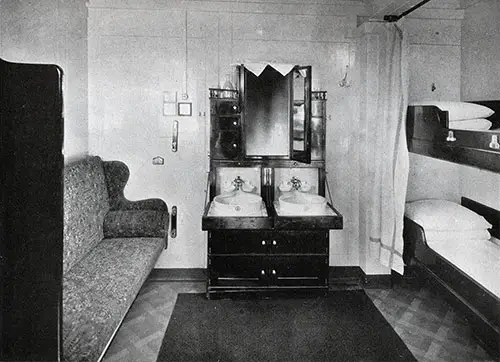 Second Class Stateroom with Outside Light. GGA Image ID # 11e146fbb0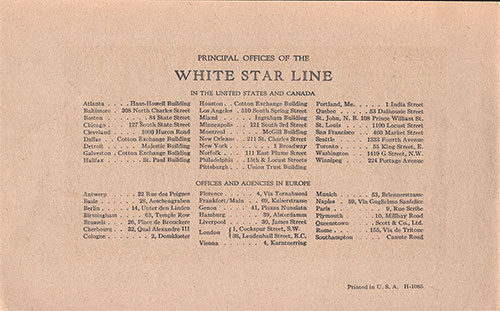 Principal Offices and Agencies of the White Star Line. GGA Image ID # 11e1ada5f8
Brochure Information
Date of Publication: Undated but believed to be 1922 - the year White Star Line took over the former Hamburg America Line SS Bismarck
Published by: White Star Line, New York
Publication Number: H-1085
Dimensions: 20.2 x 12.5 cm