American Line Transatlantic Service - 1907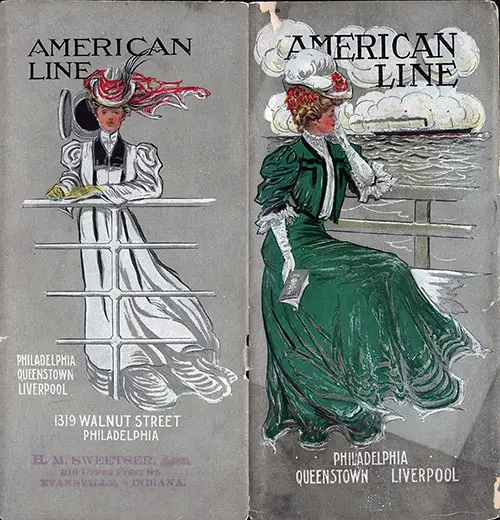 Cover of American Line Philadelpha - Queenstown - Liverpool Brochure 1907. GGA Image ID # 1144c2a3f7
American Line has specially arranged to accommodate passengers who want good food and service, moderate speed, and the best accommodation the steamers afford at a reasonable cost.
The International Mercantile Marine Company
With its various Services, the American Line offers such a choice of routes, rates, ports and accommodations that no one can fail to find what will exactly suit his most exacting requirements.
If he desires to sail from New York, Philadelphia, Boston, New Orleans or Canada, he can be accommodated. If he wishes to land in Queenstown, Liverpool, Plymouth, Southampton Dover or London, or Cherbourg or Antwerp, he may have his choice; or if he prefers to disembark at the Azores or Gibraltar or at a Mediterranean port, he can do this also.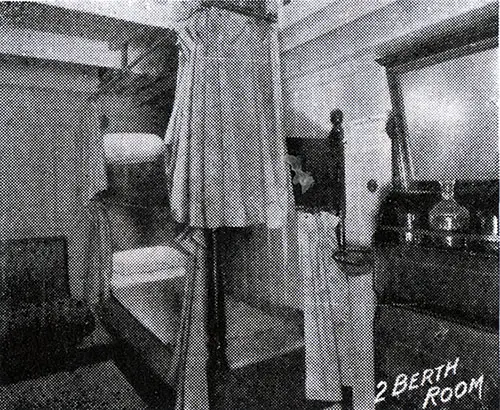 Two-Berth Room on an American Line Steamship circa 1907. GGA Image ID # 1147fabd93
If he wants a fast steamer or a slow steamer, a large steamer or a moderate sized one, or if he wants a " Cabin de Luxe " or a single berth, a high priced berth or a low priced one, or a steamer carrying one class, two classes or three classes, or if he desires to travel by one service Eastbound and by another service Westbound, without sacrificing the reduction made for the round trip, he can still be accommodated.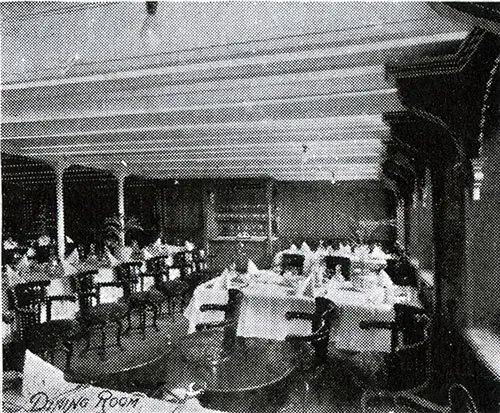 Dining Room of an American Line Steamer circa 1907. GGA Image ID # 114799d298
American Line - Philadelphia - Queenstown - Liverpool Service
Has been specially arranged to accommodate those passengers who want good food and service, moderate speed and to have the best accommodation the steamers afford at moderate cost. This is secured by the arrangement for carrying only one class of cabin passengers.
On this service we call this Second Cabin.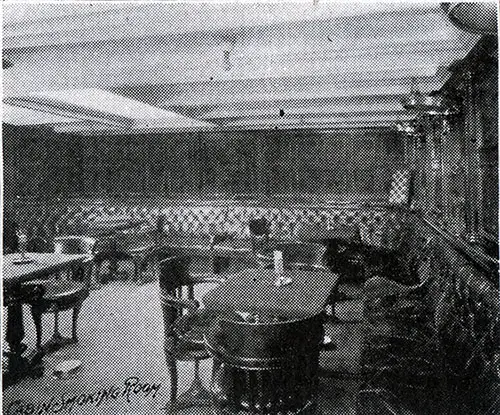 Cabin Class Smoking Room on an American Line Steamship circa 1907. GGA Image ID # 114806ee94
As there are no other cabin passengers carried, the passengers naturally have the best of everything on the steamers. They have, too, the courteous treatment of the officers on board and their comfort is looked after as carefully as if they had paid for a suite of rooms.
These steamers sail from Philadelphia on Saturdays and from Liverpool on Wednesdays, calling at Queenstown each way.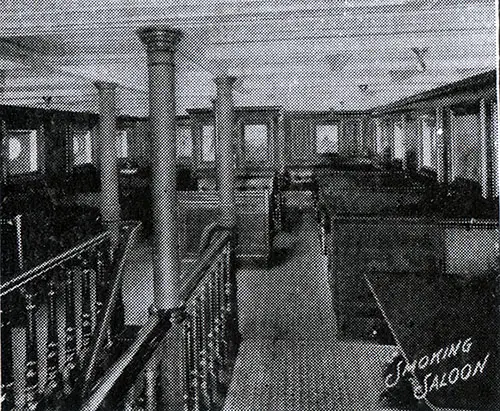 Smoking Room on an American Line Steamship circa 1907. GGA Image ID # 1147d004e8
That the steamers of this service have merited the approbation of the traveling public, is evidenced by the large number of passengers they have carried in the past, the unqualified commendations from their patrons and by the growing demand each season for accommodations.
It will, no doubt, be of interest to the intending traveler to read a brief description of these steamers, together with some general information that will prove useful in the preparation for, and enjoyment of, an ocean voyage.
The Fleet
The Steamers on this Service are as follows: Haverford, Merion, Friesland, Westernland and Noordland.
The accompanying illustrations will give some idea of the saloons. staterooms and deck spaces of these steamers, but they do not set forth the equally attractive facts that everything is kept in excellent order, and that everyone in the ship's company is anxious to make the voyagers happy and comfortable.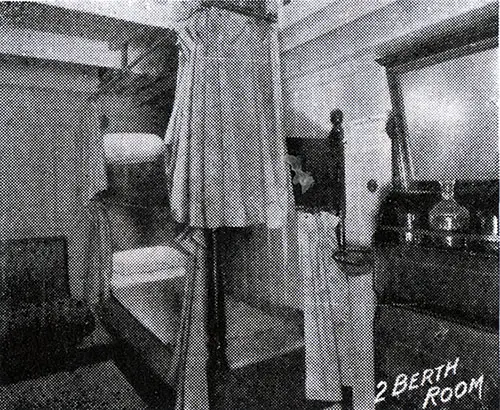 Two-Berth Room on an American Line Steamer circa 1907. GGA Image ID # 1147d00bd2
Neither do they convey the fact that the fare for the best the ships afford is only about $3.50 a day for the voyage during most of the year, being somewhat more during less than four months only.
These things are only ascertained in their entirety by one who actually makes the voyage, and it may he safely asserted that the popularity of this route has been chiefly built upon the recommendations to their friends of those who have been patrons of the line.
SS Haverford and SS Merion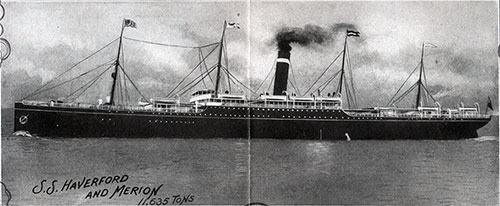 American Line Steamers SS Haverford and SS Merion. GGA Image ID # 1144e0a773
The large twin-screw steamers, Haverford and Merion, of 11,635 tons each, built by Messrs. John Brown & Co., Ltd., of Clydebank, in 1901 and 1902, are examples of a type of vessel which is becoming more popular every year.
They are of the class where the claims for large cargo carrying capacity exceed those for speed, and yet where sufficient speed is maintained to make it worth while to fit extensive passenger accommodations.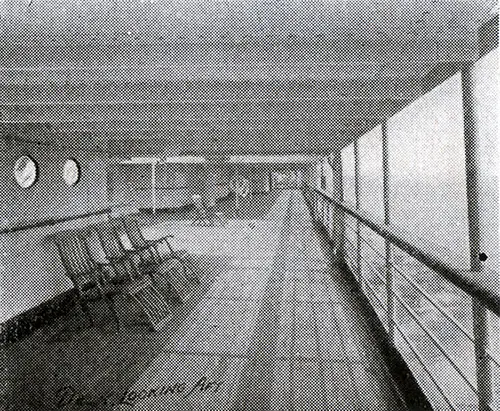 Shelter Deck Looking Aft on an American Line Steamship circa 1907. GGA Image ID # 114808df28
To show what naval experts think of these vessels note the following extract from the "New York Journal of Commerce, November 4, 1905: The American Line has been awarded a gold medal by the Naval Exhibition at Earl's Court, London, for the model of the steamship Haverford.
She was decided by the experts to be a model steamship, neither too fast nor too slow, but as comfortable throughout, and so constructed as to be safe and economical with a fair earning power for her owners.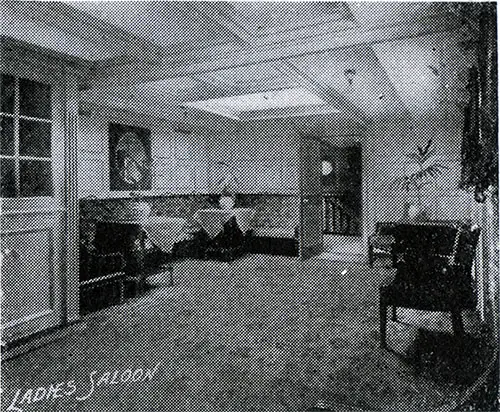 The Ladies' Saloon on an American Line Steamship circa 1907. GGA Image ID # 114834f4d5
The Haverford is a well-known liner trading between Philadelphia and Liverpool. The S. S. Merion is an exact counterpart of the S. S. Haverford.
These steamers have bilge keels and are lighted throughout with electricity.
The cuts on pages 1 and 2 will give the reader an idea of the immense size of these steamers, and the careful arrangements that have been made in regard to deck space, for the comfort of the passengers.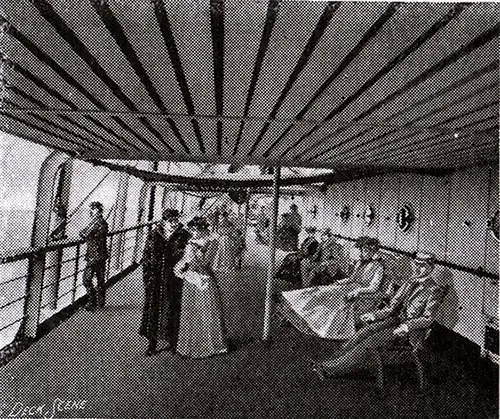 Deck Scene on an American Line Steamer circa 1907. GGA Image ID # 11463ce51e
On the promenade deck, and in the center of each vessel, will be found a large and well-furnished library, a ladies' parlor, and a spacious smoking room, all accessible from below, without going outside, or directly from the promenade deck.
The large and handsomely furnished dining saloon is located on the saloon deck, extending the entire width of the steamer, and contains an excellent piano. The staterooms are also on this deck, and an large, well-lighted and ventilated.
A View of the Dining Saloon on an American Line Steamer circa 1907. GGA Image ID # 114651af78
An ample number of the most improved types of solid porcelain baths will be found in the lavatories, which are conveniently located.
A large stairway leads to the ladies' parlor, the library and the promenade deck. There is another stairway in the after part of this deck, leading to the smoking room, and the promenade deck.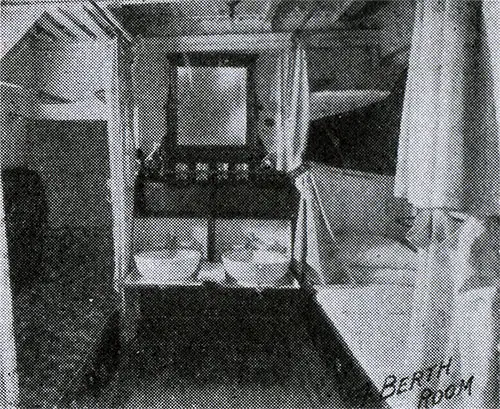 One-Berth Room on an American Line Steamer circa 1907. GGA Image ID # 114841658f
These steamers will accommodate about 150 passengers. The dining saloon will accommodate 112 passengers at one sitting.
SS Friesland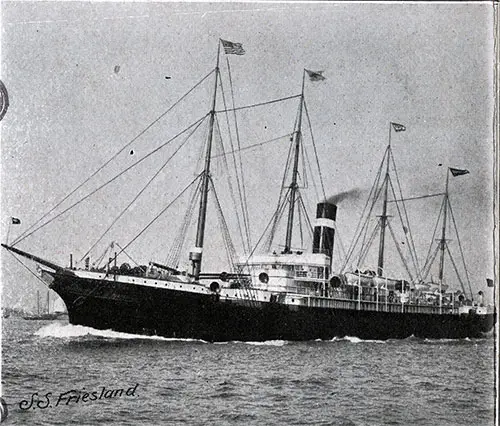 American Line Steamer SS Friesland 7,100 Tons (Chartered from the Red Star Line). GGA Image ID # 1146ee6f60
This well-known steamer was built in Glasgow, by Messrs. James & George Thompson, who have attained a wide reputation in the ship-building industry.
In the arrangement of boilers and machinery on this steamer, the convenience and comfort of the passengers have been carefully considered there being no openings on the promenade deck. There are three large passenger decks, the Upper, Saloon and Promenade, the last of which extends two-thirds the length of the ship.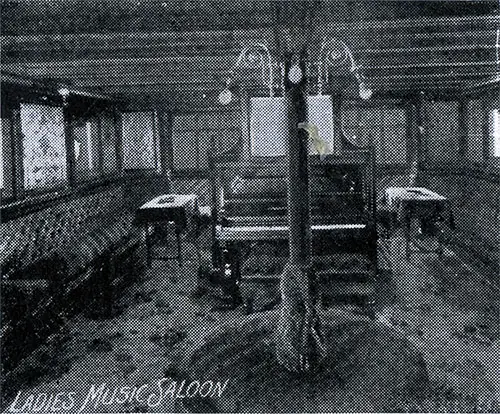 Ladies' Music Saloon on an American Line Steamer circa 1907. GGA Image ID # 1146e73a21
The dining saloon is located well forward of the machinery, and is large and airy, being lighted by a dome-shaped skylight. It is finished in carved oak, while the ceiling is in white, the relief work being in old gold. At the entrance to the saloon is a hall from which stairways lead to the stateroom deck below, and to the promenade deck above.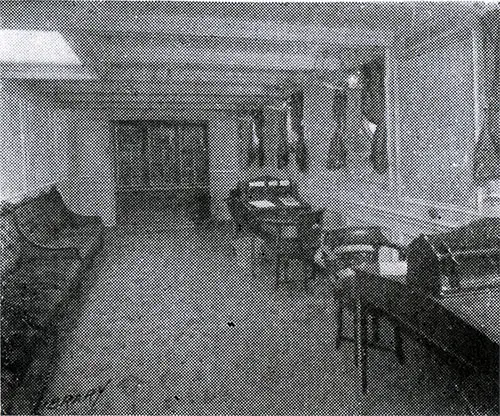 The Library on an American Line Steamship circa 1907. GGA Image ID # 11490de10d
The smoking room is on the promenade deck, and is internally constructed of dark mahogany, with painted tile panels and has a tiled floor. A large number of very desirable staterooms are located on the saloon deck, and these are in great demand in the summer months, as they are unusually well-lighted and ventilated.
This steamer will accommodate about 162 passengers. There are thirty-three rooms used as two-berth rooms and twenty-five four-berth rooms. The dining saloon will accommodate ninety-eight passengers at one sitting.
SS Westernland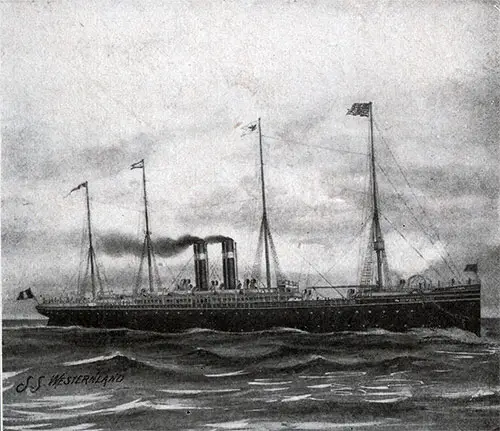 The American Line Steamship Westernland - Chartered from the Red Star Line. GGA Image ID # 114700b19e
The Westernland Is built entirely of steel and was constructed by the well-known ship-builders, Lairds, of Birkenhead, England.
It has a full complement of water tight compartments and bulk-heads; has four steel masts and two funnels.
The passenger accommodations are excellent. The main passenger entrance is on the promenade deck, and broad, easy stairways lead to the saloon and upper decks.
On the promenade deck, at the head of the main entrance, is the drawing room, or ladies' parlor, richly upholstered in moquette. Near amidships on this deck is the smoking room, very comfortably fitted.
The dining saloon is finished in hard woods and upholstered in frieze plush, and is well-lighted and ventilated.
On the main deck in the center of the vessel and removed from the pantries and galleys, are the staterooms. There is an unusually large number of two-berth rooms on this steamer.
All of the rooms are finished in polished mahogany. This steamer will accommodate 164 cabin passengers. There are thirty-nine two-berth rooms and twenty-three four-berth rooms. The dining saloon will accommodate eighty-two passengers at one sitting.
SS Noordland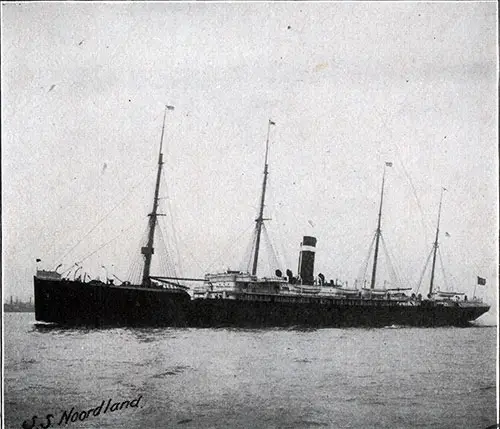 The SS Noordland of the American Line - Chartered from the Red Star Line. GGA Image ID # 114712a527
To enter into a description of this steamer would simply be a repetition of the description of the SS Westernland, as they are sister ships, and alike with but few exceptions. On the SS Noordland, a number of rooms have been built on the saloon deck, which are especially desirable. In other respects there is no difference worthy of mention.
The SS Noordland will accommodate 154 passengers. There are thirty two-berth rooms and twenty-four four-berth rooms. The dining saloon will accommodate seventy-five passengers at one sitting.
Sailings and Rates
The steamers of the Philadelphia-Queenstown-Liverpool Service sail on Saturdays from Philadelphia, and on Wednesdays from Liverpool. (For hours of sailing see sailing list).
The minimum cost of a round-trip passage in the winter and intermediate season is at present $76.00, and in the summer season, $95.00. (For detailed information regarding seasons and rates, see rate sheet as these are subject to change.)
In 1906 the following tours were taken, showing how inexpensive a short trip to Europe has become: By S. S. Westernland from Philadelphia, July 21st: To Liverpool, to London (4 days in London), New Haven, Dieppe, Paris (5 days in Paris), to London, Warwick, Stratford-on-Avon, Chester, Liverpool, Philadelphia. Time, 36 days; entire cost, $175, = $4.86 per day.
By S. S. Merion from Philadelphia, June 23d:
To Liverpool, London (4 days in London), Hook of Holland, The Hague, Scheveningen, Amsterdam, Antwerp, Brussels, Cologne, The Rhine, Mayence, Heidelberg, Lucerne, The Rigi, Interlaken, Grindelwald, Lausanne, Geneva, Paris (5 days in Paris), Dieppe, New Haven, London, Oxford, Warwick, Stratford-on-Avon, Chester, Liverpool, Philadelphia. Time, 51 days; entire cost, $ 2 7 5 = $5.39 per day.
The above cost includes: Cabin passage on ocean steamers. In Europe, first class on local steamers; second class on railroads (third class in England), the usual custom of American tourists; accommodation at good, comfortable hotels, including meat breakfast, meat lunch, and table d'hote dinner; transfers between stations and hotels.
Conveyance of 100 pounds of baggage in Great Britain, 56 pounds on the Continent, and 250 pounds on the Atlantic; carriages and fees for sight-seeing as mentioned in the itinerary.
Gratuities to hotel servants, railroad porters and guards, and the services of a competent conductor from arrival at Liverpool to departure therefrom. Of course the cost may be somewhat reduced if no conductor is employed.
And these are only two of a large number of trips of the same kind that can be taken to suit the wishes of the traveler, and all at a correspondingly low cost.
We have arranged a few sample tours, the itineraries for which have been printed on a separate leaflet and will be sent to any one on application. We have received statement of the cost of transportation for these tours while passengers are on shore, and for which coupons may be purchased before the land trip begins.
The cost of hotels ranges from $1.85 to $2.60 per day. The following itineraries are include in a separate leaflet:
Chart of Tour Transportation Rates and Total Days - American Line - 1907. GGA Image ID # 1144e7d057
Bill of Fare
For the consideration of intending patrons, we present the following bill of fare, taken at random from the weekly menu, to which are added seasonable fruits, fish, vegetables, etc.
Thursday's Menu
Breakfast
Oatmeal Porridge and Milk
Boiled Hominy
Broiled Beefsteak, Mushroom Sauce
Grilled Ham and Eggs, Hashed Mutton on Toast
Sauté Potatoes
Hominy Cakes, Muffins, Toast
Cold Roast Beef, Cold Compressed Beef
Stewed Prunes
Tea, Coffee
Lunch
Vermicelli Soup
Veal and Ham Pie, Mashed Potatoes
Stewed Apricots, Doughnuts
Cold Roast Beef, Cold Roast Mutton
Potted Brawn
Compressed Beef, Beet Roots
Brown Bread and Butter
Cheese, Crackers
Tea, Coffee
Dinner
Spring Soup
Boiled Halibut, Sauce Piquante
Chicken Croquettes
Roast Ox Heart,
Stuffed Roast Turkey,
Cranberry Sauce
Boiled Potatoes
Green Peas
Fig Pudding, Custard Sauce
Lemon Cheese Cakes
Ice Cream
Pears
Coffee
Outbound Passengers
Passengers arriving at Philadelphia by rail can secure a hansom or "four-wheeler" at any of the depots and be conveyed with their baggage direct to the piers, foot of Washington Avenue.
Or, they can arrange with the Union Transfer Agent on the train or at the depot to transfer the baggage at a cost of thirty-five cents for each piece, and take either a Market or Chestnut Street car east to Second Street, at either of which intersections the passenger will board a Mifflin Street car which runs south on Second Street to Washington Avenue.
The pier is two blocks from where the passenger leaves the car.
Claiming Baggage at Pier
Upon arrival at the pier, passengers should immediately claim their baggage which will be found in close proximity to the main gangway. To "claim" baggage is to point it out to the baggage - master and see that it is properly labeled.
Stateroom baggage will be placed on deck until after the steamer leaves the pier, and will then be conveyed to the rooms.
Missing Baggage
In the event of any baggage missing the steamer, passengers should notify the baggage-master, giving him the necessary information where same should be forwarded, and upon arrival at Liverpool, also notify the baggage-master there to what address they wish it sent, handing to him the keys, if it is locked baggage, in order that he can have it examined by the customs officers, and forwarded without delay.
Arrival at Queenstown
Passengers wishing to disembark at Queenstown are taken on board one of the new saloon-fitted, electric-lighted tenders, which meet the American Line steamers in Queenstown Harbor, and they are landed with their baggage at the Custom House, which is part of the new railroad station of the Great Southern & Western Railway of Ireland, where their baggage is examined, and where they can arrange to have it forwarded to any point they may desire. Ample accommodations in the way of waiting and dining rooms, telegraph offices, etc., are provided for the use of passengers.
Trains leave Queenstown frequently for Cork, which is a distance of only thirty minutes. There are usually three daily trains from Queenstown through to Dublin, and passengers have the privilege of stopping over at any intermediate station.
The Great Southern & Western Railway allows 120 pounds free baggage to first-class, 100 pounds to second and 60 pounds to third-class passengers, and almost all the Irish railways make the same free allowances.
There are first-class hotels at Queenstown, Cork, Killarney and at all other places of interest and importance visited by tourists.
The landing of Queenstown passengers an baggage occupies from five minutes to half or three-quarters of an hour.
The American Line Agents at Queenstown are Messrs. James Scott & Co., who will be pleased to give passengers any desired information.
Rail and Channel Rates and Sailings
The following rates on pages 13-14 will be of interest to the traveler, although we assume no responsibility for their accuracy, as they are compiled from the English and Continental guides, and are subject to change without notice.
Two steamers sail from North Wall, Dublin every day (except Sunday) to Liverpool, one leaving at 12 noon and the other at 8.00 p.m.
There is also connection between Dublin and Holyhead. Two services daily leave Westland Row via Kingstown. Trains meet the steamers on arrival at Holyhead, and passengers can be ticketed through to any destination in England, Wales or Scotland.
A steamer sails from Belfast (Donegal Quay) to Liverpool daily, about 8.00 p. m.; al except Sunday, at so a daily service between Belfast and Glasgow via Larne and Stranraer (twice daily during the summer) time of trip, six and one-half hours; channel passage eighty minutes.
A steamer also sails from Londonderry to Liverpool every Wednesday and Saturday; steamers of these services are lighted by electricity. There is a daily, except Sunday, steamer service between Belfast and Glasgow, and between Londonderry and Glasgow. Excellent hotel accommodations at, or convenient to, all points of interest.
The following are the approximate rates, time and distances between the places mentioned below:
Approximate Rates, Time, and Distances Between Selected Places - 1907 American Line. GGA Image ID # 1145792eb8
Arrival at Liverpool
About eighteen hours after departure from Queenstown, the American Line steamer arrives at Liverpool, landing her passengers at the Prince's Landing Stage, adjoining the new Riverside Station of the London and Northwestern Railway, from which are run, under certain conditions, special trains direct to London on arrival of steamers from America.
When there is no time to land here before the dock gates close, the steamer runs into the Huskisson Dock, where the Company's pier is located.
At either place the passengers' baggage is examined by the Custom House officials, and can be forwarded to any part of the country desired by the passengers.
There is also a cable and telegraph station at the Prince's Landing Stage, where messages can be sent to all parts of the world. The local rate in Great Britain for telegrams is one cent per word, addresses being charged for; the cable rate between Liverpool and Atlantic ports of the United States is twenty-eight cents per word, addresses also being charged for.
Customs Duties
Passengers will, on landing in Great Britain, be asked by the customs officials if they have any of the following articles, which are liable to duty or detention:
Tobacco, cigars, cigarettes, snuffs.
Scents, wines, spirits of any sort.
Extracts of tea, coffee or chickory.
Gold or silver plate not manufactured in Great Britain.
The smallest quantities of any of these articles must be produced.
Reprints of any registered copyright works or music are prohibited.
The above articles are about the only ones upon which duty is likely to be charged in most of the European countries.
In all countries there are strict laws and regulations with severe penalties for smuggling, bribing customs officials, or even offering them a gratuity of any kind.
Passengers for Scotland
Passengers from Liverpool (Lime Street Station) for Glasgow, Edinburgh, etc., usually travel by the London and Northwestern Railway to Carlisle, thence by Caledonian Railway to points named, arriving at Central Station in Glasgow, or at Prince's Street Station in Edinburgh.
There are usually seven trains every week-day between these points, one of which has first and third-class dining cars. Stop-over privileges are allowed at all the important points between Liverpool and Glasgow or Edinburgh. (See pages 13-14).
There is a steamer nearly every week-day, sailing from Liverpool to Glasgow; fare, first class, $2.75; third class, $1.35. For other rates, distances, etc., see pages 13-14.
Passengers for the North of Ireland
Passengers whose destinations are in the eastern and northern counties of Ireland generally disembark at Liverpool, their further transportation being less expensive than by rail from Queenstown.
For Dublin and adjoining counties the most direct route is by steamer from Liverpool to Dublin twice daily, sailing from the Prince's Landing Stage, or Nelson Dock, Liverpool.
The steamers for Belfast and Londonderry leave from Prince's Landing Stage or the Prince's Dock at about 10 p.m. daily, except Sunday, for Belfast; and every Monday and Thursday for Londonderry.
Passengers for London
On arrival at Liverpool, passengers for London are, with their baggage after its inspection by the Custom House officers, transferred free of charge from the American Line steamer to either the London and Northwestern, the Great Western (which have three classes on their trains), the Midland, Great Central, or Great Eastern Railways, which three latter have only first and third class cars in their services. Stop-over privileges are allowed on all of these railroads at any station between Liverpool and London.
The ticket one way is good for ten days. The baggage, if so desired, can be forwarded from Liverpool direct to London ahead of the passengers, to await their arrival there.
If passengers wish to stop over at intermediate points, they should in all cases call the attention of the railway ticket agents to the fact, in order that the tickets may be properly endorsed. For further extension of London or Paris tickets call at American Line Offices, 27 and 29 Jame Street, Liverpool.
Points of Interest on the London and Northwestern Ry.
Passengers by this railroad start from Lime Street Station Liverpool, arriving at Euston Station, London. Some of the principal places of interest for the tourist and traveler on the line of this railroad are Chester, Rugby, Kenilworth, Leamington, Stratford-on-Avon, Oxford, Cambridge, Manchester, Lichfield, etc.
Midland Passengers leave Central Station, Railway Liverpool, by this road and arrive at St. Pancras Station, London. The principal points of interest along this route are Manchester, Buxton, The Peak District (Derby), Matlock Baths, Haddon Hall, Chatsworth, Nottingham, Leicester, and Bedford.
Great Western Passengers by this road to Railway London have the choice of four routes. They leave from Birkenhead, which is across the River Mersey from Liverpool, and with which there is ferryboat connection every few minutes, and they arrive at Paddington Station, London.
The routes are as follows:
via Chester, Shrewsbury, Warwick and Oxford;
via Chester, Shrewsbury, Worcester and Oxford;
via Chester, Shrewsbury, Hereford, Ross and Gloucester, and
via Chester, Shrewsbury, Hereford, Newport, Bristol and Bath.
The fare by route No. 4 is higher than by any of the other routes.
The places of interest along this road are, Chester, Shrewsbury, Warwick, Leamington, Stratford-on-Avon, Kenilworth, Oxford, Windsor, Worcester, Malvern, Ludlow, Chepstow, Gloucester, Bristol, Bath, etc.
Great Central Railway
Passengers by this route leave Central Station, Liverpool, arriving at MaryleboneStation, London. Points of interest en route are Manchester, Sheffield, Retford, Nottingham, Lincoln, Leicester, Rugby and Aylesbury.
Great Eastern Railway (Cathedral Route)
Passengers by this road leave Central Station, Liverpool, and arrive at Liverpool Street Station, London. The points of interest are Lincoln, Ely, Cambridge, etc.
Passengers for the Continent
Passengers who may wish to visit the Continent after reaching London, can do so by many routes; for instance to Paris, they can travel via Dover and Calais, via Folkestone and Boulogne, via New Haven and Dieppe, or via Southampton, and Havre. For rates, etc., see pages 13-14.
Passengers for Rotterdam Antwerp The Rhine Switzerland etc.
By the Hook of Holland Route, passengers after arriving in London can travel by the Great Eastern Railway (Liverpool Street Station), leaving at 8.30 p. m. for Harwich embarking at Parkeston Quay at 10 p.m. daily, including Sunday, arriving at the Hook at 5.05 a. m. and at Rotterdam at 6.07 a.m.
Steamers for Antwerp leave Harwich (Parkeston Quay) at 10.20 p.m. daily, except Sunday. We quote below the present rates charged from London to a few points on the Continent, which may be of interest :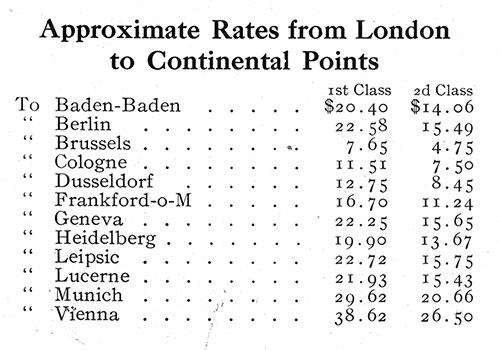 Approximate Rates from London to Continental Points. 1907 American Line. GGA Image ID # 1146081cdb
The tickets are available for quite a reasonable time, averaging from seven days for a ticket to Antwerp to fifteen days to Vienna. Passengers can also purchase special-rate tourist tickets in London, Harwich, Rotterdam, Antwerp, or at any of the principal stations in England, covering trips of from thirty to sixty days, and including the principal points of interest in Belgium, Holland, The Rhine Provinces, Switzerland, etc.
Scandinavian Ports
Passengers whose destination , etc, is some point in Scandinavia can proceed by rail from Liverpool to Hull, Newcastle, Grimsby, or other British east-coast port, and take steamer thence to their destination.
The rates to the principal Scandinavian and Continental ports are quoted in our Rate Sheets, and are the only ones our agents are authorized to use in selling tickets and can only be availed of by passengers purchasing the European inland transportation in connection with the ocean booking before leaving America.
There are three through trains daily from Liverpool to Hull; taking about four and one-half (4 1/2) hours to make the run; the distance is 123 miles.
The distance from Liverpool to Newcastle is about 174 miles and the run takes about six (6) hours. There are four through daily trains between these two places.
The distance from Liverpool to Grimsby is 145 miles; three through daily trains; time of run five hours.
A steamer leaves from Hull during the summer months, every Monday, at 9.00 a.m., for Copenhagen, where connections are made for Malmo, Helsingborg, Gothenburg etc. Time of passage about fifty hours to Copenhagen.
Every Tuesday, at 4 p.m., between June 2d and September 1st, for Stavanger, Bergen, Aalesund, Christiansund and Drontheim (about thirty-three hours to Stavanger).
Every Wednesday and Saturday for Hango (about four and one-half days) connecting with all Finnish points and St. Petersburg; for Copenhagen, where connections are made for Malmo, Helsingborg, Gothenburg, etc.; for Christiansand, Arendal, Laurvig, Skein and Christiania; and for Riga.
Every Thursday afternoon for Stavanger, Bergen, Aalesund, Christiansund and Drontheim. Every Saturday, at 4 p.m., for Gothenburg, where connections are made for Stockholm.
A steamer leaves from Grimsby every Monday and Thursday, at 7 p.m., for Esbjerg, where connections are made for Frederickshavn, Aalborg, Copenhagen, Malmo, Helsingborg, Stockholm and Gothenburg (due at Esbjerg Tuesday night).
Every Wednesday, midnight, for Gothenburg, where connections are made for Stockholm (about forty hours to Gothenburg).
A steamer leaves from Newcastle every Tuesday evening for Stavanger, Bergen, Aalesund, Christiansund and Drontheim. From Newcastle every Friday afternoon for Christiansand, Arendal, Laurvig, Skein and Christiania.
A steamer leaves from Harwich every Monday, Thursday and Saturday, at 9.3o p.m., for Esbjerg, connecting with Copenhagen and other points in Denmark and lower Sweden (about twenty-five hours to Esbjerg).
A steamer leaves Grangemouth every Wednesday afternoon for Christiansand, Arendal, Laurvig, Skein and Christiania, (due in Christ/ tiania on Saturday).
A steamer leaves from London every Friday afternoon for Gothenburg, connecting with Christiania and Stockholm. These steamers carry only first and second class passengers (about forty hours to Gothenburg).
The following North Sea distances and time of passage may be of interest to intending travelers who desire to visit these points: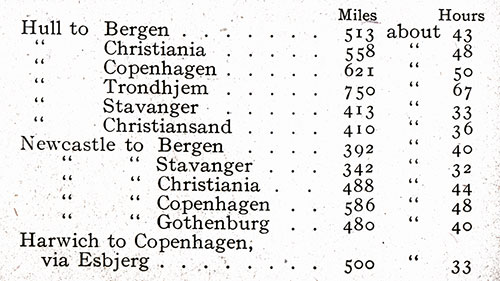 North Sea Distances and Time of Passage for Various Points in Scandinavia. 1907 American Line. GGA Image ID # 11461a4170
Special Information
Baggage. The claiming of baggage by outward passengers is explained on page 10 of this booklet. Each passenger is allowed twenty cubic feet of baggage free on the ocean steamer.
The excess charge is twelve and one-half cents per cubic foot. Each adult passenger booked through to or from London will receive transportation of baggage between Liverpool and London as follows:
On each Railroad Ticket, first-class: 240 pounds
On each Railroad Ticket, second-class: 200 pounds
On each Railroad Ticket, third-class: 120 pounds
and also free transfer of themselves and baggage between railways and steamers of American Line in Liverpool. Passengers for London should state destination when baggage is being labeled.
Baggage can be left in the Company's care at Liverpool, at a nominal charge, to await the return of the passenger.
Reservation of Berths and Contract Tickets. Berths can be secured in advance on payment of a deposit of $10.00 on each berth reserved, the balance of passage money to be paid during the intermediate and summer seasons, at least three weeks previous to the day of sailing.
When applying for berths either by mail or telegraph, please state whether accommodations are required for men or women, married couples, or families, and be careful to give the ages and sex of children and infants.
In order to secure a choice of berths for the return voyage, passengers should secure their westbound accommodations at the same time they secure the eastbound. When such westbound accommodations are secured on this side, we will issue the regular contract ticket, thus obviating the necessity of exchanging the prepaid ticket for the contract ticket in England.
When remitting the balance due on westbound tickets, passengers should advise whether or not they are citizens of the United States, and also furnish us with their foreign address. Passengers securing only westbound accommodations on this service, pay the regular deposit as above, and balance of passage money must be paid at least two weeks previous to departure from this side.
Embarking. Steamers sail from Philadelphia promptly at 10.00 a.m. Passengers embark at 8.00 a. m.
Deck Chairs. These are provided on all steamers and rented to passengers at a nominal charge of $i.00 for the trip. Apply to deck steward after sailing of steamer.
Seats at Table. Passengers may make application to the agent from whom tickets are purchased to have seats reserved at table.
It will be understood, however, that such applications will be acted upon by the second steward of the steamer in the order of their priority, and seats will be allotted accordingly immediately after the sailing of the steamer.
Stateroom Trunks. Trunks for use during the voyage should not exceed thirteen inches in height, two feet in width and three feet six inches in length.
Bicycles. These must be boxed or crated. Charge for ocean transportation, $2.50 each.
Dogs, Cats, Monkeys and Birds must be caged before being brought upon the steamer, and will be placed in charge of the ship's butcher. A charge of $10.00 each will be made for dogs, cats and monkeys. Charge for birds, $4.00 for each cage. In order to import wild animals or birds into the United States, a special permit must be obtained from the Secretary of Agriculture at Washington. Dogs to be landed in England require a special license from the Secretary of the Board of Agriculture in London. For Ireland, apply to the Veterinary Department of the Irish Privy Council, Dublin. No dogs will be received on board unless such license is shown.
Seal Skin Garments, whether old or new, are liable to seizure by the United States Customs Officers, unless certain conditions are complied with. Passengers taking such garments out or expecting to bring new ones into this country should write us fora circular giving full information on this subject.
Letters and Packages. Letters for passengers may be addressed to the care of the Company's offices in America or Europe, and they will be retained until called for, or forwarded according to instructions. All such letters should bear the address to which they should be sent if not called for. Packages sent either by mail or express, addressed to passengers, should be sent direct to the pier, and not to the Company's office. Address such packages to American Line Pier, foot of Washington Avenue, Philadelphia.
Stateroom Plans. These can be secured from our agent in your vicinity, or from this office, and intending passengers will be given any desired information.
Return Tickets
(Prepaid Certificates) upon which no Tickets berth reservations have been made, will be honored by the American Line if presented to the European agents. These tickets must be sent with the application for return accommodations and payment made for any difference in the rate of passage.
Return Tickets (Contract Tickets) upon which accommodations have been secured for a specific berth or room and date of sailing, need not be sent to the European agents for exchange but the agents should be notified as soon as possible that the accommodations will be used.
Interchangeable Tickets
Special attention is called to the arrangement where by return tickets, issued at reduced rates by the American Line, Atlantic Transport Line, Dominion Line, Holland-American Line, Leyland Line, Red Star Line and White Star Line are interchangeable.
Passengers travelng to Europe by the American Line are thus enabled to use their return ticket by any one of the lines mentioned, or passengers holding return tickets of any of these lines may return by the American Line from Liverpool or Queenstown.
Full particulars of the conditions under which these tickets will be exchanged can be obtained upon application at this office, or to any of our agents.
Foreign Money
Foreign money can be secured or exchanged at this office, or at the pier on days of sailing or arrival of steamers.
Money Table. Showing the comparative values of the United States and other currencies, which however, are subject to fluctuation: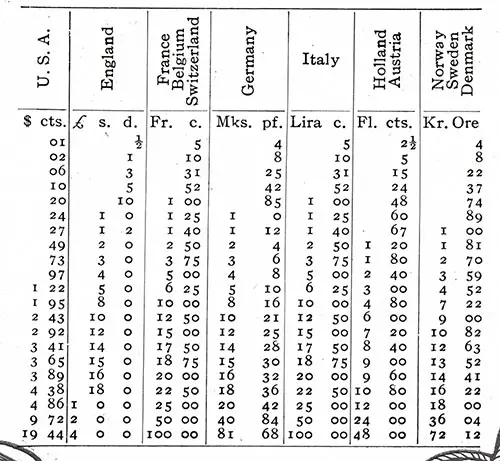 Foreign Currency Exchange Rates 1907. GGA Image ID # 11462cadc3
Travelers' Checks issued by the American Line are payable all over Europe and in foreign countries generally. These checks are issued in denominations of $ 10.00 , $ 20.00 , $50.00, $100.00 and $500.00, and each check shows on its face the exact amounts which will be paid in foreign money in the different countries of Europe.
Tourists will find these checks in every way the most desirable form in which to carry funds abroad. The advantage of being able to arrange with the same company for both passage and traveling funds will also be appreciated by our patrons. Full information on application at American Line offices and principal agencies in United States and Canada.
Money and Valuables
The Company will not be responsible for Money, Jewelry and other valuables of passengers. Passengers are warned not to keep such articles in their staterooms, but are recommended to hand same sealed, and marked with the owner's name, to the Purser for deposit in his safe, but as no charge is made for carriage, the Company can accept no responsibility for loss or damage however arising.
Stationery, Stamps, Telegraph Blanks, Etc. can be secured from the saloon steward.
Permits to "Inspect" or "Meet" Steamers can be secured at this office.
Religious Services are held on the steamers of the American Line every Sunday morning.
U.S. Customs Regulations for Incoming Passengers. For full information upon this subject, apply to this office for "Circular to Tourists" and " Notice to Passengers," issued by the Treasury Department.
Passports are not necessary to United States citizens in most European countries, but travelers frequently find it to their advantage to carry with them this evidence of their citizenship. They are useful as a means of admission to certain places of interest, and also for identification at banks or post-offices.
Passport application blanks, Which can be secured at stationery stores, should be filled out, sworn to before a notary public and then sent with $i.00 to the Secretary of State, Washington, D.C., who will return the passport in due time. This should be attended to at least two weeks before sailing.
Principal Offices U.S. and Canada - American Line
1319 Walnut Street, Philadelphia
9 Broadway, New York
90 to 96 Dearborn Street, Chicago
India Building, 84 State Street, Boston
1306 F Street, N.W., Washington, D.C.
900 Locust Street, St. Louis
36 Ellis Street, San Francisco
Guaranty Building, 121 S. 3d Street, Minneapolis
219 St. Charles Street, New Orleans
9 East Sixth Street, St Paul
17 St. Sacrament Street, Montreal
41 King Street, East, Toronto
215 McDermot Avenue Winnipeg
Principal European and Agents Offices
American Line
27 and 29 James Street, Liverpool
1 Cockspur Street, S.W., London
38 Leadenhall Street, E.C., London
Canute Road Southampton
West India House, Bristol
Agents
James Scott & Co, Queenstown
Smith, Sundius & Co, Plymouth
Nicholas Martin, 9 Rue Scribe, Paris
Red Star Line, 22 Kammenstraat, Antwerp
H. Baur, 6 Boulevard Anspach, Brussels
Al. Peters, 6 Unter den Linden, Berlin
Red Star Line, 14 Karntnerring, Vienna
Le Pont & Fils, Cherbourg
Geo. Hammond & Co., Dover
H. Chr. Claussen, 4 Strandgaden, Bergen
Gustav Hohnke, Toldbodgaden, 1 B, Christiania
Joachim Prahl, Nyhavn, 49, Copenhagen
Sam Larsson, Norra Hamngatan 38, Gothenburg
Broderna Larsson, Skeppsbron 4, Stockholm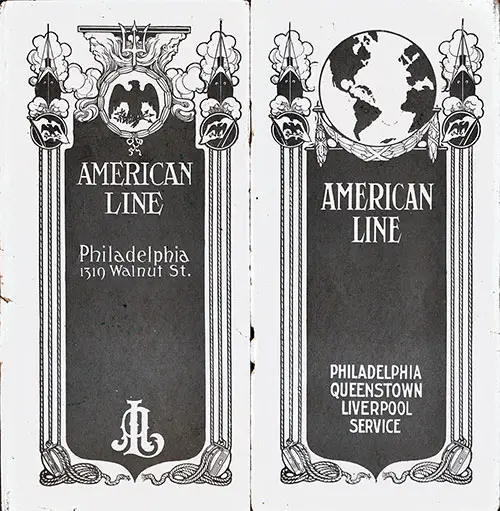 Inside Covers, American Line Brochure - Philadelphia - Queenstown - Liverpool Service, 1907. GGA Image ID # 11492044f8
Description of Brochure
Title: American Line: Philadelphia - Queenstown - Liverpool
Date Puplished: Undated - 1907
Published by: The International Mercantile Marine Company (IMM) and the American Line
Number of Printed Pages: 34
Number of Photographs: 37 (Many were scenes of Great Britain, not included on this page)
Number of Illustrations: 7
Construction: Four sheets, printed on both sides, two panels per side, each panel represents two pages. Plus Cover. Staple Binding.
Dimensions: 9.8 x 20.9 cm