Baltimore Mail Line to Europe - 1936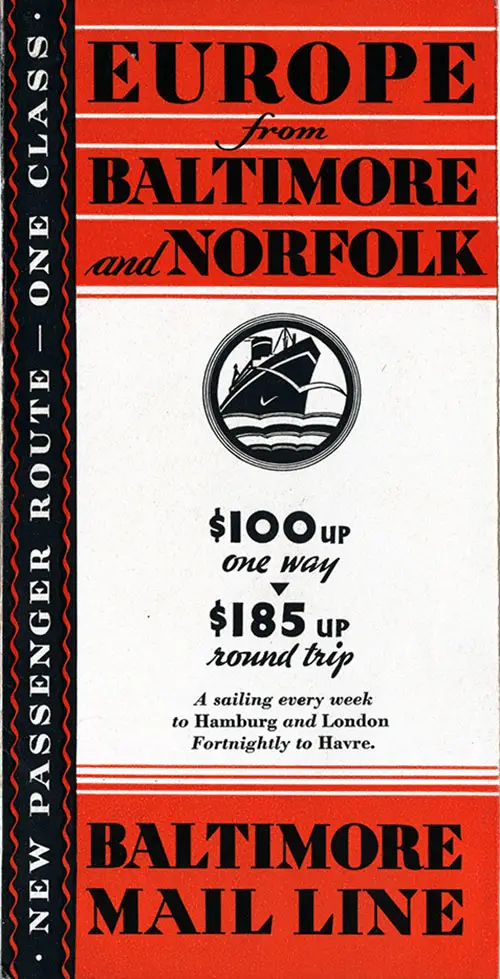 Front Cover, Baltimore Mail Line An Innovation in One-Class, Transatlantic Passenger Service. Published 1 April 1936. GGA Image ID # 116ce7aba8
Baltimore Mail Line utilizes one-class liners. You can go anywhere on board without worrying about class restrictions. Decks, lounges, dining saloon— there is no class distinction. Passenger accommodations throughout are of a single high standard.
YOUR trip to Europe, whether for pleasure or business, can be made on fast mail liners that are a delightful innovation in transatlantic passenger service from the Baltimore Mail Line.
To Havre or Hamburg—key ports of France and Germany, gateways to Paris, Berlin and Central Europe or to London, capital of the British Empire, you sail on ships which have set a new standard in ocean travel comfort.
For as little as $100 you can make the crossing—for $185 the round trip. Sailing on the Baltimore Mail Line, too, offers a new route—off the beaten steamship lane—out to sea by the beautiful Chesapeake Bay, through historic Hampton Roads. You can sail either from Baltimore or Norfolk and step ashore at the dock in Europe.
If you book round-trip passage you can go and come for as low as $185—glorious days at sea, salt air to whet jaded appetites, delicious foods served attractively, rest and recreation that are a tonic which cannot be surpassed, congenial companions under circumstances that make for real enjoyment.
Moreover, the five sister ships of the Baltimore Mail Line are one-class liners. You can go anywhere on board without worrying lest you overstep class restrictions. Decks, lounges, dining saloon— there is no class distinction. Passenger accommodations throughout are of a single high standard.
Even the experienced traveler will be astonished at the comforts of these ships, particularly in view of the low cost of passage. Staterooms have an inviting air of informality, bright, new furnishings that suggest ease and comfort. Warm hued drapes hang at the portholes and doors.
The soft glow of a lamp on the dressing table shows through its silken shade. Over each bed is a reading light which can be switched off as drowsiness overtakes you. And the beds are most inviting for rest and refreshing sleep.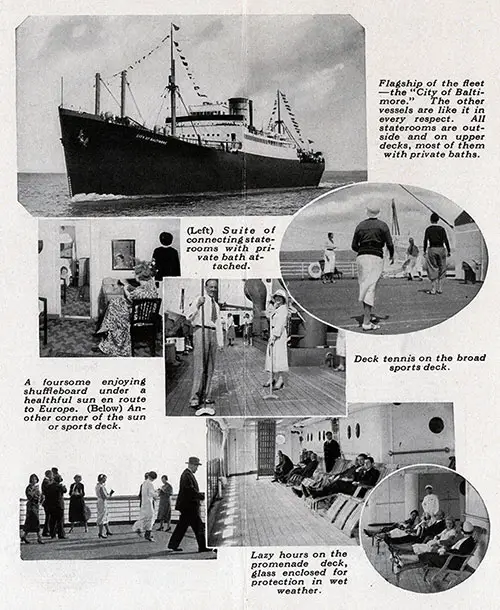 Photo Collage from the Voyages of the Baltimore Mail Line. GGA Image ID # 116ce829e9
Clockwise from the top:
Flagship of the fleet—the "City of Baltimore." The other vessels are like it in every respect. All staterooms are outside and on upper decks, most of them with private baths.
Deck tennis on the broad sports deck.
Lazy hours on the promenade deck, glass enclosed for protection in wet
weather.
A foursome enjoying shuffteboard under a healthful sun en route to Europe. (Below) Another corner of the sun or sports deck.
Suite of connecting staterooms with private bath attached.
All staterooms are on the upper decks and outside—light and airy. Sixty percent of them have private bath. In no stateroom are there more than three berths, although rooms ensuite may be had for larger parties.
Built with accommodations for but 83 passengers, the ships offer far more than a proportionate amount of deck space and lounges. Uncrowded decks contribute so much to an ocean voyage—long stretches of the promenade deck for hiking, or the glass-enclosed shelter deck for lazying in a steamer chair. Above is the open sports deck for games or sunning. At night both decks may be utilized for dancing.
The lounge likewise has a spacious air. It is decorated in quiet, good taste, with deep easy chairs, cozy divans, suffused lights. Aft on the promenade deck. is the oak-paneled smoking room and the bar from which choice wines and liquors are served at moderate prices.
The dining saloon extends the full width of the ship on deck "B", has a full sweep of air from port holes on either side. Its size is such that all passengers can be comfortably served at one sitting. You can choose your own time for dining during meal hours. And you can anticipate excellent food and a varied menu.
A swimming pool on deck furnishes during the summer months a delightful diversion appreciated by young and old.
To travelers who cross during the winter months, the Baltimore Mail Line is a boon. Both Baltimore and Norfolk are on the upper fringe of the warm Southland and you sail at once into the mild and tempering tide of the Gulf Stream. The southern route to Europe during the winter season is a relief from stormy seas.
A few hours in the quiet waters of the Chesapeake Bay, too, give passengers an opportunity to get their "sea legs."
Time was—because of the cost of steamship travel—when only those of wealth could satisfy the universal urge to make a transatlantic voyage and tour in foreign countries.
Today thousands are taking the broad highway to Europe who only a few years ago never dreamed it financially possible. It is no longer necessary for you to make the long, expensive rail trip to New York.
The five sister ships of the Baltimore Mail Line — are the City of Baltimore, City of Norfolk, City of Hamburg, City of Havre and City of Newport News.
Each is a clean, steady, oil-burning ocean liner, 506 feet long and of 13,500 tons displacement, equipped with radio sending and receiving station, automatic gyro steering compass, radio direction finder, visual automatic sounding mechanism and every modern navigating instrument and protective device.
Carrying Government mail, these vessels ply a new route to Europe, taking you by way of the Chesapeake Bay, one of the most beautiful bodies of water in the world, past Hampton Roads, where warships of the United States Navy concentrate, through the Virginia Capes, only eight and one-half days from the shores of Europe.
Sailing from Baltimore will enable you to visit Washington, D.C., fifty minutes away. You can also see the United States Naval Academy at Annapolis, likewise less than an hour from Baltimore, and Baltimore itself is a most interesting place, rich in historic atmosphere.
If it is more convenient for you to board ship at Norfolk, you will revel in the fascinating tidewater country of Virginia — old Colonial mansions, scenes of Revolutionary and Civil War struggles.