SS Statendam Facts and Figures – 1957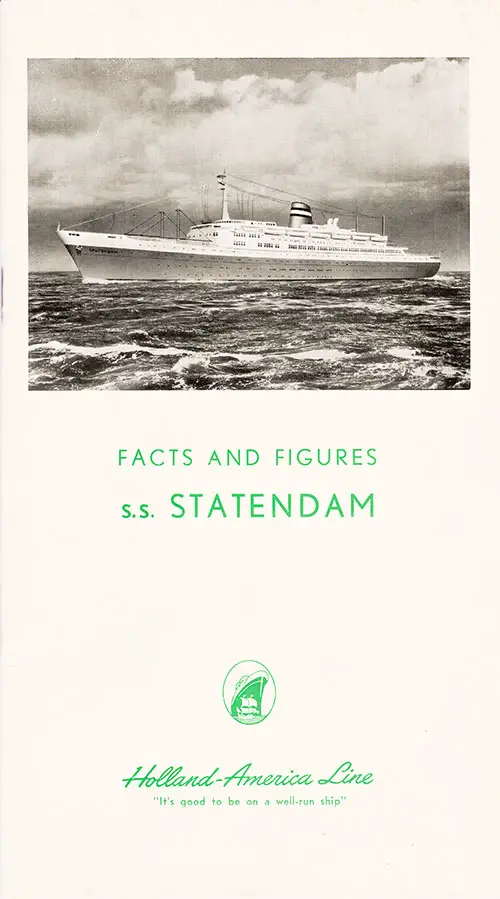 Front Cover, Facts and Figures, SS Statendam, Holland-America Line, February 1957. GGA Image ID # 1f7de244ab
STATENDAM IS ANOTHER HOLLAND-AMERICA "FIRST"
Just as the Holland-America Line has led the steamship industry with each new vessel it has built, so it is with the Statendam.
She represents a giant stride forward since the concept of the Ryndam and Maasdam — themselves a major step in comfort with economy for the tourist passenger — by offering him luxury with comfort and economy.
The advances made since 1938, when the Nieuw Amsterdam, with her "every-first-class-room-with-bath" innovation was commissioned, are marks of the genius of Willem H. de Monchy, the company's joint president-director. It was he who sponsored the Noordam-Westerdam type of passenger- freighter, which features luxurious one-class accommodation for approximately 150 persons — all rooms but one being outside, and all with private facilities.
In 1951 and 1952 the company introduced the Ryndam and Maasdam, which were a sensation in the travel world because they provided almost full run-of-the-ship accommodation for tourist class passengers.
Carrying virtually the same number (between 800 and 900), but exceeding them in size by almost 10,000 gross tons, is the new Statendam. On the Atlantic route, she will be run as a predominantly tourist-class ship, while on cruises she will provide the luxe service the cruise passenger expects.
Three cruises to the West Indies have been scheduled for the ship for her initial voyages, and she will not enter the New York—Channel ports—Rotterdam service until mid- April. Next winter, she will make a I 10-day around the world voyage, starting from New York on January 7, 1958.
THE NEW STATENDAM
Fourth Holland-America liner to bear the name, the latest Statendam presents a thoroughly streamlined appearance, within and without. The vessel will present an entirely new profile for a company liner, featuring a single radar mast, placed abaft the bridge, and a lone, stubby, pyramid-shaped funnel. She is completely air-conditioned and equipped with Denny-Brown stabilizers.
Every stateroom has a telephone, and almost all of her accommodation offers private facilities. Her hull is dove-grey, the superstructure white, and her funnel is buff and bears the company's traditional green white green stripes — the colors of the city of Rotterdam.
CONSTRUCTION
The 60 million-guilder (FI. 10.64 = £ 1.) cost of building the Statendam was financed wholly by the Holland-America Line, with no government subsidy involved.
She was ordered in 1954 as a replacement for the famed 34-year old Veendam, which had been retired. She was constructed by the Wilton- Fijenoord Company, and was laid down on June 18, 1955. Under construction at the same time and in the same building- graving dock was the Dinteldyk, which is soon destined to enter Holland-America's North Pacific Coast service.
FLOATING
The Statendam was floated out of her dock, rather than being launched, on June 12, 1956, the day when spring tides were at their highest. Water was admitted to the dock through valves until the level was several feet above that of the River Maas to ensure the vessel's rising clear of all supporting devices.
Then, five tugs and a derrick towed her through the dock gate, which was only eighteen inches wider than the liner. The ticklish maneuver was brought off without mishap, and the Statendam was immediately taken to her fitting-out berth nearby.
PREVIOUS STATENDAMS
The original Statendam was the company's first liner to exceed 10,000 gross tons, being registered at 10,491 g.r.t.
She was 515 feet between perpendiculars, had a beam of fifty-nine feet, a draft of thirty-five and a half feet and a speed of more than fourteen knots. She had accommodation for 1,486 passengers and was in service between 1898 and 1910. This Statendam made the Holland-America Line's first cruise, sailing to the Mediterranean in 1910 with tourists for the Holy Land.
The second Statendam was of 32,120 gross tons. World War I cut short her career after only four transatlantic trips, none in the service of the company. Launched in June, 1914, less than two months before the outbreak of war, she was 770 feet long, had a beam of eighty-six feet and a depth of forty-eight feet.
She had three funnels, and her triple screws were driven by engines which gave her an average speed of eighteen knots. She was built by Harland & Wolff. Ltd., of Belfast. Statendam II was requisitioned by the British Government in 1916, renamed the Justicia and sailed the Atlantic transporting Allied troops.
After an epic, daylong battle with U-boats, during which she was struck by three of nine torpedoes fired, Statendam II (or Justicia) went down on June 24. 1918, off the North Irish Coast. She had been the fourth largest vessel in the service of the Allies and was regarded as the most valuable transport sailing between the United States and England, carrying 5,000 troops and 15,000 tons of cargo on each trip.
Similar in appearance to her immediate predecessor, the third Statendam arrived in New York on her maiden voyage on April 18, 1929. She also had three stacks but boasted a cruiser stern, rather than the counter stern of the second Statendam.
The new liner's gross tonnage was 28,291, and she was 696 feet long. She had accommodation for 1,714 passengers and a speed of nineteen knots. She was given New York's traditional rousing welcome and went on to establish an enviable reputation in transatlantic and cruise services. Her demise came in May, 1940, during the invasion of the Lowlands, when she burned to a hulk at her Rotterdam pier.
MASTER OF THE STATENDAM
Captain Cornelis Haagmans has sailed for forty years and more than 2,000,000 miles in Holland-America Line vessels. He served on Statendam III between 1935 and 1939 as second chief officer.
Born May 31, 1898, at Dordrecht, The Netherlands, he received his maritime training at the famous old Kweekschool voor de Zeevaart, in Amsterdam. He joined the company in 1916 as an apprentice in the Maasdyk. Captain Haagmans was appointed fourth officer in 1917 and third in 1921.
In August, 1939, he was assigned, as chief officer, to the then new Sommelsdyk, which was being built for the Java New York Line, with which the Holland-America Line is associated. Between 1942 and 1944, Captain Haagmans served in the Volendam, which sailed as a troop transport to the Mediterranean, South Africa, Iceland and India.
Toward the end of World War II, he served in the Delftdyk and the flagship Nieuw Amsterdam. Between 1946 and early 1948 he was assigned, in turn, to the Westerdam and Noor- dam, then returned to the flagship.
Captain Haagmans received his first command, the Blydendyk in March, 1948, and later served as master aboard many of Holland-America's A freighters. He was appointed master of the Netherlands Government vessel Groote Beer in 1955. His last command before his present assignment was the Ryndam, which he joined in January, 1956.
The Statendam's skipper resides with his wife, Mrs. Jean Haagmans, at 64—12 99th Street, Forest Hills, LI.. N.Y. He estimates that during his four decades with the company he has served in vessels which have carried almost 100,000 passengers and 169,000 troops. His interests include classical music (he is an accomplished violinist) and philately.
HOLLAND-AMERICA LINE PASSENGER FLEET
The company now has six passenger liners, including the new Statendam. The others are:
the flagship Nieuw Amsterdam, of 36,667 gross tons, carrying 1,226 passengers in first, cabin and tourist classes;
the Maasdam, 15,024, with thirty-nine in first class and 842 in tourist;
the Ryndam, 15,015, with thirty- nine in first class and 854 in tourist;
the Noordam, 10,726, with 148 in one class; and
the Westerdam, 12,149 with 134 in one class.
The Nieuw Amsterdam, Maasdam and Ryndam are completely air-conditioned and equipped with stabilizers.
In addition, Holland-America Line has on order a new flagship, the Rotterdam, of 38,500 gross tons, which is expected to be delivered in 1959. The first keel plate of this liner was laid December 14, 1956 at the yard of the Rotterdam Shipbuilding & Drydock Company.
She will be 758 feet long and will have a speed in excess of twenty-one knots. Accommodating approximately 1,300 passengers in two classes, the Rotterdam also will be entirely air-conditioned and fitted with stabilizers. She will be the fifth Holland-America liner of that name, the first having opened the company's service to New York on 1873.
With the advent of the new Rotterdam. Holland-America will have the second largest passenger fleet regularly using the Port of New York. The aggregate gross tonnage of the company's passenger liners at that time will be approximately 152,300, and of the entire fleet, with 31 freighters, 411,615 gross tons.
GENERAL INFORMATION
DESCRIPTION OF PUBLIC ROOMS AND TECHNICAL APPARATUS
Length, overall: 642 ft. 3 ins.
Length, between perpendiculars: 578 ft. 2 ½ ins.
Breadth: 78 ft. 9 ins.
Depth, to B-deck : 33 ft. 4 3/8 ins.
Depth, to Promenade Deck: 60 ft. 8 ins.
Height, keel to top of funnel: 131 ft. 6 ¾ ins.
Height, keel to top of radar mast: 161 ft. 7 ¾ ins.
Draft, maximum: 26 ft.
Tonnage, gross: 24,294
Tonnage, net: 13,879
Shaft Horse Power: 22,000
Service speed: 19 knots
Decks: 9
Officers (excluding master): 44
Crew: 392
Passenger Capacity
First Class: 84
Tourist Class: 868
Total: 952
Staterooms, total, both classes: 403
Cargo Capacity
General: about 120,000 cub. ft.
Refrigerated: about 22,600 cub. ft.
Hatches (two forward, one aft) : 3
Booms: 6
Winches, electric: 6
Automobiles, as baggage: 27
CABINS AND PUBLIC ROOMS
WOODWORK, UPHOLSTERY, FURNISHING AND EQUIPMENT
The order for this was given by the Holland-America Line to De Nijs' Furniture Company, who, on account of the short time available, executed this order in co-operation with the firm of H. Pander and Son at Leidschendam and the Royal Furniture Company H. P. Mutters and Son at The Hague.
The placing of the paneling started in the early part of August 1956; completed January 1957. This quick construction was possible because all parts of the walls and ceilings had been prefabricated in the workshops. This naturally required very close co-operation with the Shipbuilding yard of Wilton-Fijenoord at Schiedam.
The designs for the public rooms were entrusted to five architects, the New Building Department of the Holland-America Line seeing to the design of the passenger cabins and those of staff officers.
The Tourist Class and Atlantic Class cabins were also made by the above-mentioned furniture factories, De Nijs' Furniture Company Ltd. acting as chief contractors. The woodwork in the First Class cabins, the beauty parlors, barbershops, offices, messrooms, corridors etc. was made by the Ship yard's paneling department.
A detailed description follows here:
MAIN STAIRCASE (foreword)
design: Han van Tienhoven, Amsterdam
contractors: H. Pander and Son Furniture Company, Leidschendam
walls: "Vynide" strip-divided with anodised aluminum stripes with plastic profile in between
staircase: Made of steel, on the undersurface 3 cm. of sprayed asbestos
banisters: In colored enameled steel with "mipolam" rails
contractors: Dam's Metalworks Ltd., Amsterdam
upholstery: Flights of steps and buffer-boards: rubber with strengthened nose-profiles. Vredestein, Loosduinen.
decorations on flights of steps :

a. between Main Deck and Promenade Deck: plaque of H.M. The Queen of The Netherlands.
b. between Promenade Deck and Boat Deck deed of baptismal ceremony performed by H.R.H. Princess Beatrix.

The main staircase runs from the Sports Deck to D-deck, connecting all passenger decks.
total height: 22,50 m., 131 steps.
STAIRCASE (aft)
The staircase in the after end of the vessel runs from the Bridge Deck to A-deck. Between the Promenade and the Bridge Deck on the flight of steps are the doors separating the First and Tourist Class.
total height: 11,60 m.
number of steps: 67
design: Han van Tienhoven, Amsterdam
contractors: H. Pander and Son, Leidschendam
walls: Made in two color "Vynide" strip-divided with anodised aluminum strips with plastic profile in between
stairs: Made of steel. Undersurface isolated with 30 mm of sprayed asbestos
stair-rails: "Mipolam" profile
banisters: In colored enameled steel
contractors: Dam's Metalworks Ltd., Amsterdam
ENCLOSED PROMENADE DECKS (port and starboard)
windows: Panes of Security glass.
floor-covering: Wafer-tiles in slate-blue color. Supplied by Vredestein, Loosduinen.
deck chairs: Plain beechwood with pulp-cane back and seat
number of deck chairs: 650.
CABINS TOURIST CLASS
design: New Building Department Holland-America Line.
contractors: De Nijs' Furniture Company Ltd. in close co-operation with H. Pander and Son Furniture Company, Leidschendam; Royal Furniture Company H. P. Mutters and Son, The Hague and "De Schelde", Flushing.
floor-covering: Rubber tiles, diagonally placed, in five colors: mustard yellow, pale green, dark green, golden yellow and dark blue
CABINS
FIRST CLASS
There are forty-three First Class staterooms, all outside and located on the Bridge and Upper Promenade Decks. All First Class public rooms are located on the latter deck.
Access to the Bridge Deck is by an elevator forward and stairways. The Upper Promenade Deck has the same means of access with an additional elevator forward.
Nine of the ten cabins on the Bridge Deck are for single occupancy, each with convertible bed, hip bath (actually about half normal length, with seat) and toilet. The remaining room has two beds, plus shower and toilet.
Twelve cabins deluxe on the Upper Promenade Deck comprise the outstanding feature of the accommodation on this deck. Each has twin beds, with bath and toilet.
There are twenty-one other cabins on this deck, accommodating either two or three persons, and all with private facilities. The rooms for three are equipped with a Pullman berth.
TOURIST CLASS
Main deck
Single cabins with Pullman berth: 84
Double cabins with Pullman berth: 55
A-deck
Single cabins with Pullman berth: 92
Double cabins with Pullman berth: 62
B-deck
Single cabins with Pullman berth: 18
Double cabins with Pullman berth: 4
C-deck
Single cabins: 1
Double cabins with Pullman berth: 13
All the above mentioned cabins have private facilities.
B- and C-deck
Single cabins with Pullman berth: 20
Double cabins with Pullman berth: 7
Double cabins with two Pullman berths: 4
These so-called Atlantic Class cabins have no private facilities.
Berths, total:  505
Pullman berths, total: 363
Tourist-class passengers, total: 868
PUBLIC ROOMS
RESTAURANT, UPPER PROMENADE DECK, PORT
design: Carel Wirtz, Rotterdam,
contractors: H. P. Mutters and Son, The Hague.
The room is decorated with a cast bronze screen executed by Rudy Rooyackers, of Voorburg, and depicting "The Returning Fishermen With Their Catch."
CLUB ROOM AND BAR. UPPER PROMENADE DECK, STARBOARD
design: Joost Schuil, Rotterdam,
contractors: H. P. Mutters and Son, The Hague.
The floor is covered with fitted moquette carpeting, whilst the walls are paneled in ash and Rio rosewood. The outer wall has two sets of windows.
The room has card tables, and writing desks, with bookracks above. Decorations include a bronze sculpture by Han Rehm of Rotterdam, of a Zeeland couple representing the struggle of the Dutch to reclaim land from the sea.
Executed in ash and Rio rosewood, the Bar can accommodate about thirty persons on ten stools, a bench and a "zitregel". The last-named is a narrow ledge on which one may rest comfortably in a half-sitting position.
DRAWING ROOM, UPPER PROMENADE DECK, AFT
design: Joost Schuil, Rotterdam,
contractors : H. P. Mutters and Son, The Hague.
Large windows make up three walls of the room, while on the fourth side, glass doors lead to the open deck. A teak parquet dance floor occupies the center of the room, and the furnishings include a rosewood piano.
The floor is covered with a heavy moquette carpet. Clara Schiavetto, of Amsterdam, designed and executed the table tops, which are decorated in abstract fashion with mosaics and inlaid bronze strips. The chairs and benches of the room are decorated with traditional fabrics in colors of chartreuse, gold, off-white and peach-red. Paneling is of Rio rosewood and bleached ash.
A major feature of the room is the tapestry. "Augurium", designed by Gisèle van Waterschoot van der Gracht, of Amsterdam, and woven at the mill, "The Owl", also of Amsterdam. The tapestry, which depicts a prophetess and her various emissaries, measures approximately twenty-six feet by eight feet. Gisèle van Waterschoot van der Gracht also designed the room's decorative mirrors.
TOURIST CLASS
The 353 staterooms are located on A-, B-, and C-decks. Almost all rooms have private facilities, and for cruises of the Statendam, only rooms so appointed will be offered.
Tourist Class public rooms are located on the Promenade-, B-, C, and D-decks. Two elevators forward and stairways connect the Promenade-, Main-, A-, B-, and C-decks with each other and with the higher decks. D-deck is served by one elevator forward and stairways.
OBSERVATORY, PROMENADE DECK. FORWARD
design: Han van Tienhoven, Amsterdam,
contractors: De Nijs' Furniture Company, Rotterdam.
Running the width of the vessel, this room offers an unsurpassed view of the sea on three sides. The walls are paneled in ash and grey "Vynide", whilst the carpeting is gold and pink, with an abstract figure. Furnishings include reading and writing tables.
The walls are decorated with paintings by Nel Klaassen of Zandvoort depicting the Four Winds. Nico Nagler of Amsterdam has carried out a multicoloured relief showing the discovery of the New World.
LIBRARY, PROMENADE DECK
design: Han van Tienhoven, Amsterdam,
contractors: De Nijs' Furniture Company, Rotterdam.
The room is finished in Honduras mahogany. The entire aft wall is occupied by book shelves, with the exception of the center portion, which is reserved for a steward's desk, where orders may be placed for photographs taken during voyages.
The ceiling is in two tones of grey, divided diagonally, and deep brown carpeting covers the floor. Six writing tables, with attached lamps have been provided; and a number of comfortable chairs have been placed about the room.
CARD ROOM, PROMENADE DECK, PORT
design: Han van Tienhoven, Amsterdam,
contractors: De Nijs' Furniture Company, Rotterdam.
Paneled in eucalyptus wood, the room has eleven card tables. A large section of the aft wall is covered by a tapestry representing card games in abstract style. It was designed by Cuno van den Steene, of Baarn, and executed by Edmond de Cneudt, also of Baarn.
On the forward wall, Rie Kooiman of Bergen, has painted a map of the world, using scenes typical of the various nations.
OCEAN BAR, PROMENADE DECK, STARBOARD
design: Han van Tienhoven, Amsterdam,
contractors: De Nijs' Furniture Company, Rotterdam.
The walls are decorated in stained ash and beige vynide. The bar can seat fifteen persons and several more at adjoining tables. Humorous line drawings by Frits Haseveld, of Amsterdam, enliven the bar and tabletops.
The round "Liar's Benches" at either end of the bar are an amusing feature of the room. These are modelled on the benches found in the market places of many small Dutch towns, where elder residents gather to take their ease and attempt to outdo each other in the telling of tall stories. Each bench of the Bar can accommodate twelve persons.
LOUNGE, PROMENADE DECK
design: Han van Tienhoven. Amsterdam,
contractors: De Nijs' Furniture Company, Rotterdam.
With an area of approximately 5,380 square feet, the room can accommodate 460 persons. By day, the room is a place of relaxation, and by night, it is the scene of social activities.
The walls are paneled in Rio Rosewood, and the floor is covered with "datap", a vulcanized carpet that simplifies maintenance problems. The colors of the furniture's upholstery range from old rose near the windows, to warm yellow at the center of the room.
An orchestra stand divides the aft portion of the room into two intimate adjuncts of the main section. These are decorated in the same colors as the principle area, in addition to being graced by tapestries depicting a garden party, and executed by Ernée van der Linden— 't Hooft, of Amsterdam.
The lounge also features multicoloured ceramic creations depicting the four seasons, designed by Cuno van den Steene and executed in the studios of Goedewagen, at Gouda. Cuno van den Steene and Ernée van der Linden—'t Hooft designed the decorations for the tabletops , which are in "Warerite", a resistant plastic.
APERITIF, PROMENADE DECK, PORT
design: Joost Schuil, Rotterdam,
contractors: H. Pander, Ltd., Leidschendam.
Glazier Willem Akkermans, of Rotterdam, carried out the carefree decorations of this Bar, using wood, metal and lacquer to picture a juniper tree twining about one of the vessel's construction supports. His other decorations have been carried out in aluminum, rope and brass. There are sixteen stools at the Bar, in addition to tables and chairs placed about the room.
ANTEROOM, PROMENADE DECK, STARBOARD
design: Joost Schuil, Rotterdam,
contractors: H. Pander, Ltd., Leidschendam.
Covering a large part of one wall is a tapestry, "At the Well", designed by Nel Klaassen, of Zandvoort and woven by the studio. "The Scissors", at Laren. The paneling is of bubinga, and velours and "vynide" have been used to upholster the chairs. The rubber flooring is covered with a hand-made carpet.
SMOKING ROOM, PROMENADE DECK, AFT
design: Joost Schuil, Rotterdam,
contractors: H. Pander, Ltd., Leidschendam.
Mahogany and "vynide" have been used to panel the Smoking Room. A number of easy chairs and small and large benches, have been placed on a heavy moquette carpet.
Large windows at either side of the room, which has tables to accommodate four card parties, overlook the deck. Concave/convex walls at both ends of the room are decorated with ceramic figures symbolizing "Hunting". These were designed and executed by Peter Roovers of Heyen, who also carried out the colorful tabletops. Centered in the aft wall is an electric fireplace flanked by benches.
VERANDAH, PROMENADE DECK, AFT
design: Joost Schuil, Rotterdam,
contractors: H. Pander, Ltd., Leidschendam.
Adjoining the Smoking Room, aft, this room has cherry paneling, with floors of rubber in two colors. Tables and chairs are constructed of steel, finished with braiding of plastic rushes.
On one of the walls Pieter den Besten of Rotterdam has executed in linoleum of various colors a relief showing the five continents. Passengers may step from this room on to the open Promenade Deck, the location of one of the liner's two swimming pools.
OUTDOOR SWIMMING POOL, PROMENADE DECK, AFT
See indoor pool in which the same materials were used.
DINING ROOM, B-DECK
design: Joost Schuil. Rotterdam,
contractors: De Nijs* Furniture Company, Rotterdam.
Accommodating 530 persons, the room has walls covered in eucalyptus wood and off-white "vynide". Flooring is of rubber in colors of mustard yellow, light green and dark green. Glass reliefs, executed by Willem Akkermans, decorate the engine casing, and the windows are framed by white curtains bearing a tree motif.
Tables, chairs and serving stations are of bleached ash. The raised part of the ceiling is sky blue, while the remainder is off-white. The ceiling is covered with perforated, sound-absorbing material. Designed by Mr. Akkermans and carried out by Van Tetterode, of Amsterdam, a tropical landscape, in glass mosaic, covers the three walls of the shaft fronting on the room. Large walls mirrors are used to accentuate the length of the room. The abstract metalwork decorating the clock was designed and executed by César Domela Nieuwenhuis, of Paris.
THEATRE, C-DECK
design: Cornelis J. Engelen, Rotterdam,
contractors: De Nijs' Furniture Company, Rotterdam.
Of the 340 seats, forty-six are reserved for first class passengers, for whom separate entrances have been provided.
Equipment has been supplied by Philips Nederland N.V., of Eindhoven, including a screen, 16,40 feet by 6,40 feet, which may be rolled into the ceiling. In addition to regular films, movies made in such wide-angle processes as Cinemascope and Vista-Vision may be shown. The general color scheme is gold, royal blue and black.
Recessed ceiling lights shine through star-shaped openings to give the impression of a night sky. The long walls are finished in gold "vynide", and general illumination is furnished by philinea light fixtures concealed behind these walls. An abstract metal composition decorates the forward wall.
The stage curtain has been made in two tones of beige, shot through with gold and blue threads. Design and execution were carried out by Han Polak, of Voorschoten. Footlights and ceiling floodlights illuminate the stage.
An altar has been built, so that divine services may be conducted in the Theatre and an electric organ has been installed which can be used during services. The Theatre has been built without pillars through the use of extra strong walls.
SWIMMING POOL, D-DECK FORWARD
design: Cornelis J. Engelen, Rotterdam,
contractors: Lint, Ltd., The Hague.
The pool measures approximately twenty-three feet by sixteen feet. Its long walls are illuminated and decorated with an abstract glass mosaic in shades of blue. The bottom is finished in a wave pattern of glass mosaic, alternating with sand-colored strips.
An entire wall has been decorated with a glass mosaic, designed by Willem Akkermans, depicting marine life in abstract style. The work was executed by Van Tetterode. This work is further enhanced by a glass enclosure with a fish-and-marine plant motif, designed by Dick ten Hoedt, of Amsterdam, and executed by Van Tetterode Amsterdam. Dressing rooms are set along the sides of the pool. Adjoining the pool are a fully equipped gymnasium, Turkish baths (with temperate rooms) and massage rooms.
NURSERY, SPORTS DECK, FORWARD
design: Barend van Veen, Rotterdam,
contractors: H. P. Mutters and Son, The Hague.
A qualified nurse is in charge of the room, where a large selection of toys and games are available. The ceiling has been decorated in large planes and a dropped section has been finished in abstract style by Ger van lersel, of Rotterdam.
Benches have been placed along the rounded forward wall, their backs attached to the wall and their fronts supported by two legs each. The benches have removable cushions, which children may place on the floor and use as seats during storytelling hours.
The inside of each bench is rubber-padded, so that they may also be used without the cushions. Chairs are constructed to allow use by small as well as large children, and during play sessions the chairs may be used as building blocks or railway coaches. A special feature of the room is a puppet theatre.
ADDITIONAL DECORATIONS
It would be almost impossible to list the names of all the individuals, companies, studios and shops whose efforts have gone into the decoration of the Statendam. In addition to those mentioned in the preceding deck-by-deck description, many others contributed.
The Crucifix and two side panels of the altar in the Theatre were executed by Anton Winkel of Dordrecht, while his wife, Maria Winkel-Hendriks, made the altar cloth and antependium. The beaten silver candelabra were supplied by Jan Rot of Delft.
Geurt Brinkgreve of Amsterdam, wrought the delicate bronze figurines, depicting the delights of the dining table, which are found in the foyer at the entrance to the Dining Room. Clock faces for the cabins deluxe were executed by Cornelia Leeflang of Rotterdam and Otto Cramer of Uden. Agnes Canta of Rotterdam contributed a decorative panel for the door to the physician's cabin, and Toon Koster of Naarden did the same for the chief officer's room.
Gerda Rubenstein of Amsterdam created a figurine gracing the First Class foyer. The officer's mess room is brightened by a painting by Herman Bieling of Rhoon. while Jan Makkes of Santpoort has decorated the purser's quarters. Posthumous tribute has been paid the well-known Dutch painter, Adriaan Lubbers, who contributed to the decoration of the flagship Nieuw Amsterdam. He had been asked to participate in work on the Statendam but died during a stay in the United States. In commemoration, a glass applique, modelled on one of his New York City scenes, has been placed in a foyer of the Statendam.
ENGINE DEPARTMENT
PROPULSION MACHINERY
Power is supplied by two Pametrada, cross-compound H. P. and L. P. turbine engines, built by the Wilton-Fijenoord Company. The engines are equipped with double reduction gear, manufactured by Maag, of Zurich.
With a total of 22,000 shaft horse power at 120 revolutions per minute, the vessel's service speed is nineteen knots, enabling her to cross from New York to Southampton in six and a half days.
Steam is furnished by two Foster Wheeler boilers, of the double furnace type, with economizer and superheater. Outlet steam temperature is 850 degrees F. and pressure is 625 pounds per square inch.
The boilers are fired by Todd single-flow oil burners and air heaters warmed by steam. The vessel's fuel capacity is 2.000 tons, and her rate of consumption is approximately 155 tons per day.
For electric power, there are four turbo-electric generators of 700 kilowatts and 440 volts, alternating current, which is transformed into 110 volt 60 cycle A.C.
Each of the two bronze propellers has a diameter of nineteen feet two and a half inches, and weighs 16 ½  tons.
CARGO COOLING SYSTEM
Refrigerated cargo and perishable provisions are carried in five chambers, with a total capacity of 30,700 cubic feet. A minimum temperature of 15 degrees F. can be produced by three compressors with condensers. Temperature readings are taken in the engine rooms by means of long-distance thermometers.
FRESH WATER SUPPLY
A Griscom-Russell distilling plant, located in the engine room, supplies drinking water (converted from sea water) for use throughout the vessel. The plant consists of two units, with a normal capacity of 260 tons per day.
Ten compressor units, with storage tanks, draw on the distilling plant pipe lines and supply ice water to fountains throughout the liner.
NAVIGATION, COMMUNICATIONS AND SAFETY EQUIPMENT
ELECTRONIC AIDS
For navigation purposes, the Statendam is equipped with a Sperry Mark III radar installation, with a twelve-foot scanner fixed to the single mast. The installation's dual transmitter- receivers and dual display are believed to be an exclusive Holland-America Line feature.
The potential uses of these are many. For example, one display might be used for navigating and fixing position, and the other to avoid collisions. When sailing in congested waters, one display can be used for long range and the other for short range reception.
A further advantage stems from the fact that the chance of the set failing due to component failure is lessened as each part (with the exception of the scanner) is duplicated. The Statendam's radio direction finder, manufactured by Plath of Hamburg differs importantly from previous models.
The vessel's bearing is indicated on a cathode ray tube almost automatically, since the only manual operation required is the tuning of two receiver channels. The bearing indication gives positive evidence of interference from radio signals or from night effect'' or reflected waves in darkness.
The range has been increased from the usual 200 miles to 1,000 miles, using the Watson Watt principle (maximum range bearings) and taking bearings at maximum signal strength.
Besides celestial navigation, the vessel's position in American coastal waters and on the Atlantic can be determined by Loran. The Decca Navigator'' is used in the English Channel and the North Sea.
A Sperry Mark XIV (model 2) gyrocompass provides true course indication. Two automatic pilots and eleven repeater compasses are connected with this master compass. The "iron mikes' operate independently and can be used alternately. Speed is indicated continuously by a pilot log.
Equipment also includes an Echosounder, with an indicator and recorder on the bridge linked to a pair of projectors in the vessel's keel.
The indicators for the safety fixtures are located on the port side of the wheelhouse, including fire alarms, sprinkler system and smoke detectors, plus the control board for the watertight door network.
To facilitate pilot and tug boat arrangements when approaching ports, ship-to-shore communications may be made by FM VHF radio-telephone equipment, operating on a wave length of 156 megacycles, and via a medium-frequency radio-telephone set, operating on two megacycles.
ANCHORS
The vessel has three bow anchors, each weighing almost six and a half tons. Her anchor chains are 2  7/8" in diameter and total 2,000 feet in length.
ELECTRIC POWER INSTALLATION
Four main generators, each rated at 700 kilowatts, can produce a total of 2,800 kilowatts. An emergency generator is rated at 150 kilowatts. Using all this equipment, enough "juice" could be generated to meet the electrical needs of 4.200 average Manhattan apartments.
Additional power can be supplied by an emergency battery, of 635 amperes. The current generated is three-phase. 440 volts and sixty cycles. For use in the staterooms, this has been stepped down by eight transformers to 110 volts and sixty cycles, alternating current. The plugs of standard American, as well as European, appliances fit the wall sockets in the cabins.
150 miles of electric cable and twelve miles of tubing have been used. There are more than 12,000 electric points for various purposes, and more than 1.800 fluorescent tubes.
FIREPROOF BULKHEADS AND DOORS
Transverse and longitudinal fireproof bulkheads separate all passenger accommodation from machinery, cargo and service installations. There are more than 160 fireproof self-closing doors. The twenty-four sliding doors installed below B-deck serve both as fireproof and watertight doors, which can be operated on the spot or from the bridge. More than 70,000 square feet of sprayed asbestos has been used in insulating the vessel.
FIRE WARNING AND CONTROL
The sprinkler system includes 2,500 outlets grouped in twenty- four sections throughout the vessel, the whole connected to an audio-visual alarm panel on the bridge. Cargo spaces have a combined smoke-detecting and C02 fire-extinguishing system, also connected with an audio-visual alarm on the bridge.
The engine and boiler rooms have C02 and foam equipment. Fire patrols are maintained by trained personnel, and many hand extinguishers have been placed throughout the vessel. In addition, warning to the bridge can also be given by means of sixty hand-operated alarms.
LIFEBOATS
There are ten lifeboats with hand-operated propellers, and two with motors, accommodating a total of 1,436 persons. All the lifeboats are made of aluminum, and they are hung in gravity-type davits.
The equipment meets the requirements of the International Safety Code and the U.S. Coast Guard. A new type of Bowsing tackle, especially designed for the ship keeps the lifeboats close to the hull, even while listing and eases them gently to the lowering position.
PUBLIC ADDRESS SYSTEM
Announcements, radio broadcasts, gramophone music and concerts by the ship's orchestra in the Tourist Class lounge pass through three 120-watt amplifiers and issue from two sound units and ninety-five loudspeakers installed in public rooms, deck areas and the crew's quarters.
Each of the amplifiers can be used independently. An amplifier and record player have been installed in the tourist and First class lounges which can be connected to the loudspeaker system of the room. In addition, three portable amplifiers and record players are available for use in the public rooms, as desired.
The Theatre is equipped with an amplifier and microphone that can be used independently of the cinema installation. The Captain has a master control over the public address system.
RADIO EQUIPMENT
Medium and short-wave transmitters have been installed, the former of 350-1,575 kilocycles and 250 watts, and the latter of 2,000-24,000 kilocycles and 300 watts. In addition, there is an emergency transmitter of 250-515 kilocycles and forty watts, plus a short and medium-wave receiver.
There are also auto-alarm receivers and transmitters. A short-wave telephone transmitter operates at 1.6-3.8 megacycles and 100 watts, and 4-22 megacycles and 400 watts. It is furnished with speech inversion equipment to ensure privacy of conversation.  The radiotelegraph equipment was supplied by R.C.A. and the telephone by the Marconi Co.
STABILIZERS
For smoother sailing, the vessel is equipped with Denny- Brown stabilizers. The installation consists of two fins, one projecting from each side of the vessel's forward portion, below the water line. They are operated by an electro- hydraulic system, and their motion is automatically controlled by two gyroscopes.
The operation of the stabilizers and the angles of the vessel s movements through the horizontal are recorded by instruments installed on the bridge. The "roll damping" is eighty per cent.
WATERTIGHT BULKHEADS AND DOORS
Twelve bulkheads extending from the double bottom to B-deck divide the vessel into thirteen watertight compartments. There are twenty-four sliding, watertight doors which can be operated electrically from the bridge or by hand.
MISCELLANEOUS
AIR-CONDITIONING AND HEATING
The vessel is completely air-conditioned, including crew's quarters. Two Carrier centrifugal compressors can supply a cooling effect equal to that furnished by 800 tons of melting ice. These compressors are powered by two steam turbine engines, with 836 total horse power.
During Winter, heat is furnished by means of a hot water system, which works in conjunction with a spray installation to ensure proper humidity. Two pumps with a total capacity of 364 tons of water per hour, deliver hot water to the units of the system. Conditioned air comes from thirty-six units in twenty-six fan rooms. Each stateroom has individual temperature controls.
SAFETY FEATURES
The Statendam has been built in strict accordance with, and in excess of, the requirements of the International Conference for Safety of Life at Sea. which includes Lloyds Register and the American Bureau of Shipping. She is fireproofed throughout and extraordinary precautionary measures have been taken. (See "Navigation. Communications and Safety Equipment" for details).
The vessel is the first to be equipped with a newly designed Bowsing tackle to keep the lifeboats in to the side of the hull should a heavy list occur.
As the boats are filled, they can be released gradually into the necessary vertical position for lowering to the surface.
BAGGAGE ROOM
A spacious room (on D-deck forward) is available as usual for the storage of baggage that passengers do not require to be in their immediate possession.
FUNNEL AND MAST
The all-aluminum funnel weighs almost ten and a half tons and was specially tested by the National Aircraft Laboratory, of Amsterdam.
The mast designed by the Holland-America Line's technical department, was manufactured by Gusto of Rotterdam, weighs eighteen tons and is also made entirely of aluminum.
HOSPITAL
Located on B-deck, aft, it comprises a reception room, operating theatre, operating table and X-ray equipment, in addition to complete dental equipment and a pharmacy. There is separate hospital accommodation for male and female passengers and the crew. In addition there is an isolation ward.
KENNELS
Air-conditioned and electrical heated kennels for approximately 15 dogs are located on the port side of the sports deck, just aft of the funnel.
KITCHENS
The main kitchen system is located on B-deck, adjacent to the Dining Room. This includes butchers bakers and fish sections, coffee and cold pantries, meat store, wine bar and patisserie. These are connected with the First Class kitchen on the Upper Promenade Deck by means of elevators.
All kitchen equipment operates on electricity, with the exception of steam tables, a bain-marie and charcoal grills. Automatic dishwashing machines are equipped with hot air dryers. Chambers on C- and D-decks are used for storage of dry and cooled provisions, which are transported to the kitchens by two special elevators.
LAUNDRY
Two giant washing machines, two centrifuges, a drying machine, a steam wringer, a tumbler, collar-and-cuff and shirt pressers are located on C-deck aft. Adjacent are a linen storeroom and tailor's shop, plus a small stores shop for the vessel's personnel.
MAIN STAIRCASE AND FOYER
Runs from the Bridge Deck to D-deck, connecting all passenger levels. The principal foyer is on the Main Deck, where the Purser s and Chief Steward's offices, the gift shop, barber shop and beauty salon are located.
ACCOMMODATION OFFICERS AND CREW
Officers' quarters are located on the Bridge Deck, together with a spacious combined dining and smoking room. The crew is accommodated on Main-, B-, C- and D-decks. Their mess room is on B-deck. The Master s cabin is located on the forward, starboard side of the Bridge Deck.
PHOTOGRAPHER'S DARKROOM
Located on C-deck amidships. The ship's photographer may be consulted here by passengers.
PRINTER'S SHOP
Located on D-deck forward/aft. The ship's daily newspaper, the Ocean Post, announcements and menus are produced here.
SPORTS DECKS
There are large First Class and Tourist Class sports decks located aft and forward of the funnel respectively. Three sides of each are lined with benches, and a full range of equipment for deck games is available.
TELEPHONE AND RADIOGRAM SERVICES
The vessel is furnished with more than 400 telephones, of which 40 are used for service purposes. The equipment equals the number of instruments that normally would be found in a luxury-type London hotel (surmounted by penthouse).
The vessel's telephone network connects all accommodation and the other sections used by passengers, calls passing through a manual switchboard.
For navigating purposes, a sound-powered telephone system has been installed for communication between the bridge and the remainder of the vessel.
During both transatlantic and cruise voyages, passengers may make ship-to-shore telephone calls and send radiograms from adjoining offices located on the Bridge Deck forward.
VENTILATION
Air supply and exhaust fans have been installed in the swimming pool area on D-deck, the laundry and kitchens.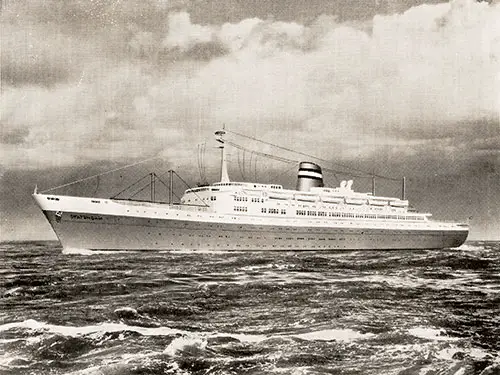 The SS Statendam of the Holland-America Line, February 1957. GGA Image ID # 1f7e065add