Anchor Line Second Cabin Accommodations - 1913
Front Cover, Anchor Line Second Cabin Information and Accommodations, Weekly Service Between New York - Glasgow -- Londonderry. Published 29 November 1913 by Amsden-Kalbfleisch Co., Agents - Rochester, NY. GGA Image ID # 11554ab3d2
12-Page brochure on second cabin accommodations on transatlantic steamships of the Anchor Line offering weekly service between New York, Glasgow, and Londonderry. Published by Amsden-Kalbfleisch Co., Agents - Rochester, NY on 29 November 1913. Numerous photographs, Rates of Passage, and other information are included.
TWIN-SCREW STEAMSHIPS
COLUMBIA
CALEDONIA
CALIFORNIA
CAMERONIA
ARE the newest of the Anchor Line fleet and the fastest sailing between New York, Glasgow and Londonderry. They are large, comfortable sea boats, fitted with all the conveniences and affording all the comforts of a first-class city hotel.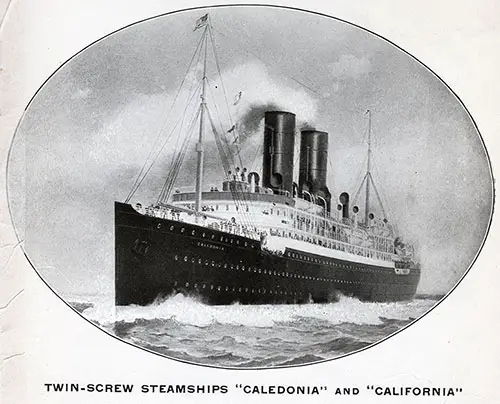 Twin-Screw Steamships "Caledonia" and "California" of the Anchor Line. GGA Image ID # 1155535dff
Each vessel is divided into water-tight compartments and has six decks, named respectively the 'tween deck, main deck, upper deck, bridge deck, promenade deck and the boat deck, for passenger accommodations.
The average passage is seven and one-half days—leaving NEW YORK on Saturday at noon, they usually arrive at Moville (Londonderry) on the following Saturday evening and at GLASGOW on Sunday morning.
Accommodations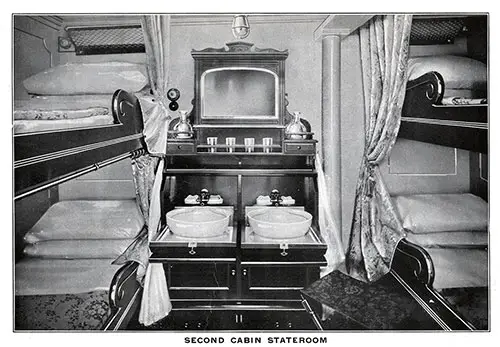 Four-Berth Second Cabin Stateroom Typical on a Steamship of the Anchor Line. GGA Image ID # 11558bbf17
Accommodations are nearly amidships, with Staterooms for two and four persons on the main decks, who will find that their comfort and convenience in every respect have been excellently catered to.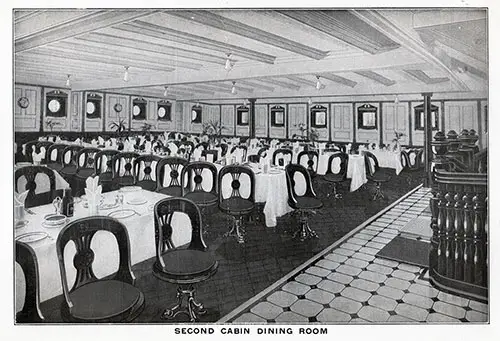 View of the Second Cabin Dining Room on an Anchor Line Steamship. GGA Image ID # 1155e2a63e
The Dining Saloons are on the upper decks, the Ladies' Cabins or Libraries are directly above the Saloon. There are books for the studious, a piano for the musical, and comfortable lounges and armchairs for everyone.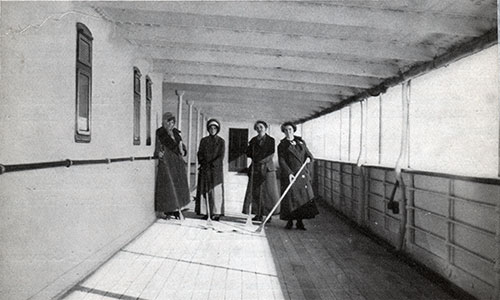 Second Class Passengers Enjoy a Game of Shuffleboard on a Covered Promenade Deck. GGA Image ID # 115651c620
The promenade decks have comfortable shelters and are lighted by electricity. The spacious and well-appointed Smoking Rooms have everything on hand which a smoker could desire. A good idea of the accommodation provided is afforded by the study of the interior views herein given.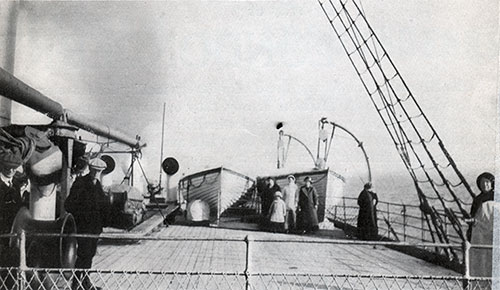 View of the Boat Deck where Second Class Passengers Enjoy Walking About. GGA Image ID # 11567b62f5
These Steamships Are Fitted with Marconi Wireless Telegraph. Orchestra on Each Steamer.
Second Cabin Passage Rates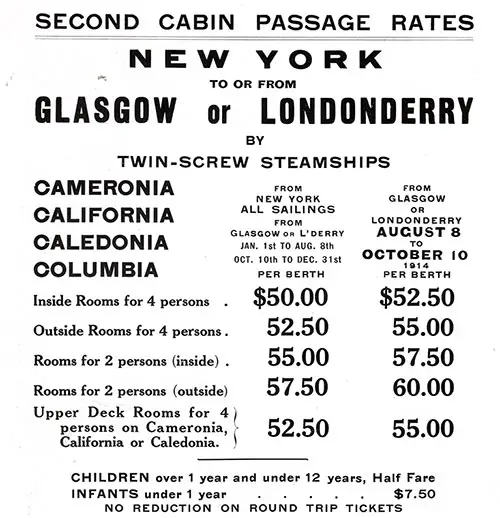 Anchor Line Second Cabin Passage Rates In Effect 1913. Ships Included the Caledonia, California, Cameronia, and Columbia. GGA Image ID # 1156df9815
PASSENGERS are provided with all necessaries for the voyage, including a liberal and varied bill of fare. Meals are served in special dining-room, by attentive stewards, and experienced matrons look after the comfort of women and children.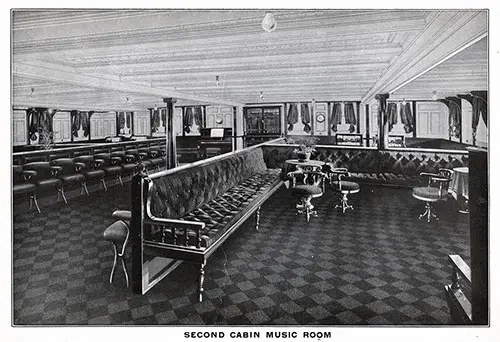 Anchor Line Second Cabin Music Room. GGA Image ID # 115700da71
Application for Berths. Please be careful to state clearly rates of passage accommodation required, if for lady, gentleman or married couple, and always give age of children. Advise promptly if ACCEPTED or DECLINED.
A deposit of $10.00 is required to secure berths, and the balance of passage must be paid a week prior to sailing. It is necessary to secure berths as far ahead as possible to obtain best location.
Anchor Line Second Cabin Smoking Room. GGA Image ID # 11573fa2be
Return Accommodation. If so desired, berths for the return trip can be secured by purchasing a prepaid ticket to cover the reservation before leaving New York, for which a receipt will be given, and same can be exchanged for the regular contract at the ticket office of the Line in Glasgow or Londonderry.
Deck Chairs can be hired for the single trip for $1.00 at the office of the Line.
PLANS showing Second Cabin Accommodation, Schedule of Sailings and any other information not contained in this Booklet can be had by applying to
Henderson Brothers
General Agents
21-24 State Street, New York
35 West Randolph Street, Chicago
Or to any local agent.
Ireland by Way of Londonderry
Railroads terminating there afford every facility for travelers desiring to visit Belfast, Dublin or any city or town in the North or West of Ireland to reach their destination quickly.
Representatives of the Line meet the steamers at Moville and render passengers every assistance and furnish them with any information necessary regarding hotels, departure of trains from Londonderry, THE SHORTEST AND MOST CONVENIENT ROUTE TO DUBLIN and all stations in Counties Donegal, Tyrone, Antrim, Down, Armagh, Fermanagh, Leitrim, Sligo, Monohan, Cavan, Longford, Roscommon, Louth, Meath or Westmeath, which are entirely covered by the North of Ireland Railways.
RAIL RATES
Londonderry to Belfast
1st Class $2.88
2d Class $2.28
3d Class $1.90
Londonderry to Dublin
1st Class $6.60
2d Class $5.04
3d Class $3.30
ANCHOR LINE DRAFTS
Can be purchased from the agents of the Line at lowest current rates, and will be found a safe and economical way of transmitting money to friends in Great Britain and Ireland.
Passengers holding Anchor Line Drafts are saved much trouble, as they can get them cashed at the following banks and offices free of charge.
IN ENGLAND
The British Linen Co. Bank, 41 Lombard Street, London ; or at the branches of The National Provincial Bank of England, throughout the provinces.
Anchor Line (Henderson Brothers) Limited, 17 Water Street, Liverpool ; 4 St. Mary Axe, London.
IN IRELAND
Bank of Ireland, Dublin, and branches ; The Ulster Banking Company, Belfast, and branches ; or Anchor Line (Henderson Brothers) Limited, 20 Foyle Street, Londonderry,
IN SCOTLAND
The British Linen Co. Bank, Edinburgh and Glasgow, and branches. Anchor Line (Henderson Brothers) Limited, Anchor Line Buildings St. Vincent Place, Glasgow : 25 Albert Square, Dundee.
Second Cabin Passengers can be Booked to or from Continental and Scandinavian Ports at the following Rates, in Addition to the Ocean Passage to or from Glasgow: (SUBJECT TO CHANCE)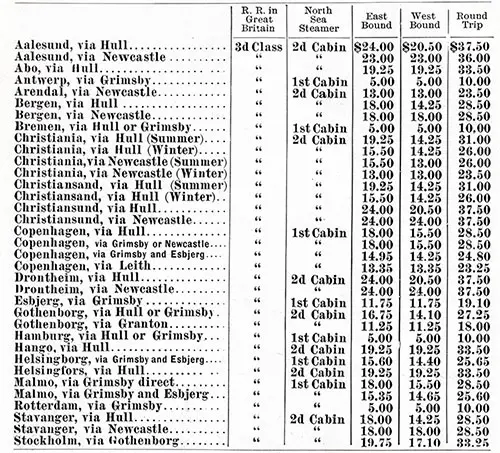 Cabin Class Rates to European and Scandinavian Ports from Glasgow. GGA Image ID # 11577d9f15
On railroads in Great Britain, and on North Sea steamer, half fare is charged for children between three and twelve years of age. Children under three years are free.

Third Class Rail Rates To or From Glasgow. GGA Image ID # 1157f83d67
Passengers booked through to Continental, Scandinavian or Finnish ports are met on arrival at Glasgow by a representative of the Line, who attends to transfer of baggage. When necessary, passengers are provided with hotel accommodation, free of charge, while waiting for North Sea steamer, on which meals are furnished free of charge.
BAGGAGE
Second Cabin : 20 cubic feet free ; any excess will be charged for at the rate of One Shilling sterling per cubic foot. Each piece of baggage must be distinctly marked Wanted or Not Wanted so it can be put on board of steamer before sailing.
Stateroom baggage must be confined to trunks 14 in. high by 36 in. long, suit cases or valises.
ALL HEAVY BAGGAGE WILL BE PLACED IN SHIPS' HOLDS.
Bicycles, $2.50 to Glasgow or Londonderry. Must be crated.