The Cunard Liverpool Route - 1923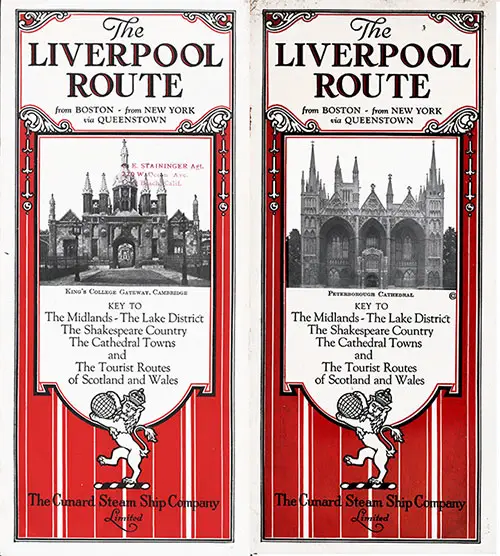 Cover, The Liverpool Route from Boston and New York via Queenstown (Cobh), © 1923 by the Cunard Steam Ship Company Limited. GGA Image ID # 1198639f30
16- Page Brochure provides insight into the Liverpool Route that is shared by both the Cunard Line and Anchor Line. The majority of the booklet is a tour guide of England, and the remainder on passenger service between Boston, New York, and Canada to Liverpool, Queenstown, Cherbourg, and other European ports of call.
The Liverpool Route
LONDON is not England, any more than New York is the United States. England is a country of rich meadows, of spic-and-span villages, of beautiful, decorous country places — some of them centuries old — a busy, proud town, also hoary with years.
The traveler who dashes from the steamer to London and visits only the England of London misses the more significant part of the beauty and pleasure of a foreign journey. No one should forego the wonders of London, the awesome halls of the Tower, the bustle of Piccadilly Circus, the byways made famous by Dickens, the solemn thrill of Westminster.
But these things of London are better understood and appreciated when seen against a background of England. See the rest of England. A holiday spent in wandering pleasantly about among the famous quaint towns of England is much more enjoyable and restful than one spent entirely in the large cities. Your memories of England will be more precious, your sight-seeing in London will have greater meaning.
The most convenient means of reaching the historical sections and points of interest throughout England is by one of the several great Cunard Liners. Liverpool is the home port for many of the fine new Cunard steamships sailing both from New York and Boston.
It is a center from which radiate several branches of railroad systems with good trains running up, down, and across the country. It is the logical gateway to the heart of England, and it is within quick reach of London and the Continent if one's plans make it impossible to linger by the way.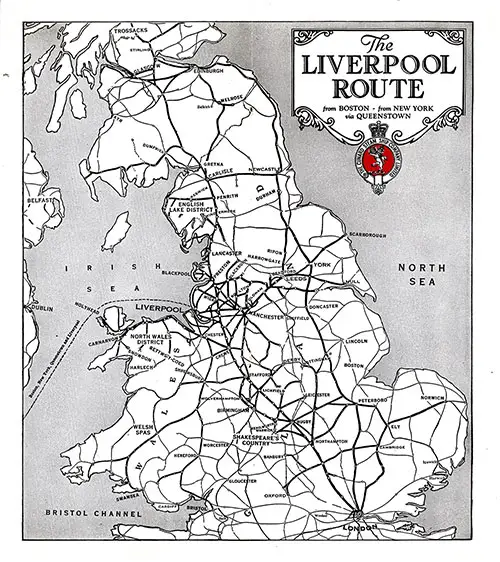 Cunard Map of the Liverpool Route from Boston -- from New York via Queenstown. Cunard Steam Ship Company Ltd. Includes Passenger Rail Lines. GGA Image ID # 119881c83c
Services
Passenger Service from Boston, New York, Canada, to Liverpool, Queenstown, Southampton, Cherbourg, Plymouth, London, Hamburg, Glasgow, Londonderry, and the Mediterranean.
The service to Liverpool from both New York and Boston is maintained by a
splendid fleet of 20,000-ton, first-class ships, including the established favorites "Caronia" and "Carmania" and the magnificent new oil burners which entered the service in 1922 and 1923, the "Scythia" and "Samaria" and the "Franconia." This exceptional fleet provides luxury with economy.


CUNARD AND ANCHOR LINES
25 Broadway NEW YORK 126 StateSt. BOSTON
Offices and Agents Everywhere