Baltimore Mail Line Outstanding Travel Value - 1930s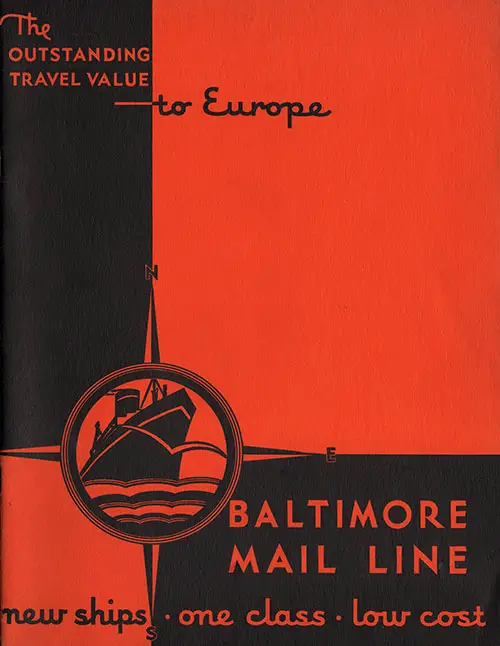 Front Cover, Outstanding Travel Value to Europe on the Baltimore Mail Line with New Ships, One Class, and Low Cost. Undated Early 1930s. GGA Image ID # 1168119063
1930s Brochure offers extraordinary interior and exterior views (including passengers) of their transatlantic steamships of the Baltimore Mail Line with routes between Baltimore, Norfolk, Havre, and Hamburg.
Newest Passenger Line to Europe
A Fleet of Five Fast Mail Liners
SS City of Baltimore
SS City of Norfolk
SS City of Havre
SS City of Hamburg
SS City of Newport News
Baltimore and Norfolk to Havre and Hamburg
Weekly Sailings to Europe
Hamburg, Germany—charming old city of inland waterways and verdant foliage.
SLEEK, powerful liners, driven by oil-burning engines, ply the new route from Baltimore and Norfolk to Havre and Hamburg. Their "Clipper" bows hark back to the famous Baltimore Clipper ships of the early nineteenth century, which raced before the wind with widespread sails, carrying the American flag to ports all over the globe.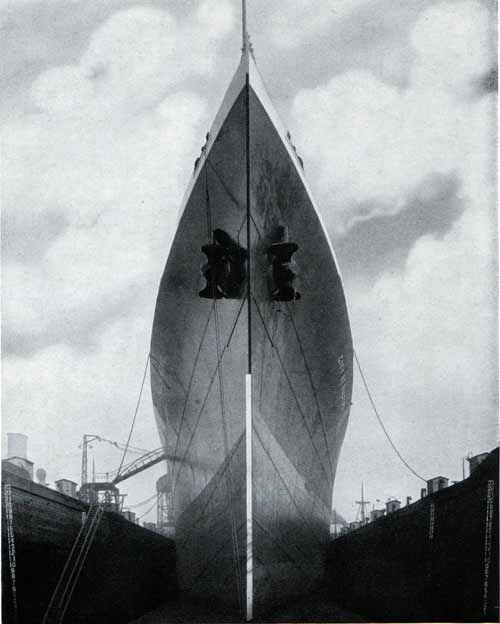 View of the Hull of a Baltimore Mail Line Ship at the Port of Hamburg. GGA Image ID # 1168299e93
Newest Line on the Atlantic
SAILING from Baltimore, you can add to your pre-sailing itinerary Washington, less than an hour away, and the United States Naval Academy at Annapolis.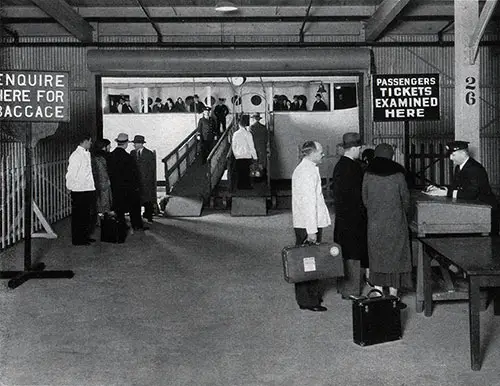 Passengers Checking in Before Embarking on a Baltimore Mail Line Steamship. GGA Image ID # 116854fd9c
If you should embark at Norfolk, you are in the heart of the lovely Virginia tidewater country with its estates reminiscent of colonial times and of the planter aristocracy of the old South. In summer you can enjoy surf bathing at Virginia Beach.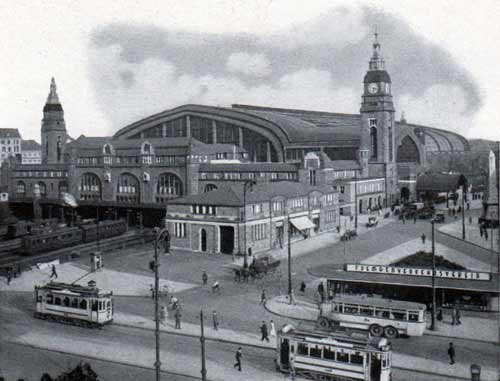 Railroad Terminal in Hamburg—Gateway to the Romance and Beauty of Interior Germany. GGA Image ID # 11686c16e4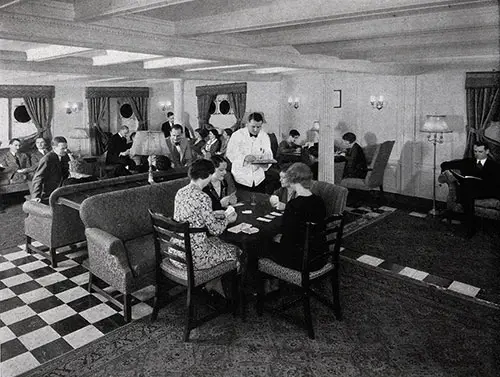 Passenger Lounge on the Promenade Deck of a Baltimore Mail Line Steamship. GGA Image ID # 1168fe3f33
ON Baltimore Mail liners the main lounge is inviting, informal, comfortable. Deep armchairs, soft divans, suffused lights. A grand piano for those who love music. A cosy place for an hour with a good book, or for an evening of bridge. The lounge is located forward on the promenade deck.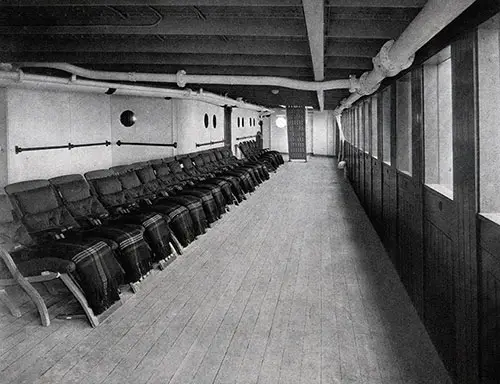 View of the Shelter Deck on a Baltimore Mail Line Steamship. GGA Image ID # 116900e9b8
THE shelter deck is glass enclosed and furnishes protection on days when the sea kicks up. Here may be spent hours of complete relaxation in a deck chair —snug under a steamer rug. The promenade deck runs completely around the passenger section of the ship and affords plenty of room for hiking. Unusually ample space everywhere distinguishes the Mail Line ships.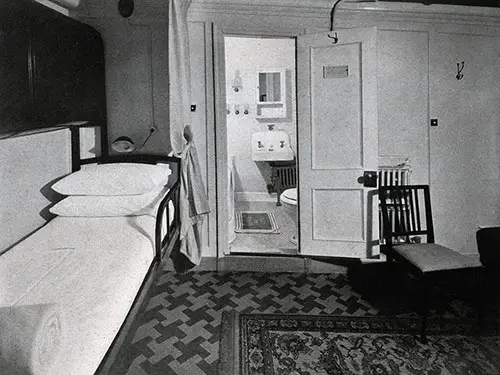 Stateroom with Bath on a Baltimore Mail Line Steamship. GGA Image ID # 1169268738
YOUR stateroom aboard a Baltimore Mail liner is larger, roomier, less crowded and more comfortable. All staterooms are amidships, outside and on upper decks. Attractively decorated, finely furnished, 6o% have private baths. All have built-in wardrobes. Beds are unsurpassed for comfort. Stateroom with bath may be had at an astonishingly low rate.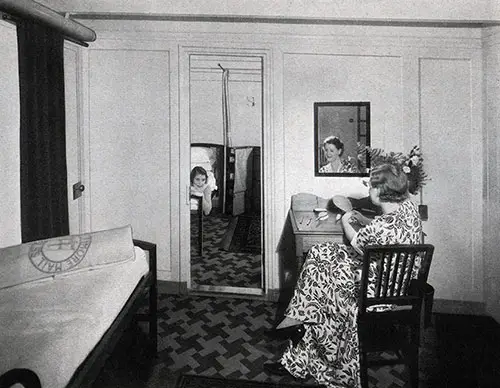 Passengers Relaxing in their Stateroom en Suite. Baltimore Mail Line Steamship. GGA Image ID # 11692a52e0
FOR parties traveling together staterooms may be engaged en suite, which adds to the comfort and enjoyment of the crossing. Such an arrangement serves to accentuate what is most striking about the passenger accommodations of these one-class ships — the total lack of crowding—the complete freedom which all enjoy.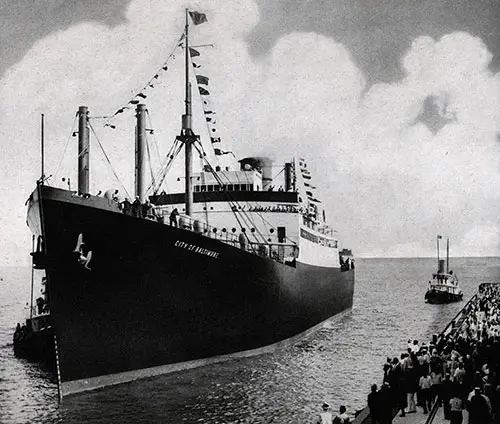 The SS City of Baltimore Approaching the Landing Stage. GGA Image ID # 11693bdcbb
IT is a colorful scene as panting tugs work the big ship out from her berth and into the channel to start her trip across the Atlantic. Friends wave and bid bon voyage, the ship's siren screams, tugs pipe their reply and the shrill whistle blasts from the officer on the bridge add to the excitement. For passengers lining the rails it is a thrilling time—they are on their way.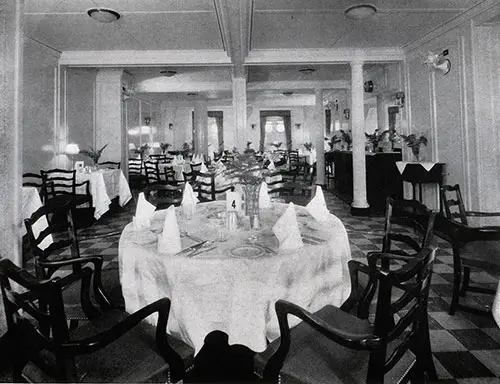 View of the Dining Saloon on a Baltimore Mail Line Steamship. GGA Image ID # 1169644836
THE dining saloon — light, airy, with snowy linen, gleaming glass and silverware, deft, unhurried service, famous food. And again spaciousness—every passenger has his place at a table and all can be seated at one time. Hence you can choose any time you wish for dining during meal hours.
THE BALTIMORE MAIL LINE'S five sister ships constitute the newest fleet plying between America and Europe. But they are more than simply units of a new fleet. They are the full development of a new idea in ocean travel accommodation at a cost, under the reduced rates, that is astonishingly low.
. . They offer a distinctive innovation in transatlantic passenger service. For the first time ships have been specifically designed not rearranged to provide all one-class accommodations that in size, appointments and rates are unequalled on the steamship lanes to Europe.
. . Until you have made the crossing on the Baltimore Mail Line you cannot fully appreciate how inexpensively you can enjoy utmost ocean comfort and how pleasant it is to travel one-class. The entire ship is yours. And this very feature attracts to a one-class liner people of the sort with whom you will enjoy spending eight or nine days at sea.
. . In the fall, winter or spring, the Baltimore Mail Line offers a particularly pleasant route to Europe. It is the only North Atlantic line sailing regularly from Baltimore and Norfolk. Both these ports are on the upper fringe of the warm Southland and you sail at once into the tempering tide of the Gulf Stream, enjoying the full benefit of its warm current.
THE SHIPS of the Baltimore Mail fleet are identical. All staterooms are above, on the main and promenade decks, and amidships where there is practically no vibration and a minimum of motion.
. . Every stateroom has full outside exposure, with large ports affording light and fresh air. Rooms are larger than average, with colorful hangings, built-in wardrobes and dressing tables, and reading lamps over each bed. There are no narrow passageways through which to reach porthole or entry. Sixty percent of all staterooms have bath or shower, and all have hot and cold running water.
. . Ships are five hundred and seven feet long, with a beam of fifty-six feet. They have a maximum sea speed of eighteen knots and dock in Havre eight and one-half days after leaving Norfolk.
. . When you consider that you can cross on a new one-class liner, with the full freedom of the ship, at a rate lower than third-class passage would have cost only a few years ago, you will agree that these ships offer the outstanding travel value of the North Atlantic.
. . There is a sailing every Wednesday from Baltimore and every Thursday from Norfolk; westbound, Friday midnight from Hamburg or Bremen (ask agent or write us for schedule) and Sunday morning from Havre.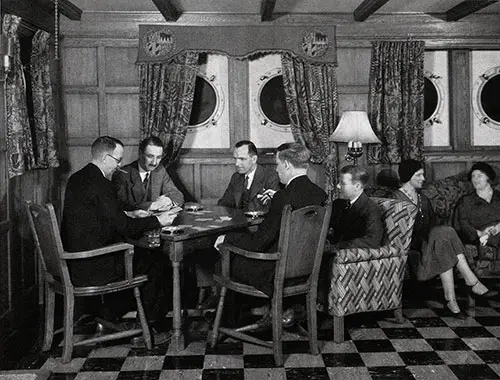 Passengers Play Cards in the Smoking Room on a Baltimore Mail Line Steamship. GGA Image ID # 1169d60e38
For the men a corner in the oak panelled smoking room, for cards and companionship such as it only found at sea. A cooling dring at their elbows, served from the adjoining steward's pantry. Small wonder that the smoking room on the after part of the promenade deck is a favorite haunt for many -- both men and women.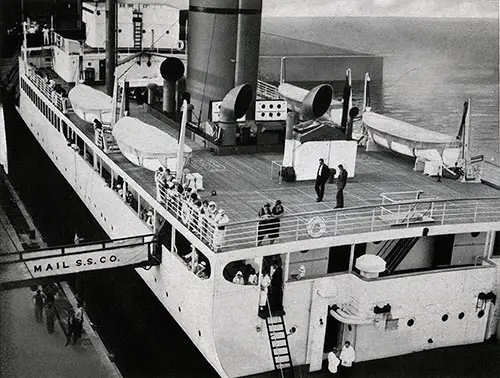 View of the Boat Deck Taken from the Landing Stage. Baltimore Mail Line Steamship. GGA Image ID # 1169f513e1
A BROAD sports deck extends the full length of the passenger section. Here the departing passenger may see all that goes on at sailing time. At sea, a place for sports or a place where one can find a sunny nook in which to laze away the hours, time forgotten, enjoying that incomparable feeling of being well-fed, well-served and completely content.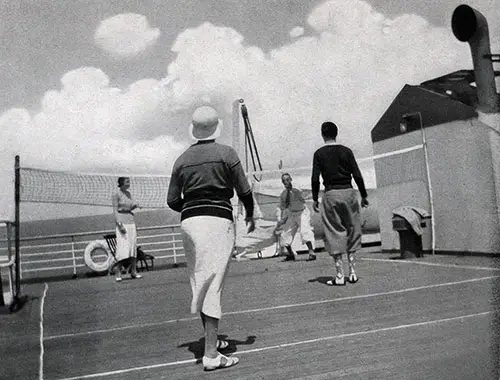 Passengers Playing Deck Tennis on a Baltimore Mail Line Steamship. GGA Image ID # 116a1ea7c9
DECK tennis is only one of the sports enjoyed at sea. When mealtime rolls around, its devotees find themselves possessed of wonderful appetites following invigorating exercise in the pure, crisp sea air. Food on the Baltimore Mail liners is just made for such appetites.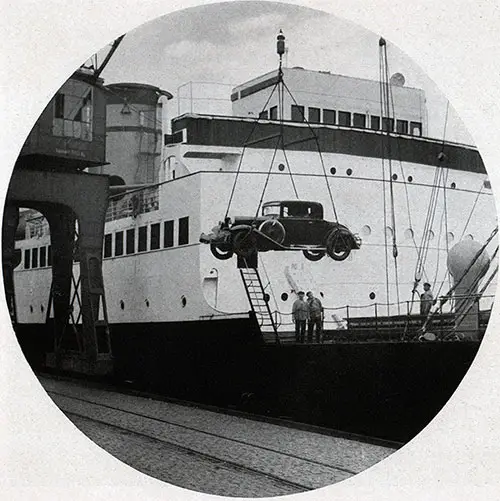 Uncrated Automobile Being Loaded onto a Baltimore Mail Line Steamship. GGA Image ID # 116a44790c
WHEN booking passage you may book your automobile, too. All documents required for its operation abroad may be obtained before sailing. You have only to drive to the dock and when Havre or Hamburg is reached, drive away again, where fancy dictates. Automobiles are carried uncrated as excess baggage.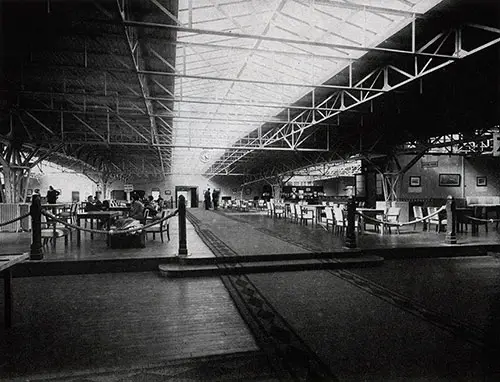 View of the Interior Quai de Marée, in Le Havre, France. A Dock on the Outer Harbor Showing Passengers Waiting to Board. GGA Image ID # 116af82e04
INTERIOR of Quai de Maree, in Le Havre, where Mail liners dock. You tie up at the pier and go ashore on a gangplank. Le Havre is the gateway to France and the nearest port to Paris—less than three hours by rail. From Le Havre, too, there is fast and regular service to England by channel steamers.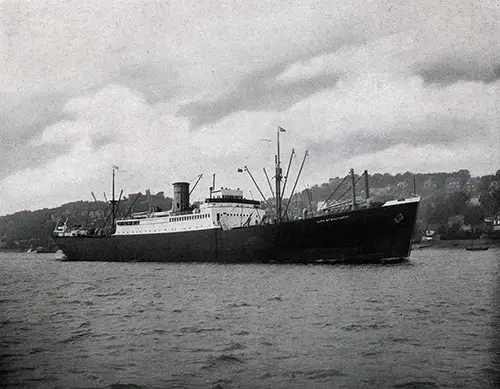 The SS City of Baltimore on the River Elbe Onwards to Hamburg. GGA Image ID # 116b58345a
GOING up the River Elbe to Hamburg. The start and ending of the voyage are similar, through inland waters. All ports where Baltimore Mail ships call are so situated that your rail or motor trip to point of embarkation is shorter and less expensive.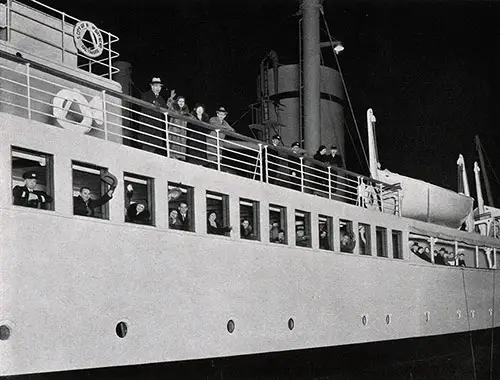 Passengers Sailing Home, Waiving Back to the People on the Pier. GGA Image ID # 116bc1e66a
BOUND abroad or for home, sailing time is thrilling, its scenes are long remembered. Often, too, it is the beginning of the most enjoyable part of the European holiday — the days at sea. There is provided on Baltimore Mail ships all that makes crossings most enjoyable—the sort of service and accommodations expected of the newest line on the Atlantic.