SS Manhattan and SS Washington Passenger Information, 1936
Front Cover, General Information for Passengers on America's Fastest TransAtlantic Liners Manhattan and Washington of the United States Lines, May 1936. GGA Image ID # 1eab4bcc2c
General Information for Passengers on America's Fastest Transatlantic Liners Manhattan and Washington of the United States Lines, including Public Rooms Directory and an A-Z Listing of Important and Useful Information Passengers Would Need to Know During their Voyage.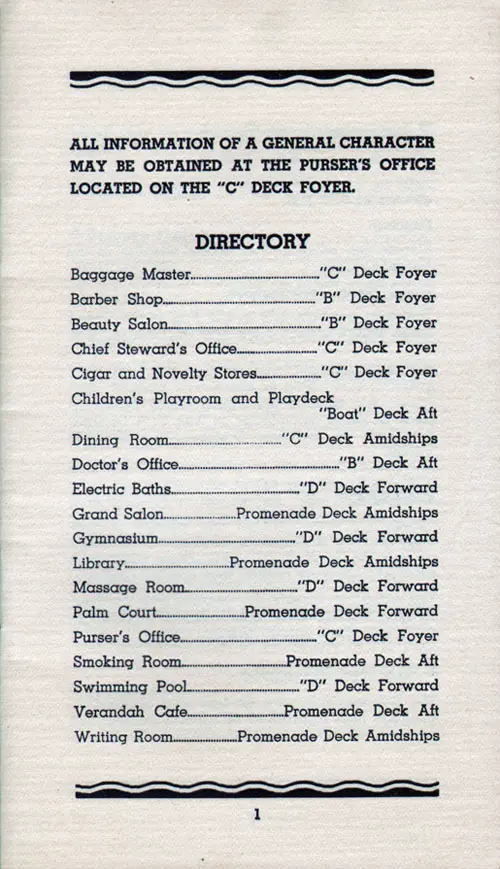 Directory of Public Rooms, SS Manhattan and SS Washington, May 1936. GGA Image ID # 1eab7b30b3
DIRECTORY
Baggage Master- "C Deck Foyer
Barber Shop "B" Deck Foyer
Beauty Salon "B" Deck Foyer
Chief Steward's Office "C" Deck Foyer
Cigar and Novelty Stores ~"C' Deck Foyer
Children's Playroom and Playdeck "Boat" Deck Aft
Dining Room™ —"C" Deck Amidships
Doctor's Office "B" Deck Aft
Electric Baths- — "D" Deck Forward
Grand Salon Promenade Deck Amidships
Gymnasium- "D" Deck Forward
Library Promenade Deck Amidships
Massage Room "D" Deck Forward
Palm Court -."Promenade Deck Forward
Purser's Office "C" Deck Foyer
Smoking Room Promenade Deck Aft
Swimming Pool "D" Deck Forward
Verandah Cafe —Promenade Deck Aft
Writing Room Promenade Deck Amidships
All Information of a General Character May Be Obtained at the Purser's Office Located on the "C" Deck Foyer.
Amusements on Board
Bingo Game and Horse Racing: Held in the Grand Salon on alternate nights beginning at 9:30 P.M.
Dancing: Commences at 10:00 P.M. every evening in the Verandah Cafe.
Sound Picture Performances: Showings are from 4:30 to 6:10 P.M. in the Grand Salon except sailing days and Sunday.
Automobiles
Passengers entering the United States should include uncrated automobiles on their U. S. Declaration form to facilitate Customs Clearance on arrival
Baggage
Forwarding, transshipment and storage of baggage may be arranged at the Baggage Master's office in the Foyer on "C" Deck where information regarding baggage matters may also be obtained.
The company accepts no responsibility for baggage or parcels left on board, except by arrangement with the Baggage Master.
Baggage Insurance
The Company's liability for loss of or damage to baggage and valuables is strictly limited, but passengers can protect themselves by insurance which may be procured at the Purser's office on board.
Barber Shop and Beauty Salon
. These facilities are located on "B" Deck, opposite the elevators. A schedule of prices is posted in the shops.
Baths
Upon application to the Bath Steward, passengers may arrange for the use of baths at a specified time each day.
Bellboy Service
Bellboys are available at all times during the day, answering calls in the absence of the Bedroom Steward or Stewardess. They will also deliver messages at the passenger's request.
Cables & Telegrams (Please also see Radiograms)
These are received at the Purser's Office for dispatch and should be handed in at least an hour before the arrival of the steamer at any port.
Cameras
In accordance with the British and Irish Customs and Excise requirements, cameras are dutiable and passengers arriving with such are required to deposit with the authorities, 50 per cent of the value. This deposit is refunded prior to their departure from the country visited by the Customs Authorities at the port of departure.
Catering
Arrangements may be made with the Chief Steward to continue any diet, necessary to the passengers' health or habits, during the voyage.
Passengers are also invited to advise the Dining Room Captains of their preference in diet and cooking so that every attention can be given to their wishes.
Chair Cushions
(Please also see Deck Chairs, etc.)
These can be rented for the voyage from the Deck Steward at $1.00 each.
Changes in Accommodations
Changes in Accommodations can be made only by the Chief Purser who must collect difference, if any, in fare. A receipt will be issued on the Company's official form.
Children's Playroom
A Children's Playroom and enclosed Play Deck are located on the Boat Deck, Aft. A special matron is in attendance.
Complaints
It is the desire of the Company and the ship's staff to make your crossing as pleasant as possible. Any inattention or complaint regarding the service should be reported immediately to the Chief Purser or Chief Steward and it will be corrected promptly.
Customs Examination
In order to avoid difficulty with Customs Officials, all articles liable to Duty must be declared. Any passenger who is at all in doubt should see the Chief Purser or Baggage Master who will provide the latest available information regarding the Customs regulations of the country to be visited.
Deck Chairs & Steamer Rugs
These can be rented for the voyage from the Deck Steward at $1.50 each.
Divine Services
Protestant Service is held Sundays at 11:00 A.M. in the Grand Salon.
Roman Catholic Mass is celebrated in the Grand Salon. The hours of the Masses are announced by the Chief Purser. A permanent altar is available and complete facilities for celebrating Mass are at the disposal of priests by arrangement with the Chief Purser.
Doctor (Ship's Surgeon)
The Doctor's Office is located on "B" Deck, Aft. The Doctor is authorized to make customary charges, subject to the approval of the Commander, for the treatment of illnesses not originating on the voyage. In the case of illness contracted on the voyage, no charge will be made. Medicine prescribed will be provided free in all circumstances. A Registered Nurse is in attendance.
Dogs, Cats or Other Animal Pets
Pets are not permitted in staterooms, public rooms or on the passenger decks and must be placed in care of the Kennel Attendant. The kennels are located on the Sun Deck.
Electrical Appliances
Passengers are cautioned against using electric irons or other appliances in staterooms, because of the serious danger of causing a short circuit in the lighting system.
Electric Baths and Massage
Appointments can be arranged by telephone with the attendant in charge. The services of a masseur and a masseuse are available. Tickets for the treatment desired are to be purchased at the Purser's Office.
Exchange of Money
For the convenience of passengers, the Purser will exchange a limited amount of American and foreign monies at rates which will be advised on application.
Fire and Lifeboat Stations
Passengers are urgently requested to familiarize themselves with the notice in their staterooms regarding lifeboat and fire stations and also to take part in the Fire and Boat drills.
Fire Precautions
Passengers are particularly asked to use care when disposing of cigar or cigarette ends and matches and to use the receptacles provided for the purpose in the different parts of the steamer. Do not throw overboard lighted cigar ends or cigarette butts as they may be drawn into open ports and cause fires. This is a serious fire hazard and careful observance of this request is earnestly urged on all.
Fraternal Orders
Rotarians, Kiwanians, Lions and members of other orders are invited to register their names at the Purser's Office so that the ship's officers may be able to acquaint them with other members of their respective organizations who are traveling in the ship.
Gymnasium
The Gymnasium is fitted with apparatus for general exercise and is in charge of an experienced attendant.
Passengers are requested to be careful while using the facilities provided as the Company cannot be held liable for any injuries sustained.
Information Forms
It is earnestly requested that passengers co-operate with the Purser's Office in the completion of information forms used in preparing the Manifest; also in all matters pertaining to landing cards and landing arrangements.
Library
The books in the Library, which may be obtained upon application to the Library Steward, are for the use of passengers, free of charge. The cooperation of passengers is requested to assure the prompt return of books as soon as they have been read.
Liquor Purchases
Cases of liquor brought on board by or for passengers, intended for landing upon arrival in the United States and handled in the same way as personal effects, cannot be considered as baggage and the Company will assume no responsibility therefor.
The Company will, however, arrange for such liquor to be kept in the custody of the Ship's Baggage Master, who will issue a proper check against which delivery will be made at the pier, at the same time and place where all other baggage is assembled for Customs inspection. A small charge per case will be made for this service.
The Company does not assume liability for parcels of liquor taken into and kept in the stateroom.
Mail
Passengers are requested to call at the Purser's Office for mail and telegrams. Mail forwarding addresses may be left at the Purser's Office.
Meal Hours
When One Sitting: Breakfast from 8:00 A.M. Luncheon from 1:00 P.M. Dinner from 7:30 P.M.
When Two Sittings: Breakfast 7:30 & 8:45 A.M. Luncheon 12 noon & 1:15 P.M. Dinner 6:00 & 7:15 P.M.
Morning Bouillon and Afternoon Tea are served on Deck and In the Public Rooms at 11:00 AM. and 4:00 P.M. respectively.
Ocean Press News
The latest news and closing prices of the various Stock Exchanges, received by wireless, are given in this paper which is published daily and distributed to passengers without charge.
Passenger Restriction
Cabin Passengers are not permitted to enter Tourist or Third Class accommodations, or vice versa.
Payments on Board
Passengers are requested to obtain a receipt on the Company's form for any additional passage money, deck chair, steamer rug or chair cushion hire, cables, telegrams or freight charges paid on board.
Photographer
The ship carries an expert Photographer and arrangements for individual or group pictures may be made at the Novelty Store.
Passengers are invited to leave their own negatives at the Novelty Store or with the Library Steward for developing and printing at reasonable rates.
Ports in Ship's Side
Passengers should not open ports. The Bedroom Steward will render this service when desired provided it is not contrary to the Captain's orders and weather conditions permit. Careful observance of this precaution will avoid accidents, assure the comfort of passengers and prevent damage to baggage and personal effects.
Portable Typewriter
A Noiseless Portable Typewriter is available without charge for passengers' use. The Purser's Office will deliver it to your room upon request.
Postage Stamps
These are obtainable at the Cigar Stand and Novelty Store, from the Library Steward on the Promenade Deck or at the Purser's Office. Letters can be mailed on board.
Professional Gamblers
Passengers are reminded that professional gamblers are reported as frequently traveling on trans-Atlantic passenger steamers and are warned to take precautions accordingly.
Radiograms
(Please also see Cables and Telegrams)
Messages are accepted at the Radio Office located on the Boat Deck, or the Bell Boy assigned to the Radio Office will call for and deliver your message if a request is telephoned to the Radio Office or the Purser's Office.
Return Accommodations
Passengers desiring information regarding return passage on steamers of the United States Lines or its associated lines, including the Panama Pacific Line to and from California, can obtain same from the Chief Purser.
Reservations will be secured by radio and deposits to cover received.
Round Trip Passengers
Passengers holding return tickets, who are undecided about their addresses abroad, should send this information to the nearest office of the Company as soon as possible after landing so that they may be promptly advised of possible changes in sailings, and other matters pertaining to their return passages.
All those who hold return tickets are also requested to communicate with our nearest office at least a week in advance of their departure so that any necessary formalities may be arranged prior to the day of sailing.
If for any reason, the holder of a return ticket is unable to travel by the sailing indicated on the ticket, immediate advice should be sent to the Company's nearest office so that any accommodations held may be released and other reservations arranged. Otherwise the passage money may be forfeited.
Sailing Permits
All persons who are not citizens of the United States, including visitors, transients and residents in the United States, must secure Sailing Permits (Income Tax Clearance) from the Bureau of Internal Revenue during the week prior to their departure from the country.
These permits may be secured at the U. S. Custom House located at Bowling Green and Battery Place, New York City, or at any other office of the U. S. Internal Revenue. The permit is presented to the Internal Revenue inspector at the embarkation desk on the pier the day of sailing when the tickets and passports are examined.
Further information will be given at any office of the United States Lines.
Seats at Table
The Assistant Chief Steward is in charge of the Dining Room and will give table assignments if not previously arranged. Reservation desk is located in the Foyer near the Dining Room entrance.
Shoe Cleaning
Shoes will be cleaned and polished if left outside the stateroom door at night.
Swimming Pool
This is open dally from 7:00 A.M. to 2:00 P.M. and from 5:00 P.M. to 7:00 P.M. No charge is made for the use of the pool and mixed bathing is permitted at all times.
Tennis Courts
Two Deck Tennis courts are situated on the Sun Deck.
Travel Information
Passengers may secure Information concerning steamship, rail or air routes at the Purser's Office.
Arrangements can be made to secure tickets and reservations for the transportation desired.
United States Head Tax
Transit passengers and temporary visitors departing from the United States may obtain a refund at the Purser's Office of the United States Head Tax paid abroad on surrender of the receipt known as "Transit Certificate Form 514," provided their departure from the United States takes place within the 60-day limit mentioned in this document.
Valet Service
An excellent valet service is provided for the convenience of passengers. Apply to your Bedroom Steward for this service.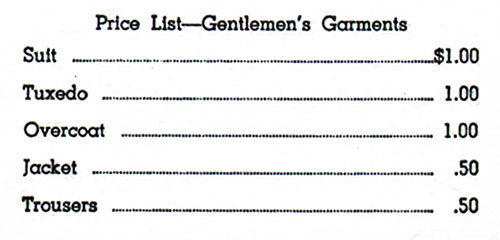 Valet Service Price List for Gentlemen's Garments, May 1936. GGA Image ID # 1eaba40a9a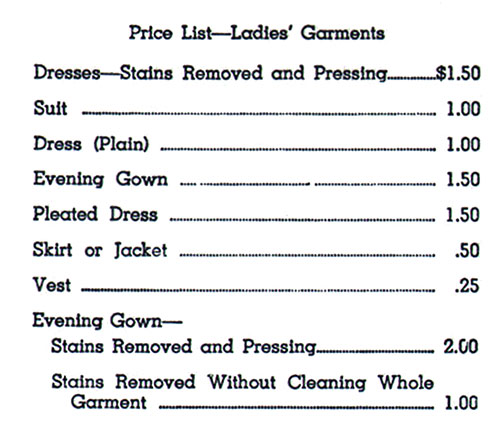 Valet Service Price List for Ladies' Garments, May 1936. GGA Image ID # 1eabe8b650
Valuables
It Is inadvisable to leave money or valuables In your cabin. They should be delivered to the Purser's Office for safekeeping, and a receipt for same will be given on the Company's form. The Company cannot accept responsibility for loss or damage beyond the conditions expressed in the contract ticket and passengers are therefore advised to protect themselves by insurance, which can be arranged on board at the Purser's Office.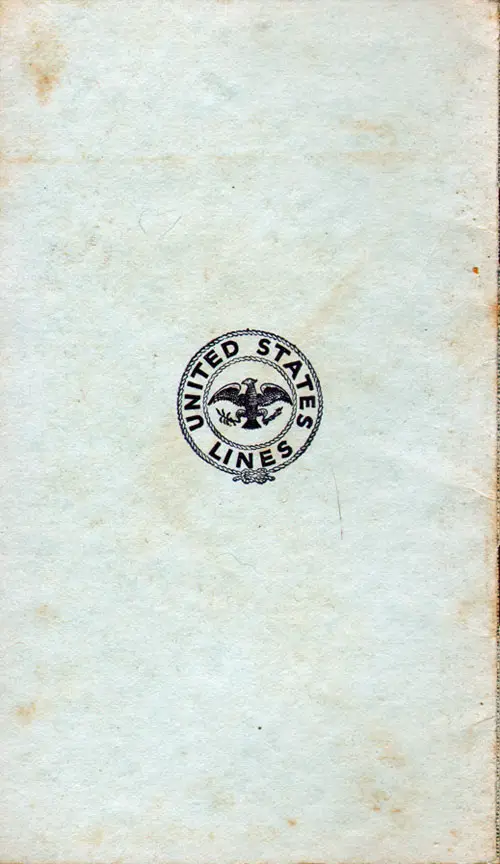 Back Cover, General Information for Passengers, United States Lines SS Manhattan and Washington, May 1936. GGA Image ID # 1eac5288fa