SS Saale Archival Collection
Saale (1886) North German Lloyd
Built by Fairfield Shipbuilding & Engineering Co., Glasgow, Scotland. Tonnage: 5,381. Dimensions: 428' x 47'. Single Screw, 18 knots. Compound engines. Four masts and two funnels. Reduced to two masts in 1895. Note: The shipbuilder was formerly known as John Elder & Co. Commenced Bremen-Southampton-New York service in 1886. Passengers: 150 first, 90 second, 1,000 third. Dock Fire: The Saale was involved in the tragic North German Lloyd dock fire of June 30, 1900. She caught fire and was severely damaged, besides the awful loss of life that amounted to 109 lives. Aftermath: The gutted liner was sold to Luckenbach Line, which had it rebuilt as a freighter. They renamed her J. L. Luckenbach in 1902. New triple expansion engines installed. Subsequently renamed: (a) Princess (1921), (b) Madison. Fate: Scrapped in Italy, 1924. Sister ships: Aller and Trave.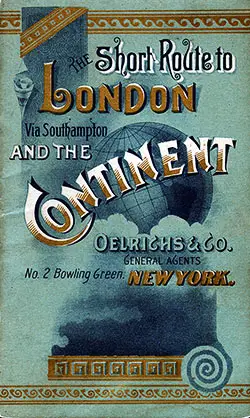 1889 - North German Lloyd - Short Route to London
Brochure prepared by the New York Agents of the Norddeutscher Lloyd Bremen Steamship Line in 1889 - The year of the Paris Exhibition. As a convenient pocket-size guide, the brochure provided a lot of useful information about the Norddeutcher Lloyd, their fleet and accommodations for First and Second Cabin passengers. Featured Ships: Lahn, Eider, Trave, Aller, Ems, Fulda, Saale, Werra, and the Elbe.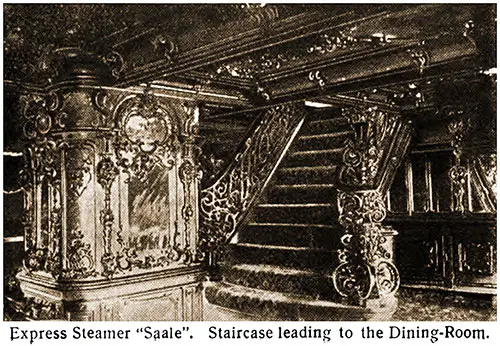 Staircase Leading to the Dining Room on the Express Steamer SS Saale. Norddeutscher Lloyd History and Organization, 1908. GGA Image ID # 1ddc65539c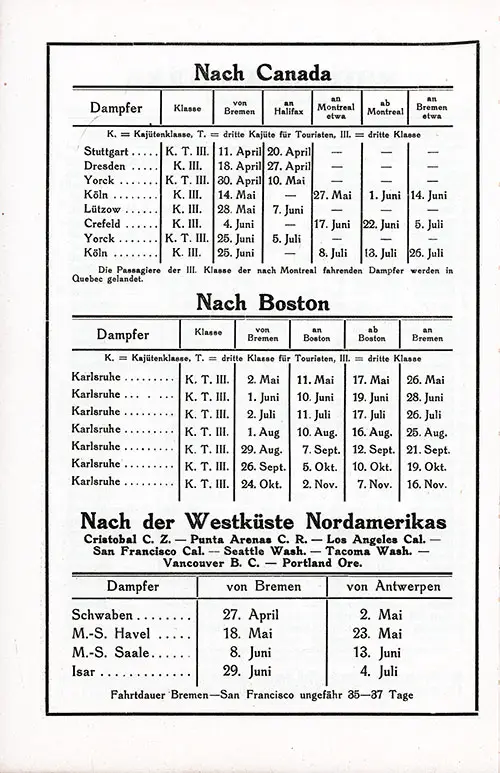 Sailing Schedule, Canada, Boston, and North American West Coast Services, from 11 April 1929 to 16 November 1929. Ships Included the Crefeld, Dresden, Havel, Isar, Karlsruhe, Köln, Lützow, Saale, Schwaben, Stuttgart, and Yorck. SS Columbus Passenger List, 13 April 1929. GGA Image ID # 1e641aa34d