SS
Slavonia

- History and Ephemera Collection

Ephemera for the SS Slavonia are available at the GG Archives, including Passenger Lists, Menus, Brochures, Event Programs, and more.

TSS Slavonia of the Cunard Line. Dimensions:- Length: 510 Feet; Breadth: 59 Feet; Depth: 33 Feet, 6 Inches; Tons: 10,605. Cunard Daily Bulletin, Slavonia Edition, 23 October 1904. GGA Image ID # 13244c06fd
The Slavonia is a beautiful new twin-screw vessel of 10,605 tons gross. She is a handsomely proportioned craft and admirably adapted (or the New York Adriatic and Mediterranean service, for which she is specially fitted. She makes the voyage from New York to Trieste, via Naples, including calls at her various ports in 15 or 16 days, and has already proved herself popular with passengers, her excellent accommodations and steadiness at sea being appreciated by all who have traveled in her. (Marine Review, 22 September 1904, Vol. XXX, No. 12, p. 17.)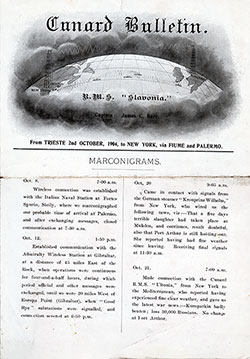 1904-10-23 Cunard Daily Bulletin - SS Slavonia Edition
One of the earliest Cunard Daily Bulletins, this SS Slavonia Edition, greeted passengers at breakfast with a four-page morning newspaper comprised of Marconigrams, extracts from the voyage log including daily distance covered, daily weather and recapitulation of the passengers on board.
Ephemera contained in the GG Archives collection represent the souvenirs provided to the passengers of each voyage. Many of these souvenir ephemeral items have disappeared over the years.
Our selection varies considerably by ship, and likely contains only a sampling of what was originally produced and printed by the steamship lines.
Bookmark pages you're researching and check back periodically for additions as we continue to digitize our extensive ephemera materials.