SS Scharnhorst - History and Ephemera Collection
Ephemera for the SS Scharnhorst are available at the GG Archives, including Passenger Lists, Menus, Brochures, Event Programs, and more.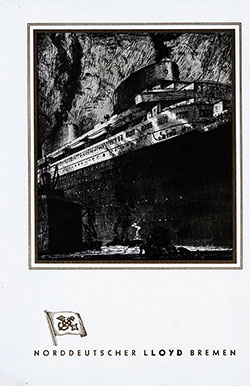 1936-12-29 SS Scharnhorst Dinner Menu
Very Rare Vintage Dinner Bill of Fare from Tuesday, 29 December 1936 on board the SS Scharnhorst of the North German Lloyd featured Fried Frog's Legs Casanova, Entre Côte garnished with Vegetables, Sauce Colbert, and Ice Cup Venus for dessert. This German Steamship of the Third Reich had a short service life spanning four years.
Ephemera contained in the GG Archives collection represent the souvenirs provided to the passengers of each voyage. Many of these souvenir ephemeral items have disappeared over the years.
Our selection varies considerably by ship, and likely contains only a sampling of what was originally produced and printed by the steamship lines.
Bookmark pages you're researching and check back periodically for additions as we continue to digitize our extensive ephemera materials.