SS Scandinavian Collection
Scandinavian (1898) Allan Line (British)
Built by Harland & Wolff, Ltd., Belfast, Ireland. Tonnage: 12,116. Dimensions: 550'x 59'. Twin-screw, 14 1/2 knots. Triple expansion engines. Two masts and one funnel. Service: Glasgow-Quebec-Montreal. Transfer of Ownership: Transferred to Canadian Pacific Line in 1917. Fate: Scrapped in 1923. Previously Named: Ex-Romanic (1912), ex-New England (1903).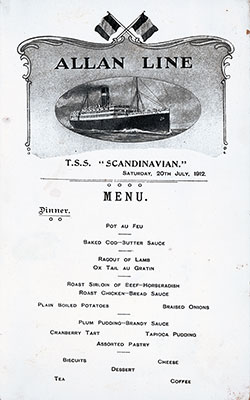 1912-07-20 SS Scandinavian Dinner Menu
Rare Vintage Dinner Bill of Fare Card from Saturday, 20 July 1912 on board the TSS Scandinavian of the Allan Line featured Baked Cod - Butter Sauce, Roast Sirloin Of Beef - Horseradish, and Plum Pudding - Brandy Sauce for dessert.