SS Scotsman Archival Collection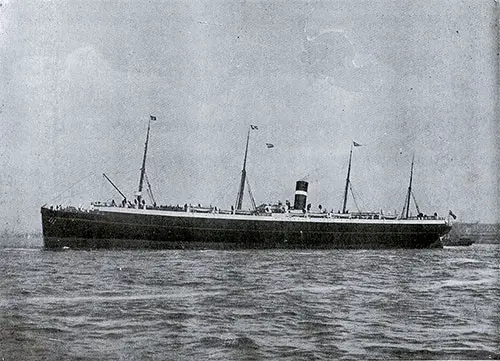 SS Scotsman, Twin-Screw Steamship of the Dominion Line. Propulsion: Twin-screw, Tonnage: 6041, Length: 480 Feet, Breadth: 49 Feet. Dominion Line Brochure: Book of Views, 1900. GGA Image ID # 121b68bdc7
Scotsman (1894) Dominion Line
Built by Harland & Wolff, Ltd., Belfast, Ireland. Tonnage: 6,041. Dimensions: 470' x 49'. Twin-screw, 13 knots. Triple expansion engines. Four masts and one funnel. Commenced her first trans-Atlantic sailing in November 1895. Fate: Wrecked near Belle Isle, September 22, 1899, with loss of several lives.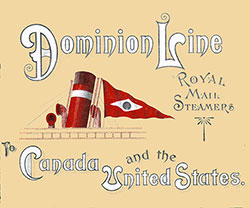 Dominion Line Book of Views - 1900
Excellent brochure from the Dominion Line circa 1900 that provided several views of their fleet of steamships, facts about their fleet, and views of their first, second, and third-class accommodations. Ships Featured: New England, Canada, Dominion, Scotsman, Vancouver, and Labrador.
ONBOARD SS " SCOTSMAN,"
At Liverpool, February 9th, 1896.'
We, the undersigned passengers by the R. MS " Scotsman " on her voyage from Halifax (which port she left February 1st, 1896) to Liverpool, cannot allow the opportunity to pass without testifying to the superior qualities of the ship, its officers and all who contributed to our safety and comfort, particularly to the Chief Steward, for to him next to the Captain, are we indebted for that which is so large a measure makes up the comfort of an Ocean Voyage, " a good table "; with one voice we desire to testify to the quality provided and served. We do not exaggerate when we say that it has not been our good fortune to fare better on any ship, and some of us bear testimony from experience covering yearly voyages of the last twenty years. Signed by Saloon Passengers.
-- Dominion Line Brochure, Book of Views, 1900.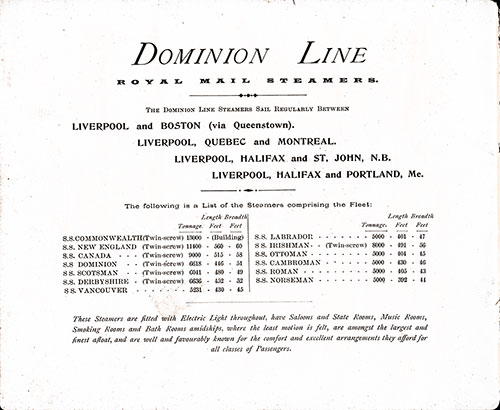 The Dominion Dine Steamers Sail Regularly Between Liverpool and Boston (Via Queenstown); Liverpool, Quebec, and Montreal; Liverpool, Halifax, St. John, NB; Liverpool, Halifax, and Portland, Me. The Following Is a List of the Steamers Comprising the Fleet: SS Commonwealth, SS New England, SS Canada, SS Dominion, SS Scotsman, SS Derbyshire, SS Vancouver, SS Labrador, SS Irishman, SS Ottoman, SS Cambroman, SS Roman, and SS Norseman. These Steamers Are Fitted with Electric Light Throughout, Have Saloons and State Rooms, Music Rooms, Smoking Rooms, and Bath Rooms Amidships, Where the Slightest Motion Is Felt, Are Amongst the Largest and Finest Afloat, and Arc Well and Favorably Known for the Comfort and Excellent Arrangements They Afford for All Classes of Passengers. Book of Views, 1900. GGA Image ID # 1f061f5e11