SS Sibajak Archival Collection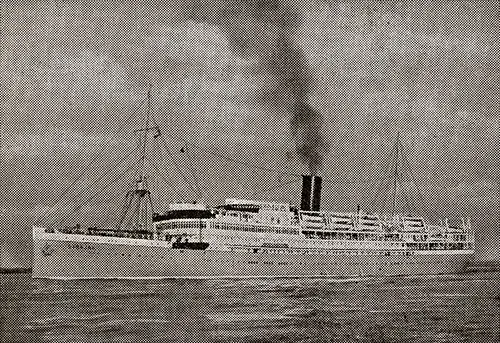 MV Sibajak, 12,226 Tons, Owned by Rotterdam Lloyd and Operated on the 1 September 1954 Voyage by Holland-America Line. GGA Image ID # 1eeaa23c60
Content Links
Sibajak (1927) Rotterdam Lloyd (Dutch)
Built by Kon. Maats, de Scnelde, Flushing, Netherlands. Tonnage: 12,226. Dimensions: 506' x 62' (530' o.l.). Twin- screw, 17 knots. Motorship. Two masts and one funnel. Service: Netherlands-Dutch East Indies, via Suez Canal. Passengers: 520. Revisions: Converted to emigrant carrier in 1951. Fate: Scrapped in 1956. Similar ship: Indrapoera.
Return to Content Links
Passenger Lists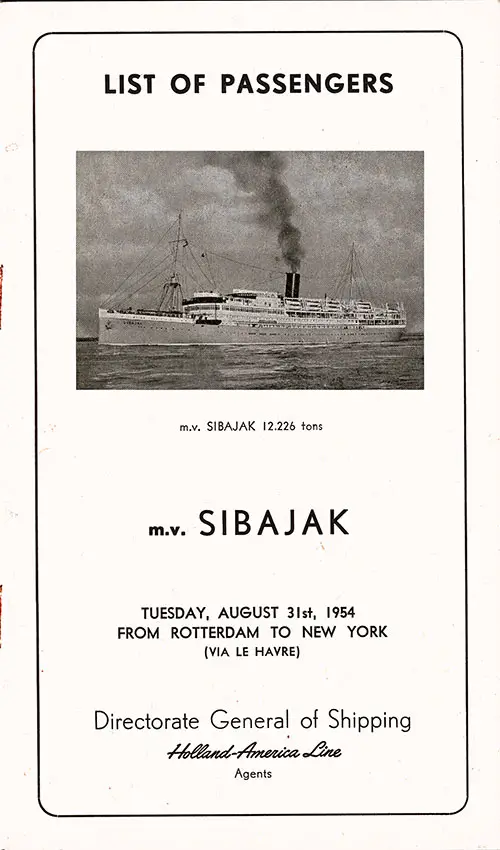 1954-08-31 M.V. Sibajak Passenger List
Unique Passenger List for the M.V. Sibajak chartered by the Holland-America Line, Departing 31 August 1954 from Rotterdam to New York via Le Havre, Commanded by Captain H. Rijnbergen. Includes List of Crew Members and Rank. Note: The crew members were listed intermixed with the passengers in alphabetical order.
Return to Content Links
Title Pages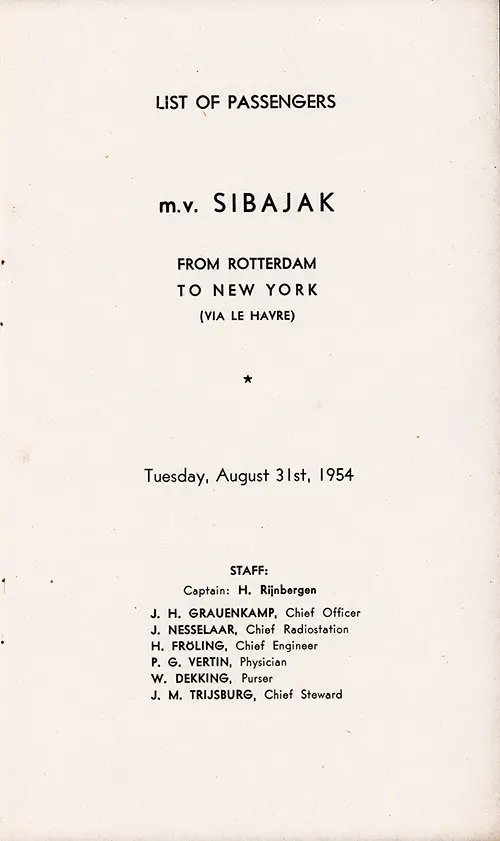 Title Page, MV Sibajak Passenger List, 1 September 1954. GGA Image ID # 1eea6410fd
Return to Content Links
Luggage Tags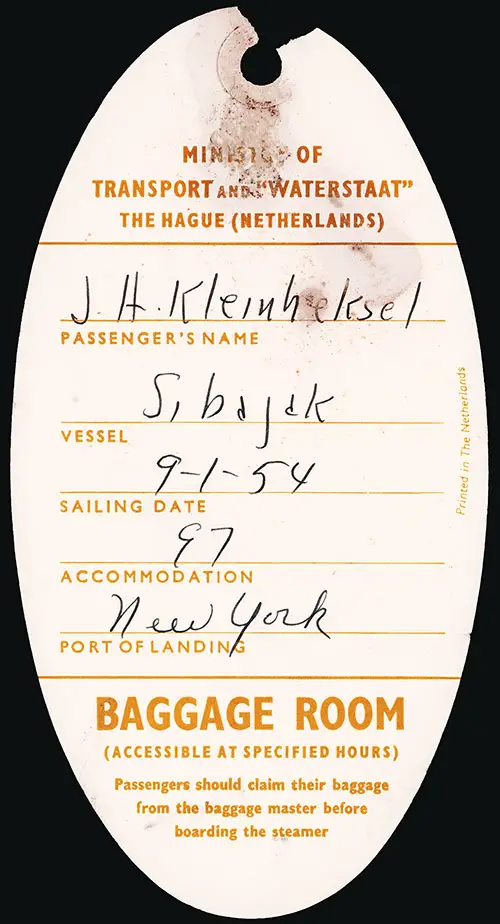 Baggage Room Luggage Tag for J. H. Kleinheksel in Cabin 97 of the Westbound Voyage of the SS Sibajak, 1 September 1954. GGA Image ID # 1eea094afe
Return to Content Links
Route Maps, Track Charts, Abstract of Logs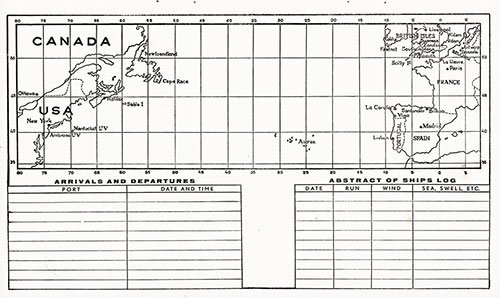 Track Chart, Table of Arrivals and Departures, and Abstract of Ships' Log (Unused), MV Sibajak Passenger List, 1 September 1954. GGA Image ID # 1eea90455f
Return to Content Links
Other Ephemera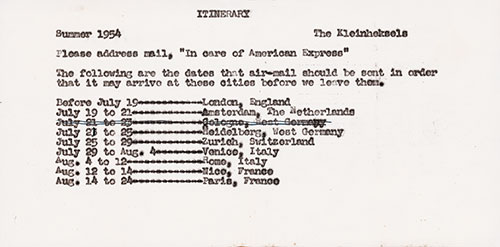 Summer 1954 Itinerary for The Kleinheksels, Passengers on the SS Sibajak, 31 August 1954. GGA Image ID # 1ee9dd4816
Itinerary
Summer 1954 The Kleinheksels
Please address mail, "In care of American Express"
The following are the dates that air-mail should be sent in order that it may arrive at these cities before we leave them.
London, England: Before July 19, 1954
Amsterdam, The Netherlands: July 19-21, 1954
Heidelberg, West Germany: July 21-25, 1954
Zurich, Switzerland: July 25-29, 1954
Venice, Italy: July 29 - August 4, 1954
Rome, Italy: August 4-12, 1954
Nice, France: August 12-14, 1954
Paris, France: August 14-24, 1954
The MS Sibajak of the Rotterdam Lloyd - 1929
One of lhe latest additions to this fleet is the twin-screw Motorship Sibajak, named after a holy mountain in Sumatra, in the Dutch East Indies.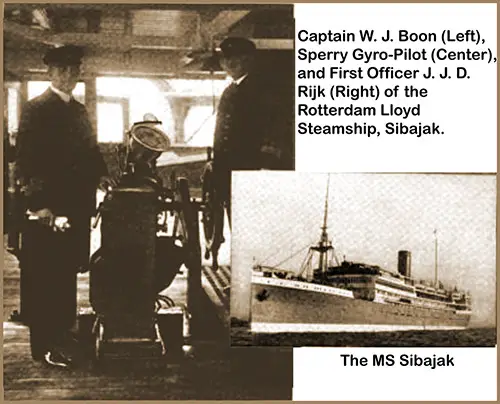 Captain W. J. Boon (Left), Sperry Gyro-Pilot (Center), and First Officer J. J. D. Rijk (Right) of the Rotterdam Lloyd Steamship, Sibajak. The MS Sibajak Appears in the Insert Above. The Sperryscope, July 1929, p. 15. GGA Image ID # 1d22f86a9b
The Sibajak has a displacement of 13,000 tons, is 540 feet in length, has twin Schelde Sulzer engines, developing 10,000 shaft horsepower, giving a speed of 17 knots. And as seen from the illustration, the ship is a particularly clean-cut, graceful liner, with interior decorations parallel to her lines.
The first-class dining room, with forged iron railings, is an example of art that unfortunately seems to be dying out and is uncommon in ship decoration.
The Sibajak, on a regular run to the Dutch East Indies from Rotterdam, has made some remarkably fast passages. The designers of the hull and engines are finding some difficulty allocating the credit for this correctly. Still, the claim for the Sperry Gyro-Pilot in this connection should not be omitted.
The Captain and his officers are keen on the Gyro-Compass, Gyro-Pilot, and Course Recorder.
With the Course Recorder, they are enabled to make settings on the Gyro-Pilot to give accurate steering.
A. J. de Hullu, "Metal Mike Appears in Holland," in The Sperryscope, New York: Sperry Gyroscope Company, Inc., Vol. 5, No. 12, July 1929, p. 15.