SS Seydlitz Archival Collection
Seydlitz (1903) North German Lloyd
Built by F. Schichau, Danzig, Germany. Tonnage: 7,942. Dimensions: 442' x 55'. Twin-screw, 14 1/2 knots. Triple expansion engines. Two masts and one funnel. Passengers: 100 first, 100 second, 1,700 third. Services: (a) Germany- Australia-Far East, (b) Bremen-New York, (c) Bremen- Cuba. Fate: Scrapped in Germany, 1933. Sister ships: Gneisenau, Scharnhorst and Zieten.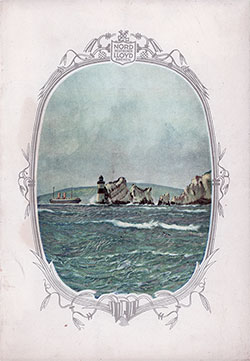 1930-09-06 SS Seydlitz Dinner Menu
Vintage Dinner Menu from 6 September 1930 on board the SS Seydlitz of the Norddeutscher Lloyd/North German Lloyd featured Filet Mignon, French Fried Potatoes, Ham in Burgundy, and Strawberry Ice-Cream with Wafers for dessert.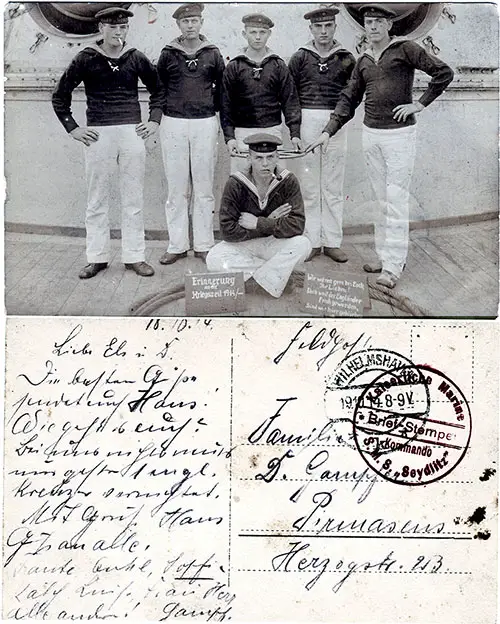 Postcard with Photo of Sailors from the SMS Seydlitz dated 18 October 1914. Image Contributed by Lydia Sayers Yee. GGA Image ID # 1595a2bae6
Left Side "Tombstone"
Erinnerung an die Kriegszeit 1914
Memory of the wartime 1914
Right Side "Tombstone"
Wir waren gern bei Euch fhr Lieben!
Doch weil der Engländer Frech geworden, Sind wit hier geblieben.
We were happy to be with you dear ones!
But because the English got naughty, we stayed here.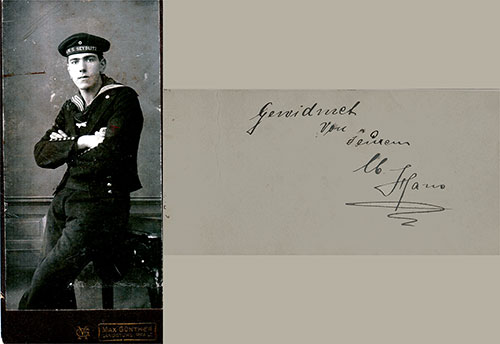 Photograph of German Sailor Hans Faber from the SMS Seydlitz, nd, circa 1914. Image Contributed by Lydia Sayers Yee. GGA Image ID # 15967e42b0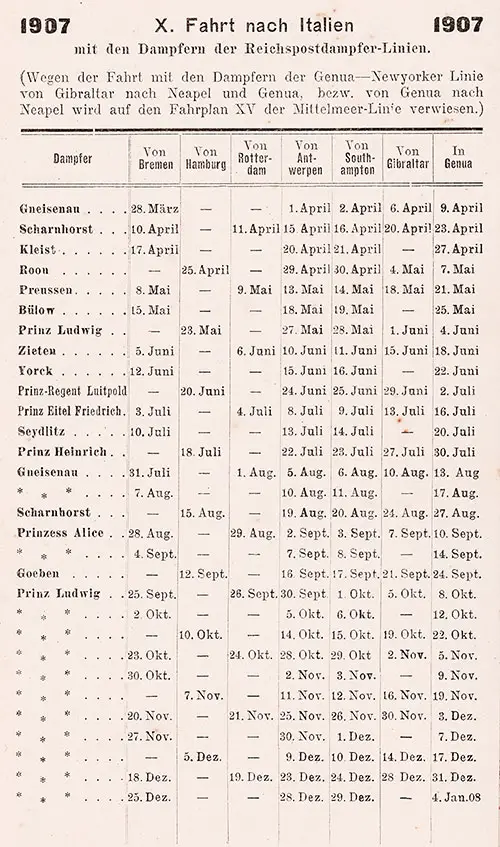 Sailing Schedule, Breman-Hamburg-Rotterdam-Antwerp-Southampton-Gibraltar-Genoa, from 28 March 1907 to 8 January 1908. Ships Included the Bülow, Gneisenau, Goeben, Kleist, Preussen, Prinz Eitel Friedrich, Prinz Heinrich, Prinz Ludwig, Prinz Regent Luitpold, Prinzess Alice, Roon, Scharnhorst, Seydlitz, Yorck, and Zieten. SS Chemnitz Passenger List, 6 April 1907. GGA Image ID # 1f76a639e5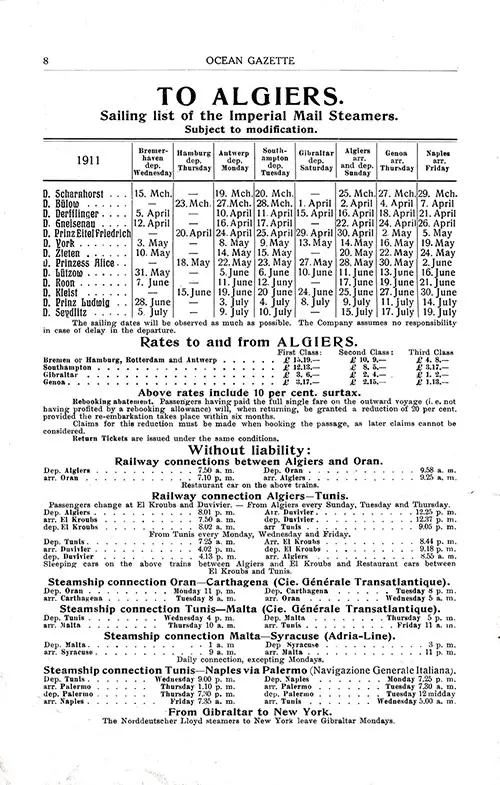 Sailing Schedule, Bremerhaven-Hamburg-Antwerp-Southampton-Gibraltar-Algiers-Genoa-Naples, from 15 March 1911 to 19 July 1911. Ships Included the Bülow, Derfflinger, Gneisenau, Kleist, Lützow, Prinz Eitel Friedrich, Prinz Ludwig, Prinzess Alice, Roon, Scharnhorst, Seydiltz, York, and Zieten. Ocean Gazette, 9 April 1911. GGA Image ID # 1ebae47737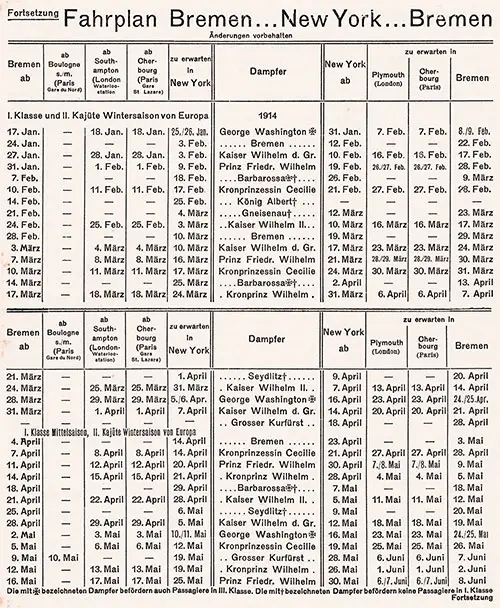 Sailing Schedule, Bremen-Boulogne-Southampton-New York and New York-Plymouth, Cherbourg-Bremen, from 18 January 1914 to 8 June 1914. Ships Included the Barbarossa, Bremen, George Washington, Gneisenau, Grosser Kurfürst, Kaiser Wilhelm der Grosse, Kaiser Wilhelm II, Kronprinz Wilhelm, Kronprinzessin Cecilie, König Albert, Prinz Friedrick Wilhelm, and Seydlitz. SS Grosser Kurfürst Passenger List, 8 Novmeber 1913. GGA Image ID # 1f67b544a2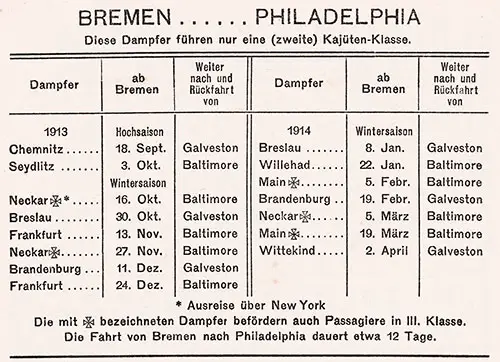 Sailing Schedule, Bremen-Philadelphia, from 18 September 1913 to 2 April 1914. Ships Included the Brandenburg, Breslau, Chemnitz, Frankfurt, Main, Neckar, Seydlitz, Willehad, and Wittekind. SS Grosser Kurfürst Passenger List, 8 November 1913. GGA Image ID # 1f682ff461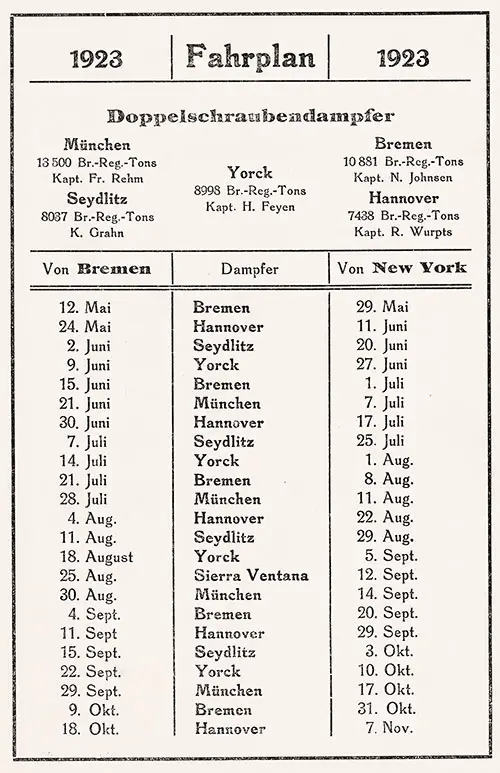 Sailing Schedule, Bremen-New York, from 12 May 1923 to 7 November 1923. Ships Included the Bremen, Hannover, München, Seydlitz, Sierra Ventana, and Yorck. SS Bremen Passenger List, 12 May 1923. GGA Image ID # 1f85fbe54d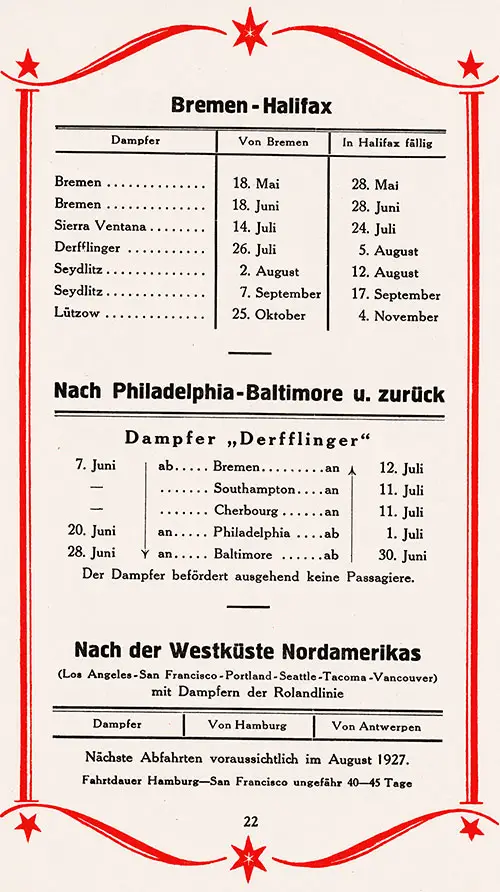 Sailing Schedule, Bremen-Halifax and Philadelphia-Baltimore, from 18 May 1927 to 4 November 1927. Ships Included the Bremen, Derfflinger, Lützow, Seydlitz, and Sierra Ventana. SS Columbus Passenger List, 18 May 1927. GGA Image ID # 1f869a4d2a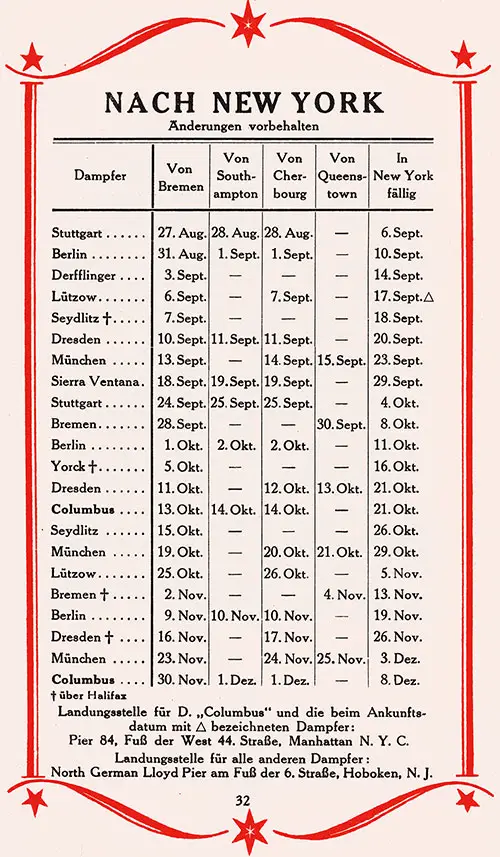 Westbound Sailing Schedule, Bremen-Southampton-Cherbourg-Queenstown-New York, from 27 August 1927 to 8 December 1927. Ships Included the Berlin, Bremen, Columbus, Derfflinger, Dresden, Lützow, München, Seydiltz, Sierra Ventana, Stuttgart, and Yorck. SS Stuttgart Passenger List, 27 August 1927. GGA Image ID # 1f00317ac4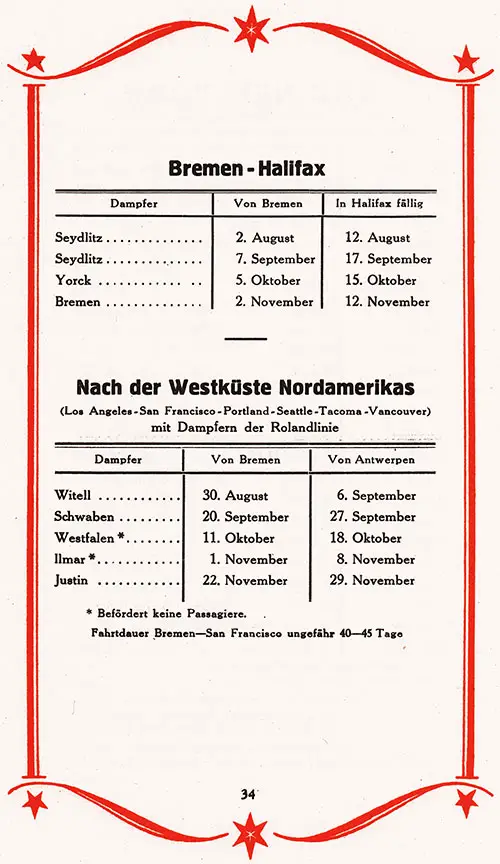 Sailing Schedule, Bremen-Halifax and Bremen-Antwerp-Los Angeles-San Francisco-Portland-Seattle-Tacoma-Vancouver, from 2 August 1927 to 29 November 1927. Ships Included the Bremen, Justin, Limar, Schwaben, Seydlitz, Westfalen, Witell, and Yorck. SS Stuttgart Passenger List, 27 August 1927. GGA Image ID # 1f007cbc02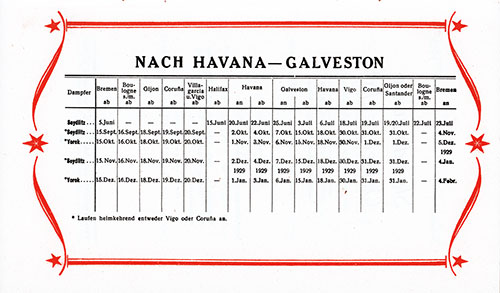 Sailing Schedule, Bremen-Havana-Galveston, from 5 June 1928 to 4 February 1929. Ships Included the Seydlitz and Yorck. SS Columbus Passenger List, 28 July 1928. GGA Image ID # 1e60d64701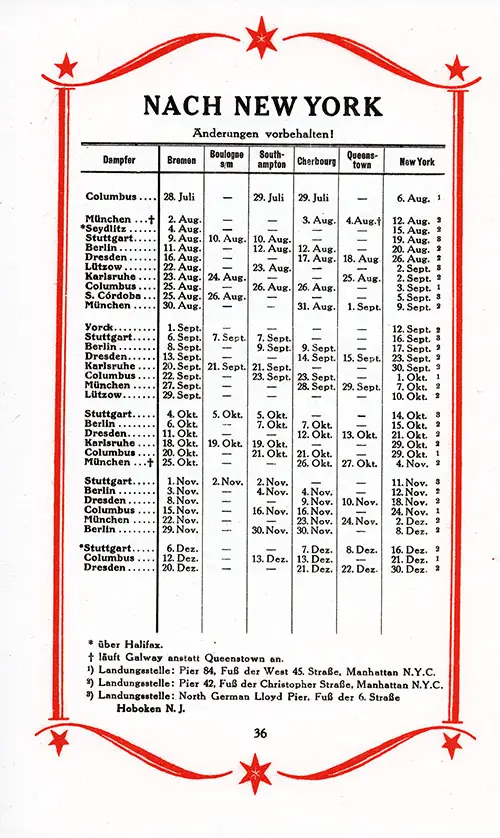 Sailing Schedule, Bremen-New York via Boulogne-sur-Mer, Southampton, Cherbourg, and Queenstown (Cobh), from 28 July 1928 to 30 December 1928. Ships Included the Berlin, Columbus, Dresden, Karlsruhe, Lützow, München, Seyditz, Sierra Cordoba, Stuttgart, and Yorck. SS Columbus Passenger List, 28 July 1928. GGA Image ID # 1e609f3c10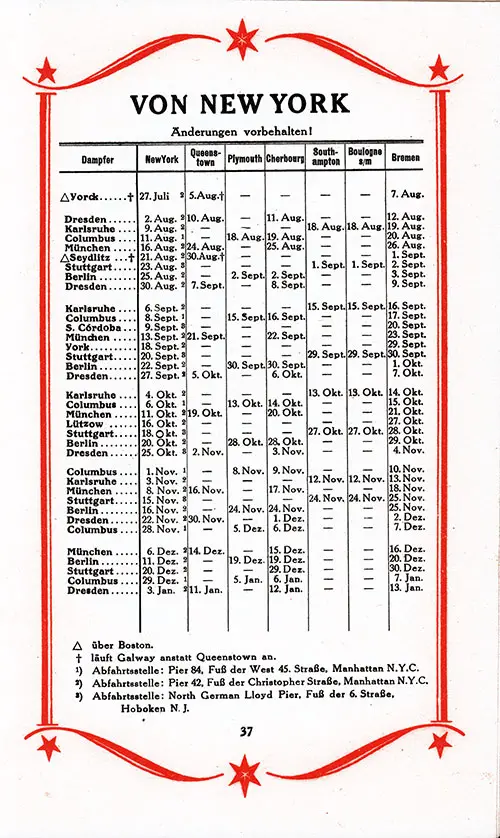 Sailing Schedule, New York to Bremen via Queenstown (Cobh), Plymouth, Cherbourg, Southampton, and Bologne-sur-Mer, from 27 July 1928 to 13 January 1929. Ships Included the Berlin, Columbus, Dresden, Karlsruhe, Lützow, München, Seyditz, Sierra Cordoba, Stuttgart, and Yorck. SS Columbus Passenger List, 28 July 1928. GGA Image ID # 1e60c12f58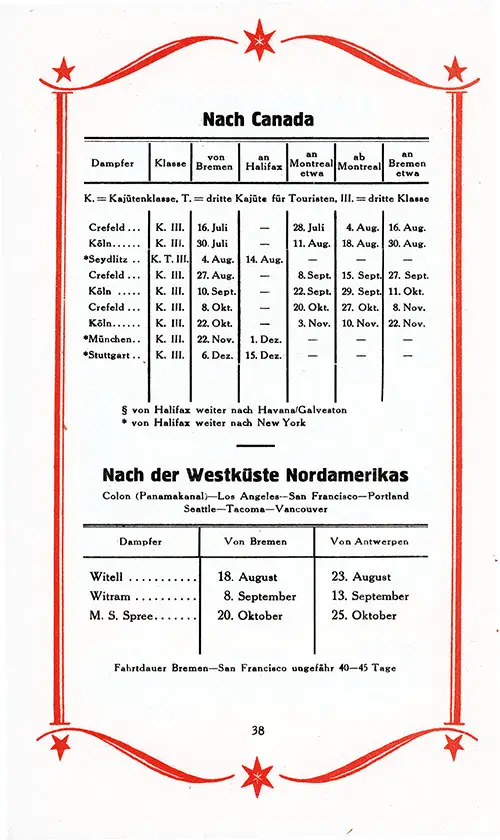 Sailing Schedule, Norddeutscher Lloyd Canadian Service, from 16 July 1928 to 15 December 1928. Ships Included the Crefeld, Köln, München, Seydlitz, and Stuttgart. Service to the West Coast of North America, from 18 August 1928 to 25 October 1928. Ships Included the Spree, Witell, and Witram. SS Columbus Passenger List, 28 July 1928. GGA Image ID # 1e60c1ad2b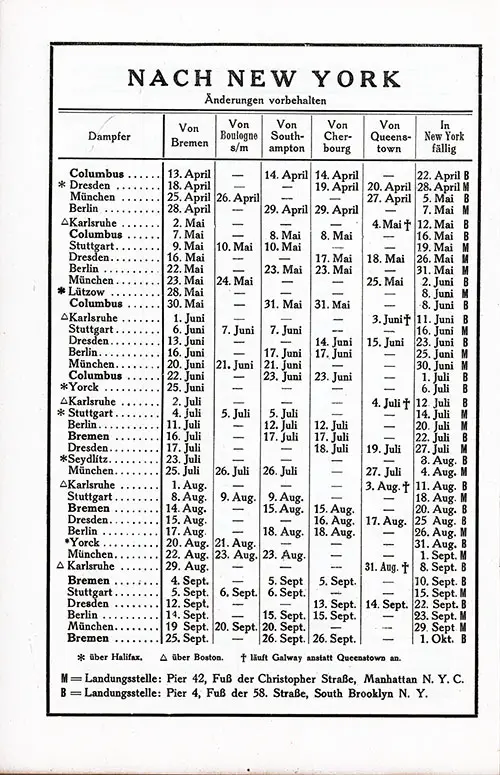 Sailing Schedule, Bremen to New York, from 13 April 1929 to 26 September 1929. Ships Included the Berlin, Bremen, Columbus, Dresden, Karlsruhe, München, Seydlitz, Stuttgart, and Yorck. SS Columbus Passenger List, 13 April 1929. GGA Image ID # 1e63b9221a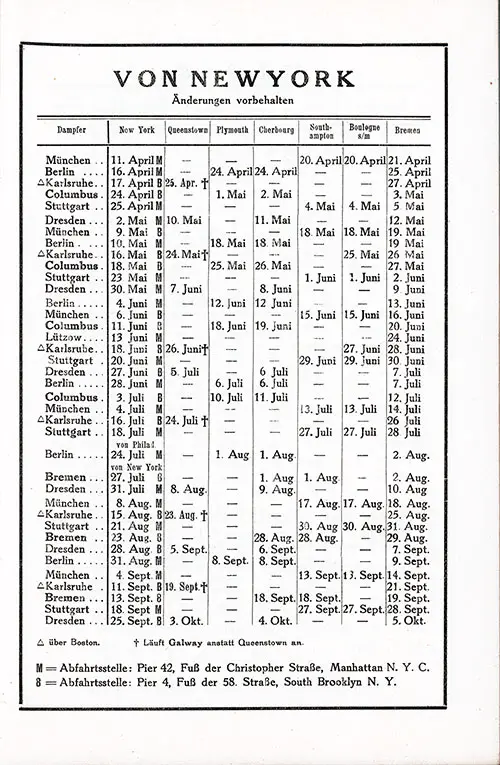 Sailing Schedule, Bremen to New York, from 11 April 1929 to 5 October 1929. Ships Included the Berlin, Bremen, Columbus, Dresden, Karlsruhe, München, Seydlitz, Stuttgart, and Yorck. SS Columbus Passenger List, 13 April 1929. GGA Image ID # 1e640b97ed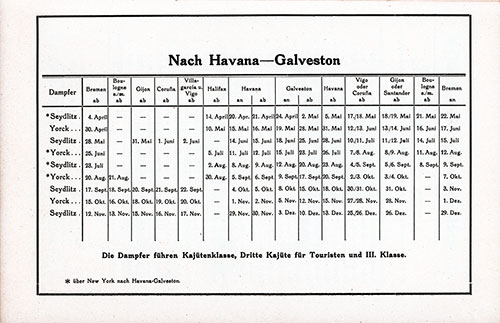 Sailing Schedule, Bremen-Havana-Galveston, from 4 April 1929 to 29 December 1929. Ships Included the Seydlitz and Yorck. SS Columbus Passenger List, 13 April 1929. GGA Image ID # 1e6452054a