SS Gneisenau Ephemera Collection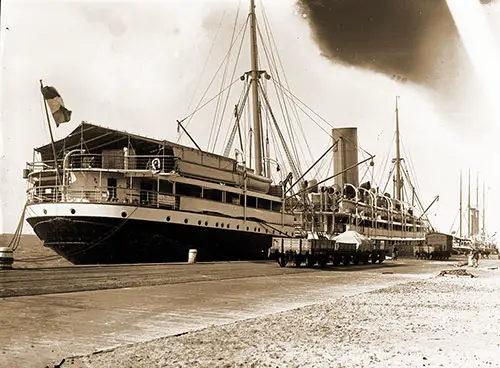 SS Gneisenau of the North German Lloyd at the Outer Harbor, Australia, c1915. GGA Image ID # 1f6d245038
Gneisenau (1903) North German Lloyd
Built by A. Ges. "Vulkan", Stettin, Germany. Tonnage: 8,081. Dimensions: 442' x 55'. Propulsion: Twin-screw, 13 1/2 knots. Triple expansion engines. Masts and Funnels: Two masts and one funnel. Service: Built for Australia service. In trans-Atlantic service too. Renamed: Citta di Genova (1921). Fate: Sold to Italian shipbreakers in October 1930. Sister ships: Roon and Scharnhorst.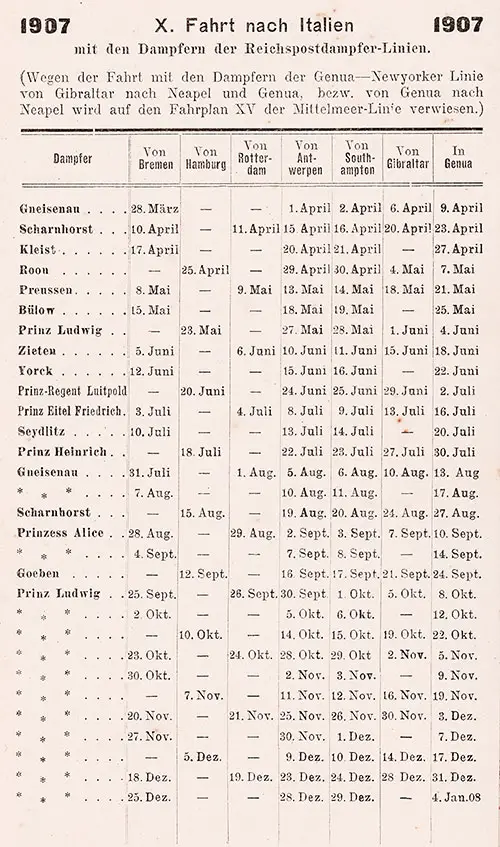 Sailing Schedule, Breman-Hamburg-Rotterdam-Antwerp-Southampton-Gibraltar-Genoa, from 28 March 1907 to 8 January 1908. Ships Included the Bülow, Gneisenau, Goeben, Kleist, Preussen, Prinz Eitel Friedrich, Prinz Heinrich, Prinz Ludwig, Prinz Regent Luitpold, Prinzess Alice, Roon, Scharnhorst, Seydlitz, Yorck, and Zieten. SS Chemnitz Passenger List, 6 April 1907. GGA Image ID # 1f76a639e5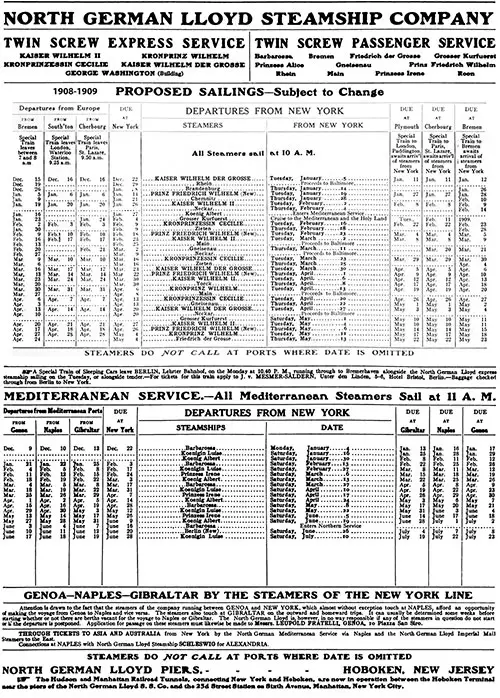 Sailing Schedule, Bremen-Southampton-Cherbourg-New York, New York-Plymouth-Cherbourg-Bremen, Genoa-Naples-Gibraltar-New York, and New York-Gibraltar-Naples-Genoa, from 9 December 1908 to 23 July 1909. Ships Included the Barbarossa, Berlin, Brandenburg, Chemnitz, Friedrich der Grosse, Gneisenau, Grosser Kurfurst, Kaiser Wilhelm der Grosse, Kaiser Wilhelm II, Koenig Albert, Koenigin Luise, Kronprinzessin Cicilie, Main, Neckar, Prinz Friedrich Wilhelm, Prinzess Irene, Rhein, Yorck, and Zieten. North German Lloyd Bulletin, January 1909. GGA Image ID # 1f519dd3c6. Click to View Larger Image.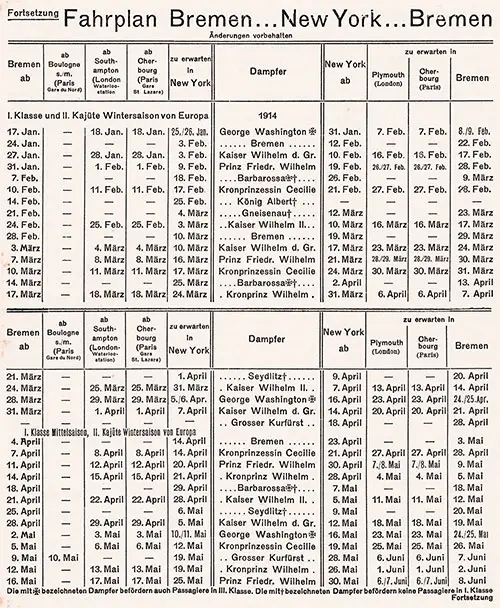 Sailing Schedule, Bremen-Boulogne-Southampton-New York and New York-Plymouth, Cherbourg-Bremen, from 18 January 1914 to 8 June 1914. Ships Included the Barbarossa, Bremen, George Washington, Gneisenau, Grosser Kurfürst, Kaiser Wilhelm der Grosse, Kaiser Wilhelm II, Kronprinz Wilhelm, Kronprinzessin Cecilie, König Albert, Prinz Friedrick Wilhelm, and Seydlitz. SS Grosser Kurfürst Passenger List, 8 Novmeber 1913. GGA Image ID # 1f67b544a2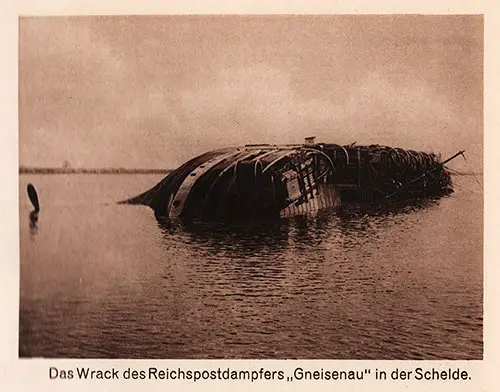 The Wreck of the Reichpost (Mail) Steamer SS Gneisenau in the Scheldt River, 1914, a 435 Kilometer Long River That Flows Through Northern France, Western Belgium, and the Southwestern Part of the Netherlands, with Its Mouth at the North Sea. Norddeutscher Lloyd Jahrbuch, 1914-1915. GGA Image ID # 1f7e473dda
In October 1914, SS Gneisenau was scuttled to obstruct the fairway of the River Scheldt. In May 1917, the Germans raised the ship and docked it at Antwerp, seized by Belgium in November 1918 and sold to Italy on 20th June 1919. Rebuilt at Antwerp as the SS Citta Di Genova for Italian owners, she sailed between Genoa, Fremantle, Melbourne, Sydney, and Brisbane until broken up in 1930 at Naples.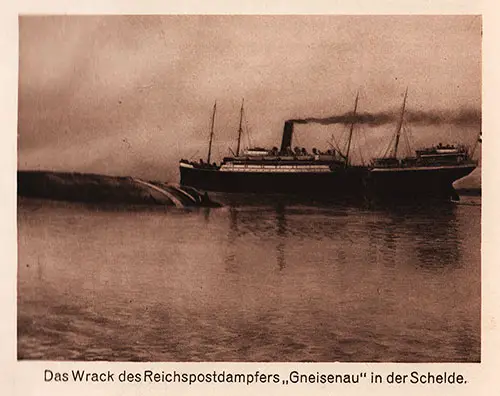 The Wreck of the Reichspost (Mail) Steamer SS Gneisenau in the Scheldt River, 1914. An Unidentified Steamer Heads Past the Wreckage in the Background. Norddeutscher Lloyd Jahrbuch, 1914-1915. GGA Image ID # 1f7e83b877