SS
Galilea

- History and Ephemera Collection

Ephemera for the SS Galilea are available at the GG Archives, including Passenger Lists, Menus, Brochures, Event Programs, and more.

The passenger liner SS Pilsa was initially built by the San Rocco shipyard of Trieste for the Adriatica Società Anonima di Navigazione. It was sold in 1935 and renamed Galilea.

The Twin-Screw steamship had a displacement of 8,040 tons, length 443 2/3 feet, width 53 feet 2 inches, and was capable of cruising at 13.5 knots. The cabin class ship carried 47 first-class and 148 second-class passengers.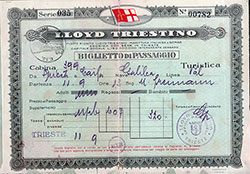 Ephemera contained in the GG Archives collection represent the souvenirs provided to the passengers of each voyage. Many of these souvenir ephemeral items have disappeared over the years.
Our selection varies considerably by ship, and likely contains only a sampling of what was originally produced and printed by the steamship lines.
Bookmark pages you're researching and check back periodically for additions as we continue to digitize our extensive ephemera materials.