SS Grosser Kurfürst Collection
Ephemera for the SS Grosser Kurfürst are available at the GG Archives, including Passenger Lists, Menus, Brochures, Event Programs, and more.
Grosser Kurfürst (1899) North German Lloyd
Built by F. Schichau, Danzig, Germany. Tonnage: 13,245. Dimensions: 560' x 62' (580' o.l.). Twin-screw, 16 knots. Quadruple expansion engines. Two masts and two funnels. Service: Interchangeable between New York and Australian routes. Renamed: (a) Aeolus (1917), (b) City of Los Angeles (1923). Fate: Scrapped in Japan, 1937.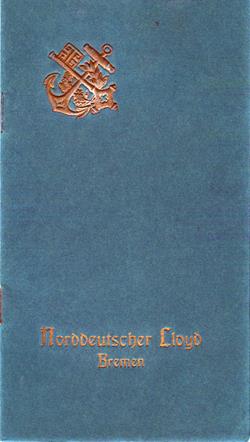 1909-04-10 SS Grosser Kurfurst Passenger List
Steamship Line: Norddeutscher Lloyd (North German Lloyd)
Class of Passengers: First Class
Date of Departure: 10 April 1909
Route: Genoa to New York via Villafranca
Commander: Captain Langreuter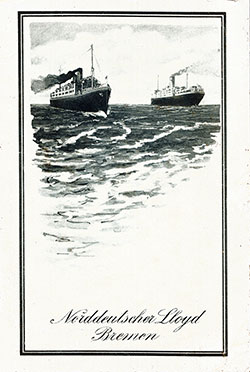 1913-11-08 SS Grosser Kurfürst Passenger List
Steamship Line: Norddeutscher Lloyd (North German Lloyd)
Class of Passengers: First Class and Second Cabin
Date of Departure: 8 November 1913
Route: Bremen to New York
Commander: Captain M. Dietrich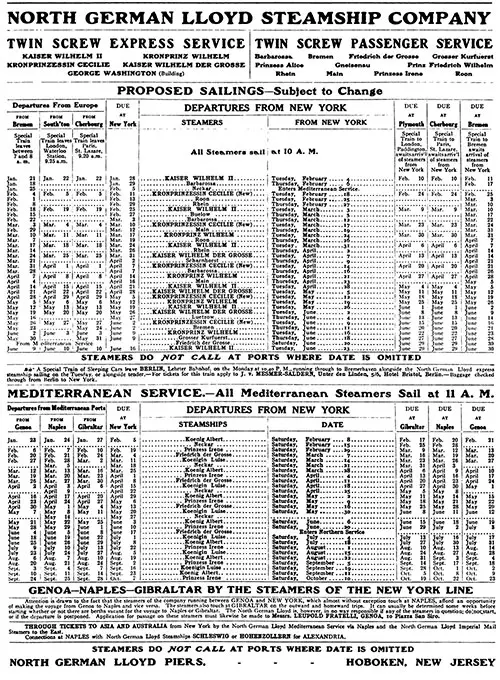 Proposed Sailings, Europe-New York, from 21 January 1908 to 23 June 1908, and Mediterranean Sailings from 23 January to 10 October 1908. Ships Included the Barbarossa, Bremen, Buelow, Friedrich der Gross, Grosser Kurfürst, Kaiser Wilhelm der Gross, Kaiser Wilhelm II, Knoenig Albert, Koenigin Luise, Kronprinz Wilhelm, Kronprinzessin Cecilie, Luetzow, Main, Necktar, Prinzess Irene, Rhein, Roon, and Scharnhorst. North German Lloyd Bulletin, February 1908. GGA Image ID # 1dde6667a4. Click to View Larger Image.
Attention is drawn to the fact that the steamers of the company running between GENOA and NEW YORK, which almost without exception touch at NAPLES, afford an opportunity of making the voyage from Genoa to Naples and vice versa. The steamers also touch at GIBRALTAR on the outward and homeward trips. Some weeks before starting, it can be determined whether there are berths vacant for the voyage to Naples or Gibraltar. The North German Lloyd is. However, in no way responsible if any of the steamers in question: do not start or if the departure is postponed. Potential passengers must likewise apply for passage on these steamers to Messrs. LEUPOLD FRATELLI, GENOA, 10 Piazza San Siro.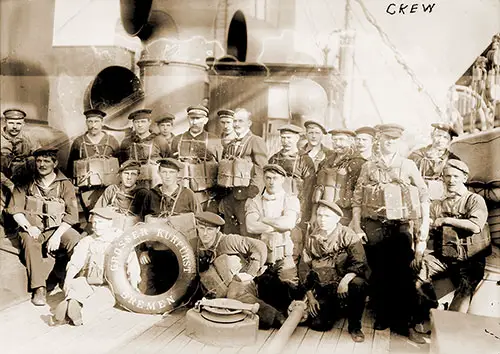 Crew of the Gorsser Kurfürst of the Norddeutscher Lloyd Bremen (North German Lloyd), circa 1913. Bain News Service. Library of Congress LC # 2014694521. GGA Image ID # 1d6f0c9116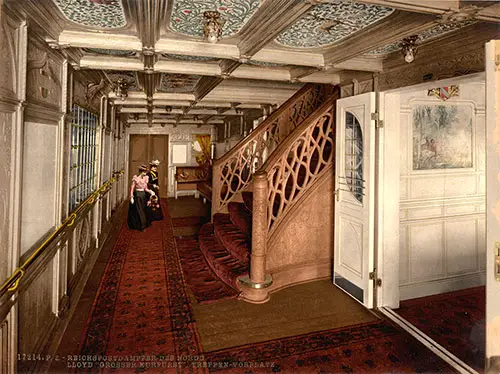 Two Women in the First Class Forward Passage on the SS Grosser Kurfürst of the Norddeutscher Lloyd Bremen, circa 1900. Detroit Publishing Company Photochrome. Library of Congress LC # 2002720837. GGA Image ID # 1d6ff9aad4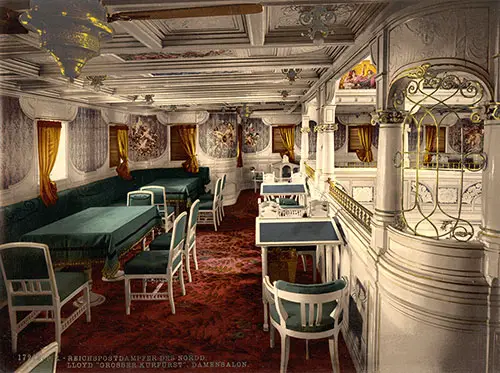 First Class Ladies' Lounge on the SS Grosser Kurfürst of the Norddeutscher Lloyd Bremen, ca 1900. Detroit Publishing Company Photochrome. Library of Congress LC # 2002720839. GGA Image ID # 1d7018ec24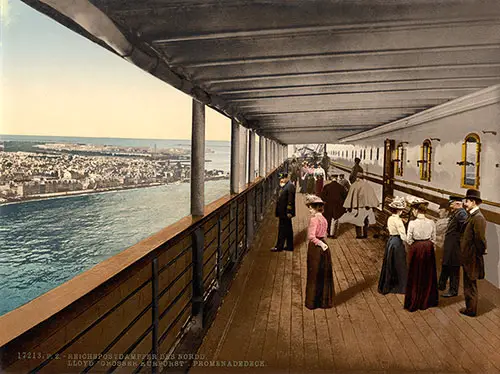 First Class Promenade Deck on the SS Grosser Kurfürst of the Norddeutscher Lloyd Bremen, ca 1900. Detroit Publishing Company Photochrome. Library of Congress LC # 2002720836. GGA Image ID # 1d71a3c7b5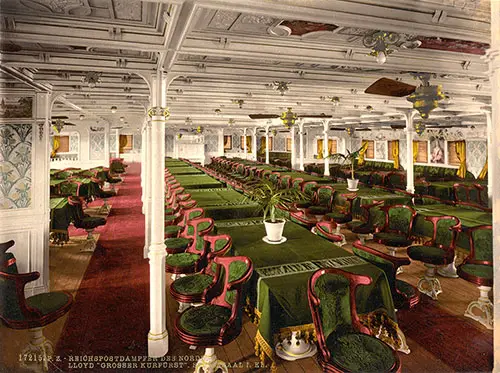 First Class Dining Saloon on the SS Grosser Kurfürst of the Norddeutscher Lloyd Bremen, ca 1900. Detroit Publishing Company Photochrome. Library of Congress LC # 2002720838. GGA Image ID # 1d7229b846