Norddeutscher Lloyd Bremen History - Volume 1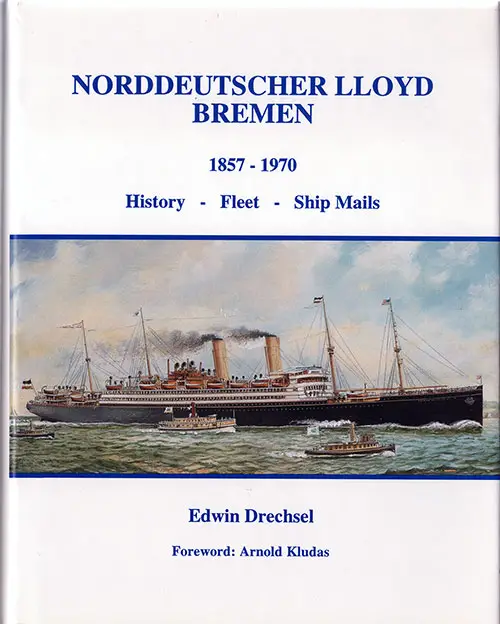 Front Cover, Norddeutscher Lloyd, Bremen, 1857-1970, Volume 1. Cordillera Publishing Company (1994). GGA Image ID # 1e8af78eeb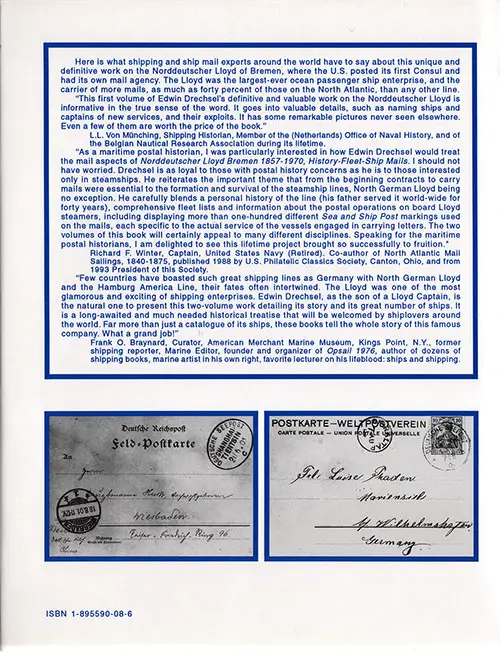 Back Cover, Norddeutscher Lloyd, Bremen, 1857-1970, Volume 1. Cordillera Publishing Company (1994). GGA Image ID # 1e8af84c92
Description: "The first volume of Edwin Drechsel's definitive and valuable work on the Norddeutscher Lloyd is informative in the true sense of the word. It goes into valuable details, such as naming ships and captains of new services and their exploits. It has some remarkable pictures never seen elsewhere. Even a few of them are worth the price of the book."
- L.L. Von Münching, Shipping Historian, Member of the Netherlands Office of Naval History and the Belgian Nautical Research Association during its lifetime.
This volume covers the era leading up to N.D.L.'s founding through that War. It was the time in which "the trans-Atlantic liner was one more way in which the 19th Century created its world of shape, its architecture" (Kenneth Clark).
It relates the shift from sail to steam, seen as a way to speed the mails, from paddle wheel to propeller, from the acute discomfort of bedding, food, and sanitation to the plush salons on the Lloyd's Blue Ribbon express liners patronized by the Upper Crust, the Astors, Vanderbilts, and Morgans, by business and pleasure voyagers, and by the waves of emigrants seeking a better life in the Americas.
The volume goes through the war that ended Germany's rapid catching up on Britain's maritime supremacy. It relates hitherto unreported details of Germany's last-ditch effort to keep trading with the U.S. by going under Britain's blockade in 1916 with unarmed merchant submarines.
ISBN: 1895590086
Library of Congress Catalog Listing
Personal name: Drechsel, Edwin.
Main title: Norddeutscher Lloyd, Bremen, 1857-1970 : history, fleet, ship mails / Edwin Drechsel; foreword, Arnold Kludas.
Published/Created: Vancouver, B.C. : Cordillera Pub. Co., c1994-c1995.
Description
ISBN
1895590086 (v. 1)
1895590140 (v. 2)
LC classification (full)
LC classification (partial)
Subjects
Norddeutscher Lloyd--History.
Merchant marine--Germany--History.
Mail steamers--Germany--History.
Notes
Includes bibliographical references and index.
LCCN
Geographic area code
Canadian class no.
HE945 N75 D73 1994 fol.
HE945*
National bib no.
Other system no.
Type of material