The Cunard Line: A Pictorial History 1840-1990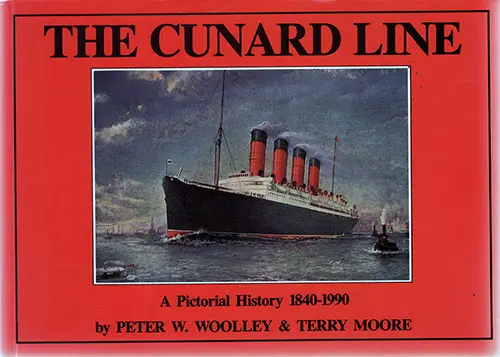 Front Cover, The Cunard Line: A Pictorial History 1840-1990 by Peter W. Woolley and Terry Moore, © 1990. GGA Image ID # 19ea5663b9
Synopsis: An Illustrated History of the Cunard Line and the celebrated liners which have served the Fleet, from its Inception in 1840 to the demise of the great transatlantic liners and finally the entry into service of the RMS Queen Elizabeth 2, Britain's last great luxury liner. 
The book includes details of the race for the Blue Riband and war service. It illustrates the luxury travel associated with one of the world's most famous shipping companies.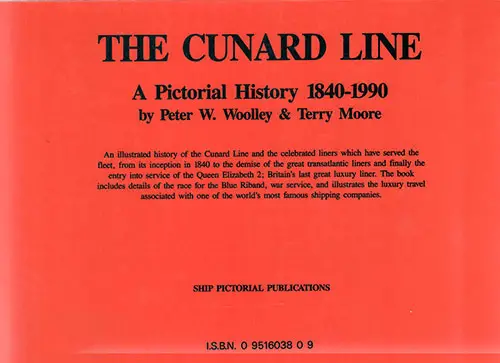 Back Cover, The Cunard Line: A Pictorial History 1840-1990 by Peter W. Woolley and Terry Moore, © 1990. GGA Image ID # 19ea665e1e
Contents
Foreword by Capt. R. A. Woodall, R. D., R.N.R.
A Short History of the Cunard Line
Samuel Cunard
Damascus
Map of Liverpool
Cunard Line Offices
"Ocean Monarchs"
Liverpool from the Air
Riverside Station
Royal George
Southampton Docks
Cunard Countess
Cunard Princess
Sagafjord
Vistafjord
Acknowledgements
The Authors
Catalog Listing
Authors: Peter W. Woolley and Terry Moore
Title: The Cunard Line: A Pictorial History 1840 - 1990
Edition:  Second Impression 1993
Format: Paperback
Pages: 112
ISBN: 0951603809 | 9780951603802
DCN: 387.506541
Publisher: Ship Pictorial Publications
Location: United Kingdom
Pub. Date: 1990
Language: English UK
Subjects: Ships & Shipbuilding / General. Cunard Steamship Company, Ltd. History. Pictorial Works.
Description: xvi, 112 pages : chiefly illustrations (some color), maps, portraits, facsimiles ; 15 x 21 cm
Size: 8 1/8" x 6"
Dust Jacket: No