Leviathan: "The World's Greatest Ship" Volume 3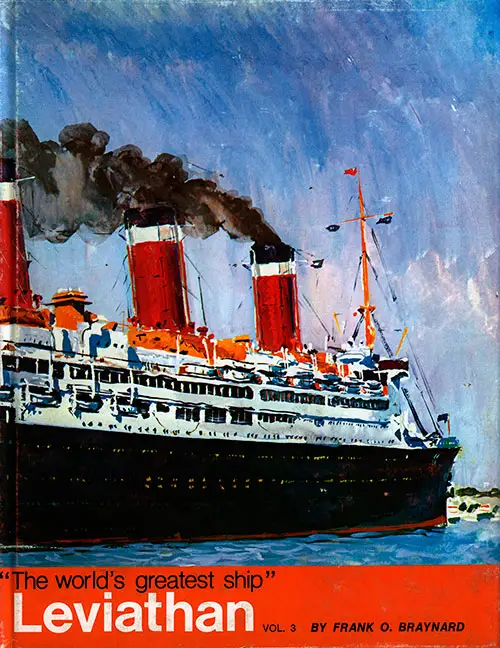 Front Cover, Leviathan: "The World's Greatest Ship," Volume 3. GGA Image ID # 1e8d9c6acd
United States Lines: "LEVIATHAN: The World's Greatest Ship, Volume 3", by Frank Braynard, published in 1976, hardbound with original dust jacket, 400 pages.
Braynard has created what is probably the most extensive history ever written about a single ship. His ground-breaking series covers 6 volumes.
This book is volume 3 and picks up the LEVIATHAN saga as the ship begins transatlantic service for the United States Lines in 1923 and continues through 1926.
Braynard tells the story of life aboard, prominent passengers, and her problems as a government owned ship. There are hundreds of great photos which makes for wonderful browsing and reading.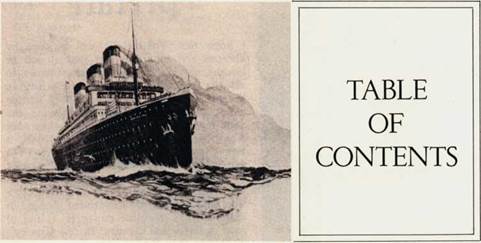 Chapter I: 'HAIL LEVIATHAN - REDIVIVUS!'
Chapter II: A HURRICANE & FRENCH MENUS
Chapter III: ENGINE TROUBLE
FIRST PICTURE SECTION
Chapter IV: ROBINS REEF
Chapter V: WORLD'S FASTEST
Chapter VI: A HINT OF SUCCESS
SECOND PICTURE SECTION
Chapter VII: PROPELLER TROUBLES
Chapter VIII: TELEVISION AND POTATOES
Chapter IX: SPEED RECORD CROSSING
THIRD PICTURE SECTION
Chapter X: LAY UP THREATENED
Chapter XI: 'MOST GLORIOUS SHIP'
Chapter XII: 'SELL HER'
FOURTH PICTURE SECTION
Chapter XIII: PROFITS
Chapter XIV: SHAKE UP
Chapter XV: QUEEN MARIE
Chapter XVI: RE-ENTER W.F.G.
NOTES
INDEX
CREDITS
This volume's jacket is done on Champion Wedgewood, the end leaf is done on Champion Chalice Opaque and the text is done on Champion Carnival Offset. The printing was done by the Adams Group and the author wishes to thank Harvey Brouard, their cordial representative. Thanks also are due to John Kizarr and Don Lamar of Ginny Briggs Associates, who so ably handled the typesetting and layout work. Finally a warm "thank you" to Walter Hamshar who did the proofreading and Margaret Braynard Peabody who did the index.
This book is dedicated to William Francis Gibbs and his brother Frederic H. Gibbs, and to the Robert L. Hague Merchant Marine Industries Post; and to Irving H. Jones and Harry Wright, two generous LEVIATHAN engineers, and to the LEVIATHAN Veterans Associa­tion—with sincere gratitude.
Library of Congress Catalog Listing
Personal name: Braynard, Frank O. (Frank Osborn), 1916-2007.
Main title: "World's greatest ship"; the story of the Leviathan, by Frank O. Braynard.
Published/Created: [New York, South Street Seaport Museum, 1972-1983]
Description: 6 v. illus. (some col.) 29 cm.
LC classification: VM383.L3 B7
Related titles: Leviathan.
LC Subjects: Leviathan (Steamship)
Notes: On cover: Leviathan. Vol. 4 has imprint: Newport News, Va. : Mariners Museum, [1978]. Vol. 5 has imprint: [Sea Cliff, N.Y.] : F.O. Braynard, [1981]. Vol. 6 has imprint: [Kings Point, N.Y. : American Merchant Marine Museum, U.S. Merchant Marine Academy, 1983]. Some ill. on lining papers. Includes bibliographical references and indexes.
LCCN: 72085207
Dewey class no.: 387.2/43
Type of material: Book