Distinguished Liners from The Shipbuilder - 1907-1914 Volume 2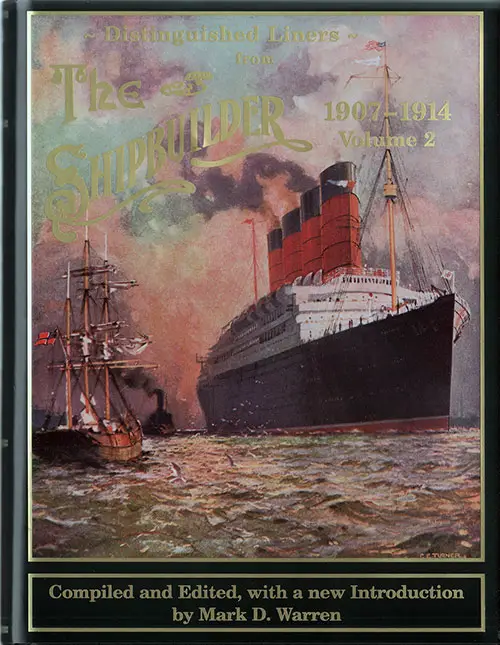 Front Cover, Distinguished Liners from The Shipbuilder - 1907-1914, Volume 2. Compiled and Edited, with a New Introduction by Mark D. Warren. GGA Image ID # 1e8d17b354
Synopsis
In a format similar to the first book, Volume 2 has 314 pages featuring 53 famous ships of the period. Unquestionably the finest books ever produced on ocean liners, you will be enthralled as you are taken back in time for a journey you will never forget.
Read how the liners were constructed and launched, and see the advertisements from the RMS Olympic's and RMS Titanic's fittings makers. 314 pages. Three hundred thirteen photos, 70 additional illustrations, 29 diagrams, 64 plans, 11 cutaways, five pages of color plates, two tissue subscription forms, 116 outstanding advertisements, and 20 folding ship plans.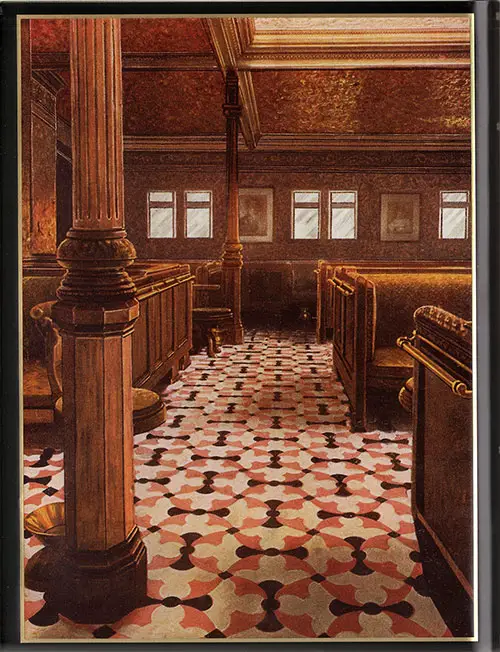 Back Cover, Distinguished Liners from The Shipbuilder - 1907-1914, Volume 2. GGA Image ID # 1e8d2b0139
Listing of Ships Included in this Volume
Afrique
Alcantara
Alsatian
Appam
Arlanza
Bismarck
Calgarian
Cap Polonio
Cap Trafalgar
City of Exeter
City of Paris
Congress
Empress Ekaterina II
Gablonz
Gelria
Heliopolis
Kaiser Franz Josef I
Marienbad
Martha Washington
Medina
Morea
Niagara
Oceania
Orama
Orsova
Orvieto
Osterley
Otranto
Otway
Pastores
Principessa Jolanda
Tubantia
Vandyck
Vasari
Vauban
Vestris
Waratah
William O'Swaldt
Summary
Lavishly illustrated, each volume carries many photographs, including ships, their interiors, machinery, fittings, construction and launching.
Volume 2 is 304 pages, followed by eight pages of advertisements and one fold-out advertisement.
The following ships are detailed in Volume 2 of the The Shipbuilder 1907 - 1914:
Cunard Twin Screw Steamer "Franconia" (Sister ship of the SS Laconia) - Deck Plan plates
Twin Screw Passenger Liners and Cargo Steamers "Gablonz" and "Marienbad" Plan of Engine Room; Section through Engine Room; Plan of after Boiler Room; Deck Plans; Section through forward Boiler Room.
Allen Liner Alsatian - Elevation of Engine and boiler rooms; Deck Plan Plates; 3 additional Engine Room Cross Sections
Cunard Liner Aquitania - Deck Plan Plates; Engine Room Plates & Elevations
Imperator - Deck plan plates; Engine Room Elevations
Cap Trafalgar - Engine Room Elevations; Deck Plan Plates
Library of Congress Catalog Listing
Author: Mark D. Warren, Ed.
Main Title: Distinguished liners from The shipbuilder; compiled and edited with a new introduction by Mark D. Warren.
Published/Created: New York : Blue Riband Publications, 1995-<1997 >
Edition: Limited, deluxe, boxed edition.
Description: v. <1-2 > : ill. (some col.); 25 cm.
ISBN: 0964815303 (v. 1 : alk. paper), 0964815311 (v. 2 : alk. paper)
LC classification (full): VM381 .D57 1995
LC classification (partial): VM381
Cover title: Shipbuilder
Related titles: Shipbuilder (London, England)
Related names: Warren, Mark D.
Incomplete contents: v. 1. 1906-1914 -- v. 2. 1907-1914
Subjects: Ocean liners--History--20th century.
LCCN: 95036645
Dewey class no.: 387.2/432/0904
Type of material: Book