RMS Hesperian Archival Collection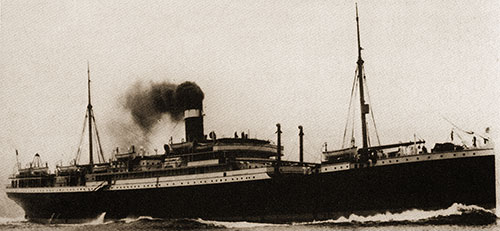 The RMS Hesperian of the Allan Line (1908). GGA Image ID # 1de19d07ae
Hesperian (1908) Allan Line (British)
Built by Alexander Stephen & Sons, Ltd., Glasgow, Scotland. Tonnage: 10,920. Dimensions: 485' x 60'. Twin-screw, 15 knots. Triple expansion engines. Two masts and one funnel. Passengers: 210 first, 250 second, 1,000 third. Launched: 20 December 1907. Maiden Voyage: Glassgow-Montreal, 25 April 1908. Service: Glasgow-Quebec-Montreal. Fate: Torpedoed and sunk by German Submarine U-20, 85 miles from Fastnet, September 4, 1915, with the loss of 32 lives. Sister ship: Grampian. Note: The Corsican, and the earlier liners Bavarian and Tunisian were quite similar in appearance.
Launch of the RMS Hesperian
Twin-screw passenger and cargo steamer; 502 ft, by 60 ft., by 41 1/2 ft; 9,000 tons deadweight ; 10,000 gross tonnage. Built for the Allan Line service between Glasgow and the Dominion of Canada. Accommodation is provided for about 500 first and second-class passengers, and 1,400 third-class, the latter being berthed in four-berth rooms. Large and well appointed dining saloons, music rooms, libraries, etc., are provided for each class of passengers. Air insulated space of large capacity is provided for the storage of cargo and ship's provisions, cooled by refrigerating machinery. The propelling machinery consists of two sets of triple expansion engines, taking steam from boilers working under Howden's system of forced draught. The Hesperian is the second of two vessels built at Linthouse for the same service. Launched, 20 December, 1907.
The Shipbuilder, Autumn 1907
Programs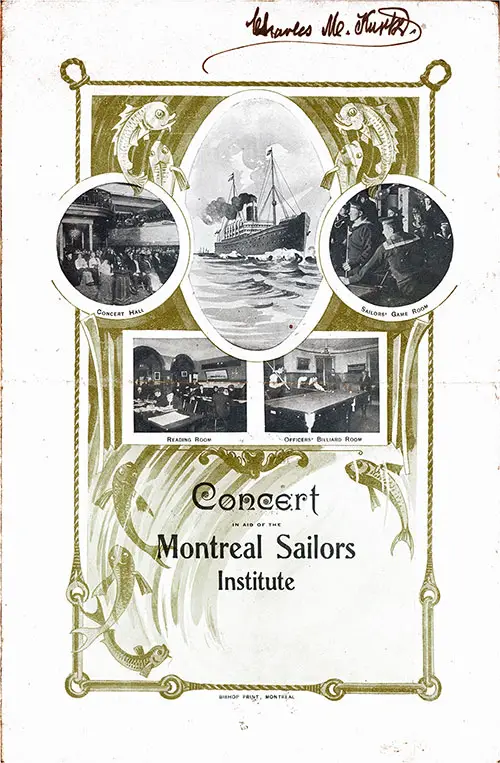 1908-08-21 Allan Line Grand Charity Concert - RMS Hesperian
Grand Charity Concert presented on board the RMS Hesperian of the Allan Line on 21 August 1908. The proceeds raised from the concert were earmarked to the Montreal Sailors Institute. Many transatlantic voyages had at least one charity concert.
Advertisements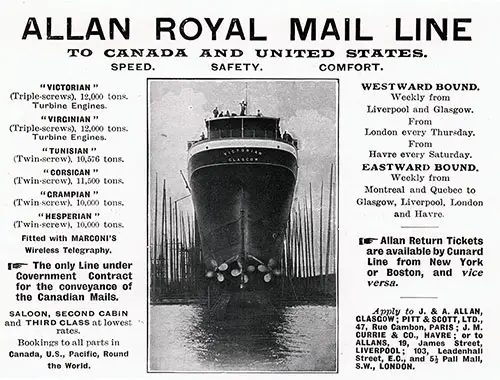 Advertisement, Allan Royal Mail Line. Ships Include the Victorian, Virginian, Tunisian, Corsican, Grampian, and Hesperian. Cunard Daily Bulletin, Ivernia Edition for 22 July 1908. GGA Image ID # 131f1a86b9
Return to Content Links
Sailing Schedules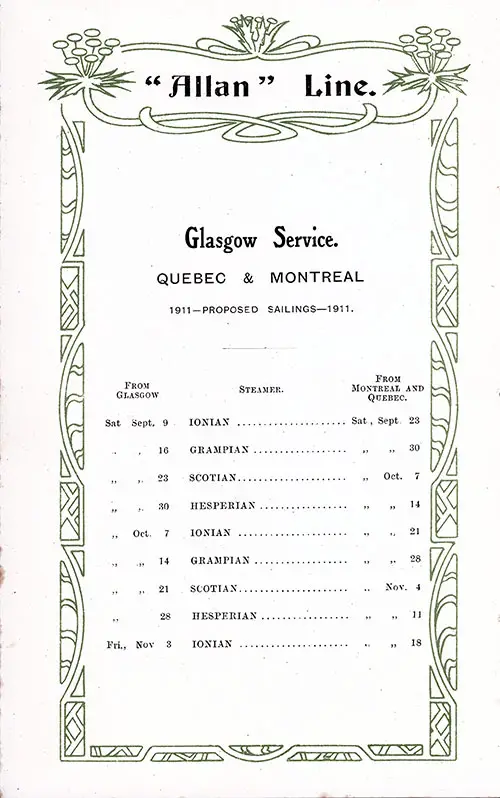 Proposed Sailings, Glasgow-Montreal-Quebec Service, from 9 September 1911 to 18 November 1911. Ships Included the Grampian, Hesperian, Ionian, and Scotian. TSS Tunisian Passenger List, 22 September 1911. GGA Image ID # 1e0e62d99e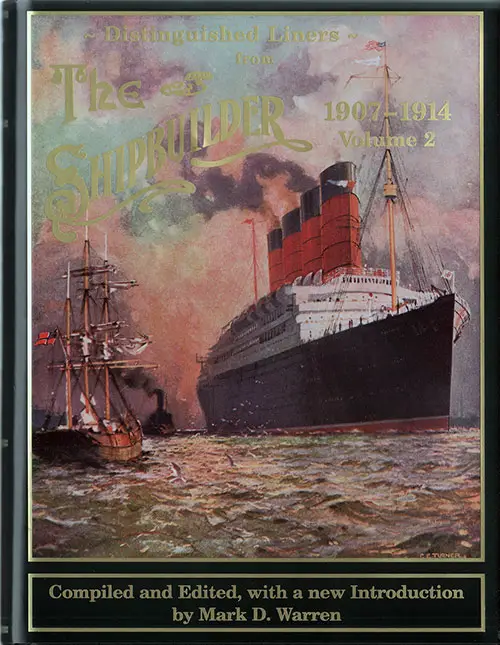 Distinguished Liners from The Shipbuilder - 1907-1914 Volume 2
Distinguished Liners, Volume 2 features 53 famous ships from 1907-1914. Read how the liners were constructed and launched. Lavishly illustrated, each carries many photographs, including the ships, their interiors, machinery, fittings, construction, and launching.
The Sinking of the RMS Hesperian
The RMS Hesperian was an Allan Line steamer carrying about 800 passengers and general cargo between Liverpool, Quebec, and Montreal. During World War I, she was also used as a hospital ship. On 4 February 1915, Germany declared a submarine war zone in the waters around Great Britain and Ireland beginning 19 February.
Ironically, on 4 September 1915, the British passenger liner RMS Hesperian was torpedoed by the German submarine U-20 commanded by Kapitanleutnant Walther Schweiger with the loss of 26 lives. The same U-boat sank the British passenger liner RMS Lusitania. While under tow to Ireland, the Hesperian sank on 6 September 1915.