Allan Line Grand Charity Concert - RMS Hesperian - 1908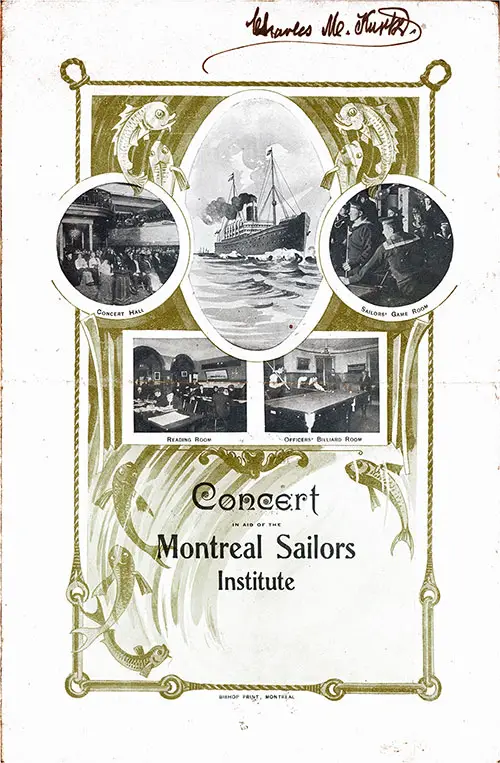 Front Cover, Allan Line RMS Hesperian Grand Charity Concert, 21 August 1908 - The Montreal Sailors' Institute. GGA Image ID # 12820eb8dc
Grand Charity Concert presented on board the RMS Hesperian of the Allan Line on 21 August 1908. The proceeds raised from the concert were earmarked to the Montreal Sailors Institute. Many transatlantic voyages had at least one charity concert.
Programs, 1/- Each. A Farewell Souvenir from the Rms Hesperian. A Grand Charity Concert Will Be Held at Sea in the First-Class Dining Saloon, on Friday, August 21, 1908, Commencing at 8.15 P.M. Prompt. Dean Hart in the Chair. Pres. Eaton. Convener of Musical Committee.
Program
Pianoforte Solo,, 44 Hall Bright Abode " - Mr. John Robertson
Song, " Less Than the Bust " - Miss Duncan
Song, " Angus M4Donald" - Miss Booth
Quartette, Misses Booth & Jamieson, Messrs. Bavenport & Gray\
Song, " Far From the Land * - Mrs. Henderson
Instrnmental Duel, - Selected - Mr. and Mrs. Shand
Song, " Love's Old Sweet Song " - Miss Wilkie
Reading, - Mr. Karl Walter
Song, - - " Lochnagar " - Mrs. Jarvlc
Reading, -" Hesperiana " - • - - Mr. Kurtz
Song, " Anchored " - Mr. E. Owen
Interval. Collection for Seamen's Institute
Pianoforte Solo, Miss Thoms
Song, "Try, Try, Try, Again" - Mrs. Gray
Reading, - Dr. Brown
Song, " Harrlgan " Mr. W. Anderson
Song, "Eileen Allanah " Miss Jamieson
Song, "The Deathless Army" Mr. Henderson
Instrumental Duet, Selection. Miss Liddle & Mr. Gray
Song, " Dream of Paradise " Miss Booth
Song, " The Music Master " Dr. Glegg-Newton
Songs. - " Melisande In the Wood" & "Irish Girl " Mr. J. Robertson
By the Company, with Musical Accompaniment, "For Auld Lang Syne," and "God Save the King."
Printed on Board
THE leading characteristics of the efforts of the Montreal Sailors' Institute may be briefly summarized as follows : To provide a cheerful, homelike, healthful place of resort for seamen, while they are in port. To protect them from the numerous evils to which seamen in all seaport cities are exposed. To afford elevating recreation in the shape of games, concerts, lectures, socials, etc. To supply good literature to the seamen. To inculcate temperance principles in the minds of these men. To furnish religious services of a simple character where the Gospel is proclaimed and the social, moral and spiritual redemption of seamen brought about. To materially assist any who may be in distress, visit the sick and give Christian burial to the dead.
To the large number of seamen visiting the Port of Montreal the Institute Building has been a I place of untold benefit as the following figures will show.
SEASON 1906
Aggregate attendance of seamen 52,735
Average daily attendance of seamen 243
Seamen using Reading Rooms 26,605
Seamen using Game Rooms 21,200
Seamen Attending weekly Concerts 11,100
Seamen Attending Temperance Socials. 2,155
Seamen Attending Religious Service. 2,456
Letters written 24,273
Money deposited for safe keeping $1,533.15
Foreign money exchanged for currency or vice versa £4,555.1.6
Money sent home to seamen's families £560.5.6
Vast quantities of reading matter were distributed, also comfort bags and carpet hand protectors. The destitute were aided. The sick were visited. Seven sailors who died were given Christian burial. Five hundred and ninety-one signed the total abstinence pledge.
The expenses of the Institute amount to $5,000.00 annually. It has no endowment and is entirely dependent upon voluntary contributions for its support.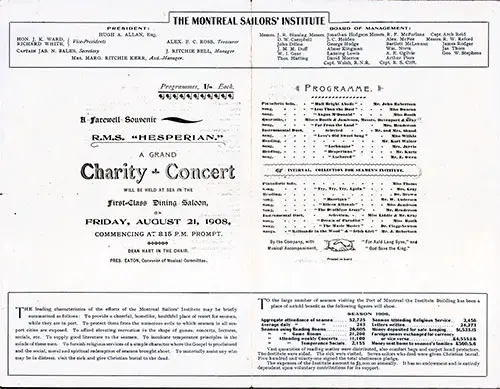 Grand Charity Concert Program, Order of Events and Mission of the Montreal Sailors' Institute. GGA Image ID # 1282181329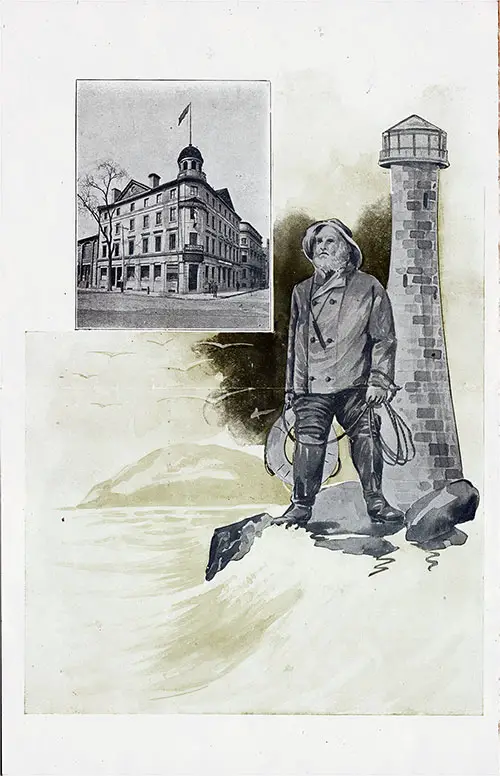 Back Cover, Allan Line RMS Hesperian Grand Charity Concert, 21 August 1908 - The Montreal Sailors' Institute. GGA Image ID # 1282f851c4