Musical Concert Program - SS President Monroe - 20 July 1922
Front Cover, Musical Concert Program on Board the SS President Monroe on 20 July 1920 in Aid of Seamen's Charities. GGA Image ID # 12b45be839
Early United States Lines Musical Program to raise funds for various seamen's charities, on board the SS President Monroe, performed for cabin class passengers in the Veranda Cafe on 20 July 1920.
CONCERT IN VERANDA CAFE
July 20th, 1922 AT 8.30 P.M. In Aid of Seamen's Charities
BY KIND PERMISSION OP COMMANDER: M.L. PITTMAN, USNRF
COMMITTEE IN CHARGE:
MISS DEARBORN
MR. SCHOFIELD
MISS BARTLETT
MRS. PETERS
DR. LANDRUM, CHAIRMAN
Participants in Seamen's Charity Fund:
HOME FOR DESTITUTE CHILDREN
SALVATION ARMY
SAILOR'S SNUG HARBOR
SEAMEN'S FRIENDLY SOCIETY
SEAMEN'S CHURCH INSTITUTE
SEAMEN'S CHRISTIAN ASSOCIATION
AMERICAN MERCHANT MARINE LIBRARY ASSN.
MERCHANT SEAMEN'S BRANCH Y. M. C. A.
PROGRAMME
"Chant Polonais" (Chopin-Liszt)  by Miss Anne Hull
Recitation by Mrs. W. A. King
"Kashmiri Song" (Amy Woodford Finder)  by  Miss M. Traugott (accompanied by Miss Geraldine Bartlett)
"Caro mio ben" (Giordani) and "Fair Springtide" (Mac Dowell) by Christopher Hayes (accompanied by Herbert Peyser)
Sleight of Hand  by Dr. S. H. Hodgson.
Intermission
"Ah fors' e lui" from "La Traviata" (Verdi) by Miss Beatrice Mack
Reading by Rev. Dr. J. Cotter
"Sonny Boy" (Pearl G. Curran) by Miss Madeleine Wilcox
 A vote of thanks to Commander M. L. Pittman by Rev. Dr. R. H. Pitt.
THE STAR SPANGLED BANNER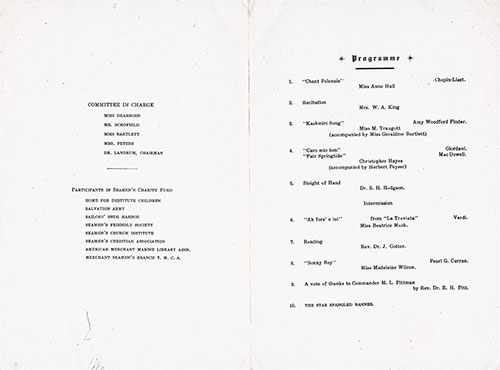 Musical Concert Program on Board the SS President Monroe on 20 July 1920 in Aid of Seamen's Charities. GGA Image ID # 12b48bd12b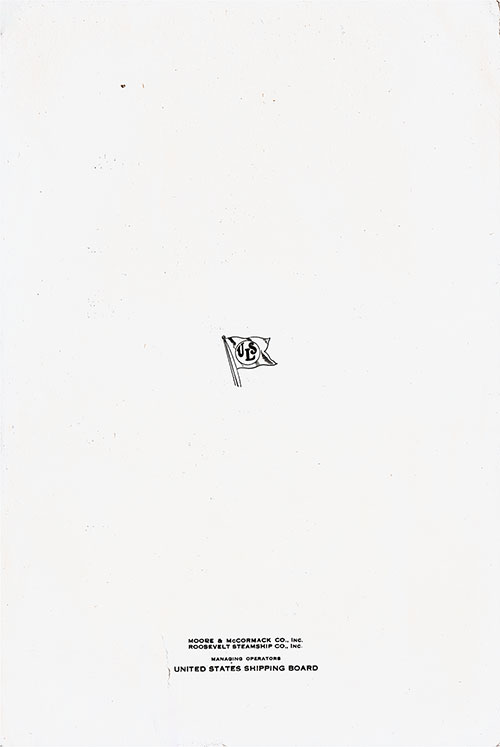 Back Cover, Musical Concert Program on Board the SS President Monroe on 20 July 1920 in Aid of Seamen's Charities. GGA Image ID # 12b4920e89