Sports and Entertainments Program - SS Zeeland - 26 June 1924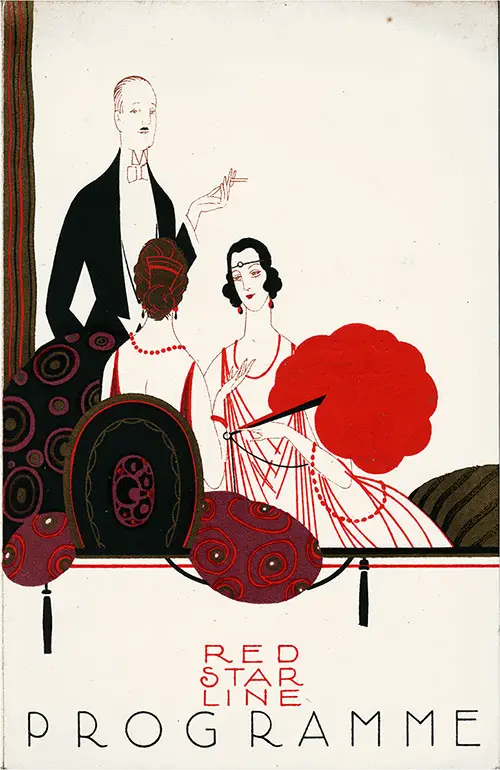 Front Cover, Sports and Entertainments Program Held on Board the SS Zeeland Beginning Friday, 26 June 1924. GGA Image ID # 12ae7842fd
Sports and Entertainment Program for the Eastbound Voyage of the SS Zeeland of the Red Star Line beginning 26 June 1924. Activities included shoe and sack races, bottle driving, dancing, wheel barrel races, and a costume ball.
PROGRAMME
Held on Board S.S. "ZEELAND" - Commander A. J. THOMAS
EASTBOUND FROM NEW YORK ON 26th JUNE 1924.

CHAIRMAN: 
COMMITTEE:
Mr. Wallace Tibbitts     
Miss E. Persons
Mr. Daly Highleyman   
Miss H. Leonard
Miss B. Ripley
Friday Evening
Saturday Afternoon
Shoe Race
Sack Race
Bottle Driving
Walking the Line
Saturday Evening
Monday Afternoon
Egg & Spoon Race
Potato Race
Thread the Needle
Chalking Pig's Eye
Tuesday Afternoon
Apple Diving
Wheel-barrow Race
Tug o' War Ladie3s & Gentlemen
Tuesday Evening
Wednesday Afternoon
Cock Fighting
Finals : Deck Tennis, Shuffle Board, Bull Board, Deck Quoits
Thursday
Grand Concert and Prize Distribution
Throughout the voyage Shuffleboard, Deck Tennis, Quoits & Bull Board will be played.

Sports to be held on the Forward Deck, commencing at 2.00 p. m. each day.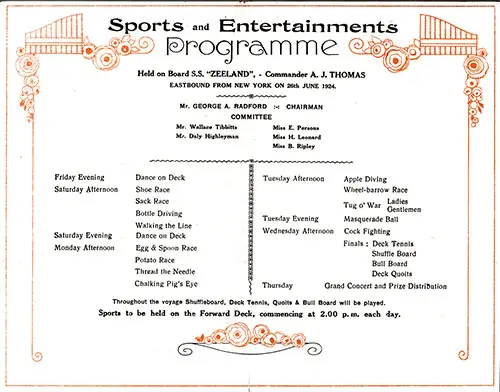 Sports and Entertainments Program Held on Board the SS Zeeland Beginning Friday, 26 June 1924. GGA Image ID # 12ae973a72
Back Cover, Sports and Entertainments Program Held on Board the SS Zeeland Beginning Friday, 26 June 1924. GGA Image ID # 12af12d119