Concert Program - SS Leviathan - 21 June 1928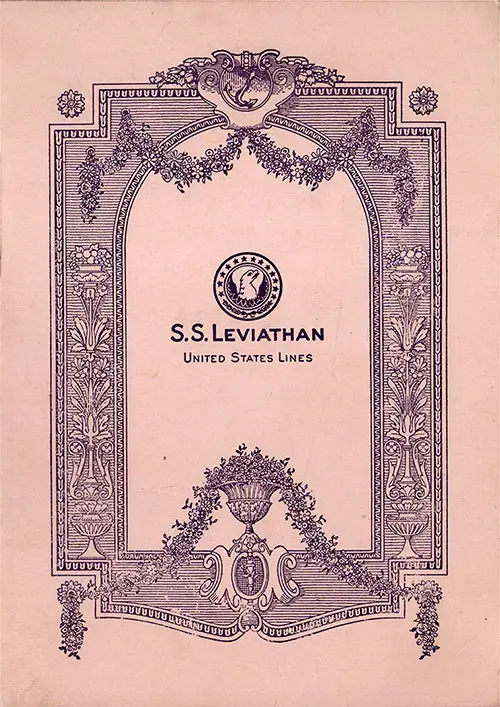 Front Cover, Second Class Concert Program Given on Board the Flagship "Leviathan" on Thursday, 21 June 1928. GGA Image ID # 12b28e3021
Elegant Concert program and variety show for second class passengers on board the United States Lines Flagship -- the SS Leviathan. This production from Thursday, 21 June 1928 featured classical and popular music numbers, vocalists, readings, and a scene from a comedy playlet.
CONCERT
Given on Board the FLAGSHIP "LEVIATHAN" IN THE SECOND CLASS
THURSDAY, JUNE 21, 1928
Master of Ceremonies:
MR. C. LOWELL LEES,
Committee:
MR. C. LOWELL LEES
MR. WILLIAM STOUT
Recreation Director:
MR. SHARP W. DAYNES
Program
1. Tenor Solo: Mr. Eugene Bean
2. Clog Dance: Mr. Loraine Wkiteley
3. Trombone Solo: Mr. Melvin Allen
4. Reading :  Mr. John Rowell
5. (a) Cavalleria Rusticana:  Mascagni
(b) Selected: Mr. Frank De Briae, Pianist
6. Playlet "Elmer." Sketch from W. C. Fields.
Mrs. Flamdibble  (Miss Marie Lischko)
Mr. Flamdibble  (Mr. R. W. Hurzler)
Scene, Their Apt. at 4 a.m. Time, any place anywhere
Staged and Directed by Mr. Maurice Bernard.
7. (a) Sonata in C Minor (1st Movement) – (Grieg)
(b) Romance (Winiawski)
(c) Obertas (Winiatvski)
Mr. Edmund Zygman, Violinist
8. (a)  Romance (Sibelius)
(b)   Homeward Bound (Grieg)
Mr. Axel Skjerno, Pianist
9. (a) La Boheme (Aria)  - (Pucini)
(b) Irmelin Rose (Wolf)
(c) Do Not Go, My Love (Hageman)
(d) Biens Aurore (Ar. A. L.)
Miss Charlotte Simons, Soloist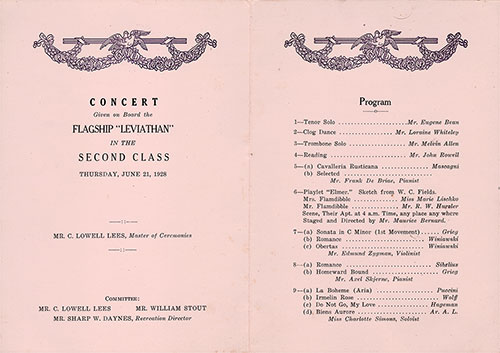 Second Class Concert Program Given on Board the Flagship "Leviathan" on Thursday, 21 June 1928. GGA Image ID # 12b307dcc0