Charity Entertainment Program - RMS Scythia - 25 September 1930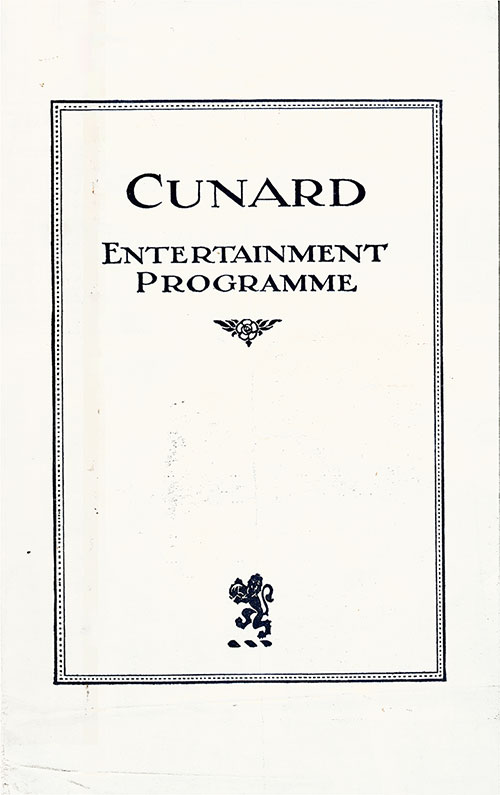 Front Cover, Entertainment Program in Aid of British and American Seamen's Institutions Held on Board the Cunard RMS Scythia on Thursday, 25 September 1930. GGA Image ID # 12a7374fef
Variety Show style entertainment program performed for tourist class passengers on the RMS Scythia of the Cunard Line in the Tourist class to benefit British and American seamen's institutions that were also listed in the program.
Entertainment in Aid of British And American Seamen's Institutions Held on Board Cunard RMS Scythia.
Captain R. B. Irving, OBE, R.D., R.N.R.
On Thursday Evening, September 25th, 1930, at 9:00 P.M.
In the Tourist Dining Room
Chairman: Ven. Archdeacon W. E. J. Paul
PART I
Overture: "Scythia" Orchestra
Irish Step Dance: Mr. D. Murphy
The Atlantic Comedian: Mr. Billy Williams
Song: Mr. B. Sheridan
Dance: Miss J. Rogers
Comic Song: Mr. McDonnell
Song: Mrs. Nancy Clifton
DISTRIBUTION OF PRIZES
CHAIRMAN'S APPEAL
PART II           
Song: Mr. J. Hennessy
Entertainer: Mr. C. Stack
Song: Miss M. Whalen
Song: Miss B. Mahoney
Dance: Miss O. Bogdanoff
Selected: Mrs. A. Wynne
Accompanist: Mr. E. Morely
AULD LANG SYNE
Entertainments on Cunard Ships - Distribution of Proceeds
The proceeds resulting from the various entertainments held from time to time on Cunard Steamers are distributed to various seamen's institutions and other organizations working in the interests of those who "go down to the sea in ships."
The institutions which benefit are:
BRITISH
Royal Liverpool Seamen'« Orphan Institution
Home for Aged Mariners. Egremont.
AMERICAN
American Seamen's Friend Society
Seamen's Church Institute
Y.M.C.A. Mariners Branch
Society for the Relief of Destitute Children of Seamen
Mariners Family Asylum
St. Mary's Episcopal City Mission, East Boston
CANADIAN
Montreal Sailors' Institute
Montreal Catholic Sailors' Club
Other British Charities are helped from time to time and include the following:
Royal National Lifeboat Institution
Royal Merchant Seamen's Orphanage, London
Seamen's Orphanage. Southampton
Sailors' Home, Southampton
Missions to Seamen
Seamen's Friend Society, Liverpool
Seamen's Convalescent Hospital. Limpsfield
Seamen's "Dreadnought" Hospital. Greenwich
Royal Alfred Aged Merchant Seamen's Institution
Royal South Hants Hospital
British and Foreign Sailor's Society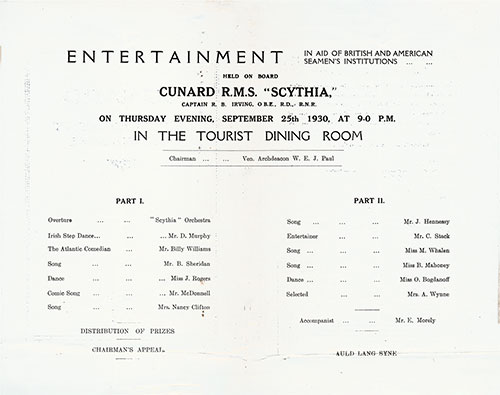 Entertainment Program in Aid of British and American Seamen's Institutions Held on Board the Cunard RMS Scythia on Thursday, 25 September 1930. GGA Image ID # 12a7ef5cf8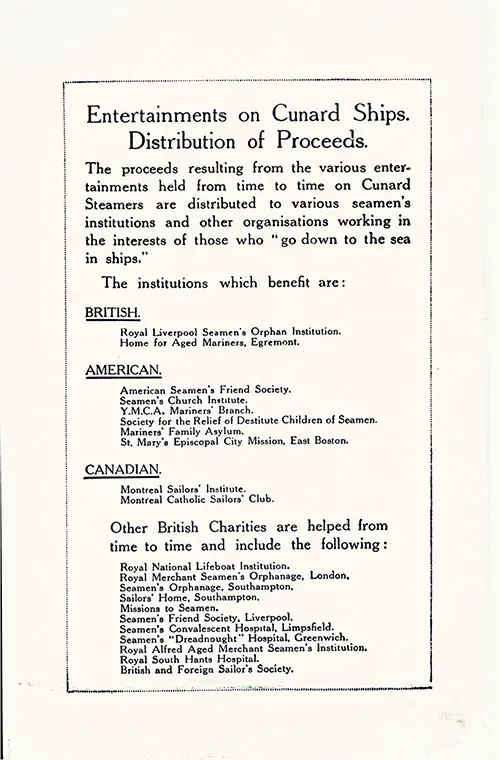 Distribution of Proceeds, Entertainment Program in Aid of British and American Seamen's Institutions Held on Board the Cunard RMS Scythia on Thursday, 25 September 1930. GGA Image ID # 12a81ddf48