Gulf Stream Cruise Program of the Day - 24 February 1931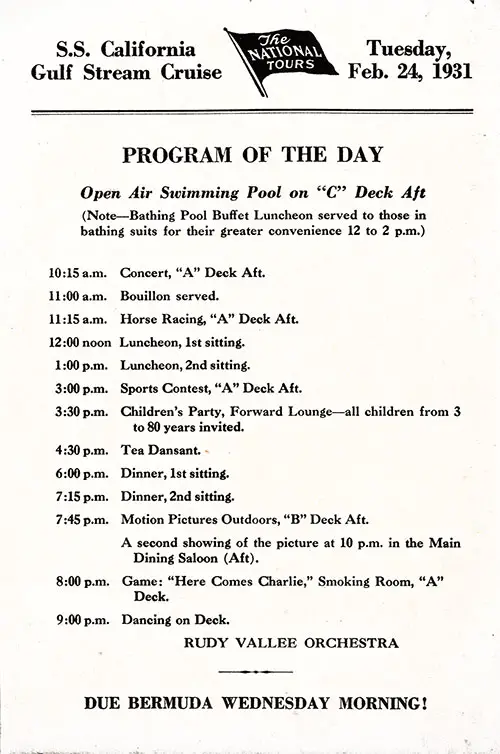 The National Tours Daily Program for 24 February 1931 during a Gulf Stream Cruise heading to Bermuda on the SS California of the Anchor Line. GGA Image ID # 1283ee8be8
Tuesday's listing of events for passengers on the National Tours Gulf Stream Cruise on the SS California of the Anchor Line on 24 February 1931. Open Air Swimming Pool was the Program of the Day. Other activities were scheduled from 10:15 am concert through 10:00 pm's last showing of a motion picture.
S.S. California Gulf Stream Cruise
Tuesday, Feb. 24, 1931
PROGRAM OF THE DAY
Open Air Swimming Pool on "C" Deck Aft
(Note—Bathing Pool Buffet Luncheon served to those in bathing suits for their greater convenience 12 to 2 pm)
Other Events
10:15 am Concert, "A" Deck Aft.
11:00 am Bouillon served.
11:15 am Horse Racing, "A" Deck Aft.
12:00 noon Luncheon, 1st sitting.
1:00 pm Luncheon, 2nd sitting.
3:00 pm Sports Contest, "A" Deck Aft.
3:30 pm Children's Party, Forward Lounge—all children from 3 to 80 years invited.
4:30 pm Tea Dansant.
6:00 pm Dinner, 1st sitting.
7:15 pm Dinner, 2nd sitting.
7:45 pm Motion Pictures Outdoors, "B" Deck Aft.
8:00 pm Game: "Here Comes Charlie," Smoking Room, "A" Deck.
9:00 pm Dancing on Deck.
RUDY VALLEE ORCHESTRA
10:00 A second showing of the motion picture in the Main Dining Saloon (Aft).
DUE BERMUDA WEDNESDAY MORNING!