Charity Entertainment Program - RMS Campania - 3 July 1911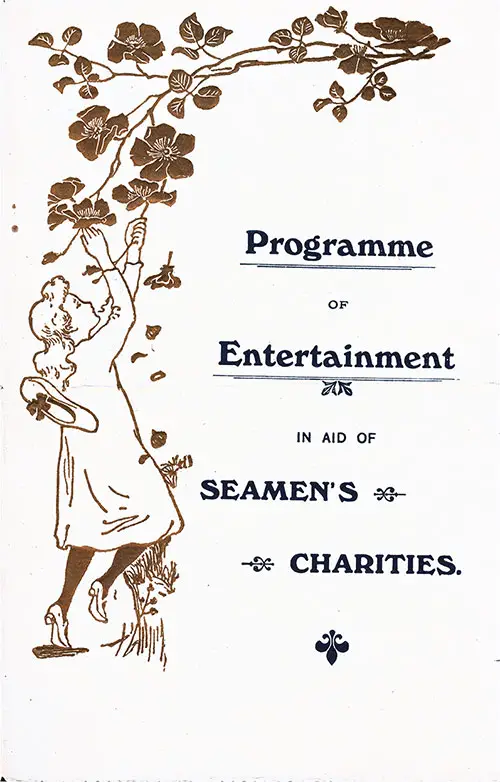 Front Cover, Entertainment Program in Aid of Seamen's Charities at Liverpool & New York on Board the RMS Campania, Monday, 3 July 1911. GGA Image ID # 12a1a6ca7a
Variety show style entertainment program performed onboard the RMS Campania of the Cunard Line to benefit various Liverpool and New York seamen's charitable organizations. The Liverpool Seamen's Orphan Institution was highlighted in this program.
The Liverpool Seamen's Orphan Institution
Was founded in 1869 to feed, clothe and educate the destitute or necessitous children of all classes of seamen or seafaring men.
From that date to the 1st January, 1909, over 6,920 children have received the benefits of the Institution, and many poor widows have been enabled to keep a roof over their heads, and their little ones from the workhouse; there are at present over 950 children upon the books.
The benefits conferred are not restricted to any Nationality or Religious Creed, though children of seamen who have sailed five years out of the Port of Liverpool, have a preference.
A very large number of these Orphan children have lost their fathers by the perils of the sea in crossing the Atlantic and conveying passengers and cargo to and from America.
A still larger number of seamen die from diseases contracted by exposure to the weather, in all seasons and at all hours; and no more fitting tribute of gratitude can be shown to the Almighty hand, who brings the ship in safety to her journey's end, than by helping to support the children who are left fatherless by the necessities of the seamen's life.
The returns from the Board of Trade are appalling in their evidence of the loss of life at sea, for they show that in thirty-seven years following the establishment of this Orphanage, no less than 145,765 seamen died in English ships abroad, of whom 95,717 were drowned. This number does not include these who die in the United Kingdom.
The Orphanage is open for the inspection of Visitors every day except Saturday and Sunday, from 2 till 4 p.m. Visitors who are in Liverpool on Sundays can have no greater treat than by attending the Children's Service at 11 a.m. or at 3-30 p.m., to which they are cordially invited.
A card with visitor's name handed to the Verger will always command attention. The Green Lane and West Derby tramcars from the. Pier Head or Lime Street pass within two minutes' walk of the Chapel and Orphanage.
During the year 1908, 1,278 Children received the benefits of the Institution, of tins number there were: Children of
Captains, Officers, Engineers, Pursers and Pilots: 261
Seamen, including Carpenters and Sailmakers: 395
Firemen and Coal Trimmers: 394
Stewards, Cooks and Butchers: 228
PROGRAMME OF ENTERTAINMENT IN AID OF SEAMEN'S CHARITIES AT LIVERPOOL & NEW YORK
On Board the Royal Mail Steamer "Campania"
COMMANDER R. C. WARR.
ON MONDAY, JULY 3, 1911, AT 8:30 PM
Chairman: B. R. CAMPBELL, ESQ.
PART 1
Selection: "Tonkinoise" ("Campania " Orchestra)
Song: "Three little chestnuts " (Master C. E. Daris, jr.)
Song:  Selected by Miss Adelaide Naftal
Violin Solo: "Air Varie" (Mr. F. G. Vallance)
Song: "Tommy lad'' (Mr. Danl. Protheroe)
Story for children: by Miss Fola La Follette
Chairman's Remarks Collection
PART 2
Song: "The little blush rose" (Miss Grace Carter)
Song: "The land where the best man wins" (Mr. D. B. Williams)
Reading: by Mrs. Bertha K. Baker
Song: Selected by Mr. Danl. Protheroe
Recitation: " Telephone romance" (Miss Adelaide Naftal)
Cello Solo: "Berceuse"  (Mr. T. Kincaid)
"AMERICA"
"GOD SAVE THE KING"
Accompanist: MR. W. WILKINSON
AEROS at 10:30 PM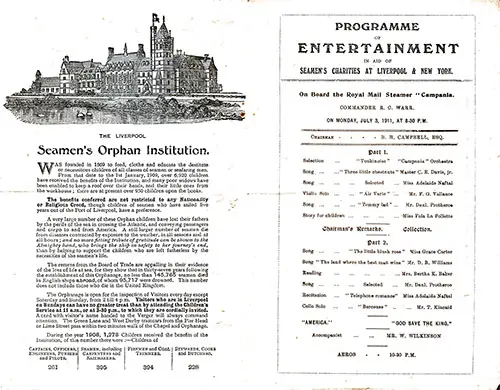 Entertainment Program in Aid of Seamen's Charities at Liverpool & New York on Board the RMS Campania, Monday, 3 July 1911. GGA Image ID # 12a1b2deea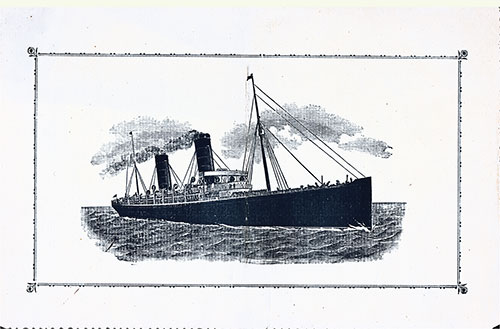 RMS Campania of the Cunard Line, Back Cover, Entertainment Program in Aid of Seamen's Charities at Liverpool & New York on Board the RMS Campania, Monday, 3 July 1911. GGA Image ID # 12a1ddea17