Sports Events Program - SS Albertic - 14 June 1928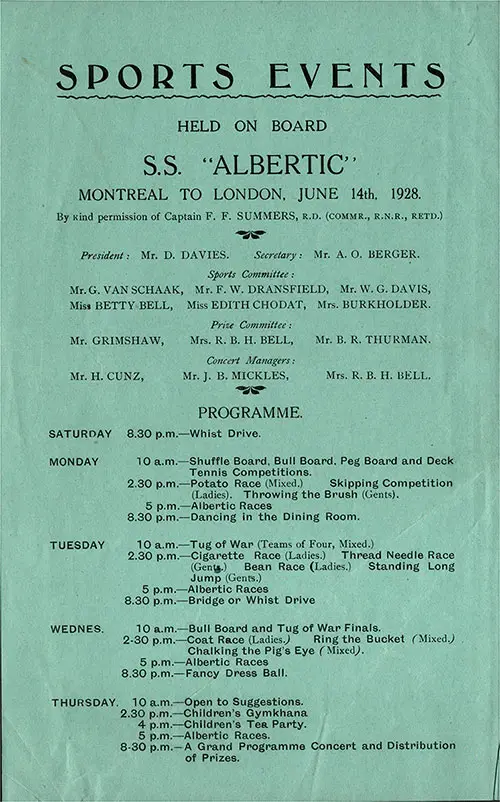 Sports Events Program For the Voyage from Montreal to London, Held on Board the SS Albertic Beginning on Friday, 14 June 1928. GGA Image ID # 12b6d21ed6
Sports Events Held on Board S.S. "Albertic" of the White Star Line on a voyage from Montreal To London, 14 June 1928. Featured events included Shuffleboard, Deck Tennis, Potato Race, Skipping Competition, Dancing, Tug of War, Bridge, Whist, and Coat Race. A Fancy Dress Ball and Children's Tea Party are also planned.
Coordination of Events
By Kind permission of Captain F. F. SUMMERS, R.D. (COMMR. R.N.R., RETD)
Sports Committee:
Mr. G. VAN SCHAAK
Mr. F. W. DRANSFIELD
Mr. W. G. DAVIS
Miss BETTY BELL
Miss EDITH CHODAT
Mrs. BURKHOLDER
Prize Committee :
Mr. GRIMSHAW
Mrs. R. B. II. BELL
Mr. B. R. THURMAN
Concert Managers:
Mr. H. CUNZ
Mr. J. B. MICKLES
Mrs. R. B. H. BELL
PROGRAMME
MONDAY
10 a.m. - Shuffleboard. - Bull Board. Peg Board and Deck Tennis Competitions.
2.30p.m. - Potato Race (Mixed) - Skipping Competition (Ladies) - Throwing the Brush (Gents).
5 p.m. -  Albertic Races
8.30 p.m. - Dancing in the Dining Room.
TUESDAY
10 a.m. - Tug of War (Teams of Four, Mixed)
2.30 p.m. - Cigarette Race (Ladies) - Thread Needle Race (Gents) - Bean Race (Ladies)  - Standing Long Jump (Gents)
5 p.m. - Albertic Races
8.30 p.m. - Bridge or Whist Drive
WEDNESDAY
10 a.m. - Bull Board and Tug of War Finals
2.30 p.m. - Coat Race (Ladies) - Ring the Bucket (Mixed) - Chalking the Pig's Eye (Mixed)
5 p.m. - Albertic Races
8.30 p.m. - Fancy Dress Ball
THURSDAY
10 a.m. - Open to Suggestions
2.30 p.m. -Children's Gymkhana
4 p.m. - Children's Tea Party
5 p.m. - Albertic Races
8.30 p.m. - A Grand Programme Concert and Distribution of Prizes