Address to Passengers Attending Concert on the RMS Caronia June 1905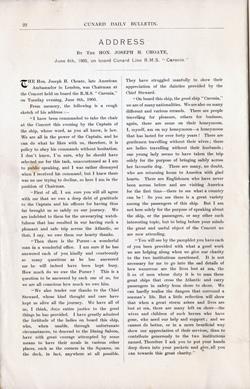 ADDRESS BY THE HON. JOSEPH H. CHOATE,
June 6th, 1905, on board Cunard Line RMS " Caronia."
THE Hon. Joseph H. Choate, late American Ambassador in London, was Chairman at the Concert held on board the RMS " Caronia," on Tuesday evening, June 6th, 1905.
From memory, the following is a rough sketch of his address :—
" I have been commanded to take the chair at the Concert this evening by the Captain of the ship, whose word, as you all know, is law. We are all in the power of the Captain, and he can do what he likes with us, therefore, it is policy to obey his commands without hesitation. a. I don't know, I'm sure, why he should have selected me for this task, unaccustomed as I am to public speaking, and I was rather dismayed when I received his command, but I knew there was no use trying to decline, so here I am in the poktion of Chairman.
"First of all, I am sure you will all agree with me that we owe a deep debt of gratitude to the Captain and his officers for having thus far brought us so safely on our journey. We are indebted to them for the unwearying watchfulness that has resulted in our having such a pleasant and safe trip across the Atlantic, so that, I say, we owe them our hearty thanks.
" Then there is the Purser—a wonderful man in a wonderful office. I am sure if he has answered each of you kindly and courteously as many questions as he has answered me he will indeed have been kept busy. How much do we owe the Purser ? This is a question to be answered by each one of us, for we are all conscious how much we owe him.
"We also tender our thanks to the Chief Steward, whose kind thought and care have kept us alive all the journey. We have all of us, I think, done entire justice to the good things he has provided. I have greatly admired the fortitude of the ladies on board this ship, who, when unable, through unfortunate circumstances, to descend to the Dining Saloon, have with great courage attempted by some means to have their meals in various other places, such as the corners in the Squares, on the deck, in fact, anywhere at all possible. They have struggled manfully to show their appreciation of the dainties provided by the Chief Steward.
" On board this ship, the good ship " Caronia," we are of many nationalities. We are also on many different and various errands. There are people travelling for pleasure, others for business, again, there are some on their honeymoon. I, myself, am on my honeymoon—a honeymoon that has lasted for over forty years ! There are gentlemen travelling without their wives; there are ladies travelling without their husbands; one young lady seems to have taken the trip solely for the purpose of bringing safely across her favourite dog.
" There are many, no doubt, who are returning home to America with glad hearts. ,There are Englishmen who have never been across before and are visiting America for the first time—there to see what a country can be ! So you see there is a great variety among the passengers of this ship. But I am not here solely for the purpose of speaking about the ship, or the passengers, or any other such interesting topic, but to bring before your minds the great and useful object of the Concert we are now attending.
" You will see by the pamphlet you have each .of you been provided with what a good work we are helping along when we give our charity to the two institutions mentioned. It is not necessary for me to go into the sad details of how numerous are the lives lost at sea, the li es of men whose duty it is to man these great ships that cross the Atlantic and carry passengers in safety from shore to shore.
" We can hardly 'realise the dangers that surround a seaman's life. But a little reflection will show that when a great storm arises and lives are lost at sea, there are many left on shore—the wives and children of such heroes who have gone, who need our help and support; and we cannot do better, or in a more beneficial way show our appreciation of their services, than to contribute generously to the two institutions named. Therefore I ask you to put your hands deep down into your pockets and give, all you can towards this great charity."
Source: Cunard Daily Bulletin, 24 July 1905, RMS Umbria, Page 22