Musical Concert Program - SS President Monroe - 10 August 1922
Front Cover, Musical Concert Program on Board the SS President Monroe on 10 August 1922 in Aid of Seamen's Charities. GGA Image ID # 12e05a4bc3
Musical Concert Program to raise funds for various seamen's charitable organizations, held for cabin class passengers on 10 August 1922 in the Veranda Cafe onboard the SS President Monroe of the United States Lines.
CONCERT IN VERANDA CAFE
August 10th, 1922 AT 8.30 P.M. In Aid of Seamen's Charities
BY KIND PERMISSION OP COMMANDER: M.L. PITTMAN, USNRF
COMMITTEE IN CHARGE:
MISS BAXTER
MR. CLIFFORD
MISS PALMER
MR. APPLEGET, CHAIRMAN
Participants in Seamen's Charity Fund:
HOME FOR DESTITUTE CHILDREN
SALVATION ARMY
SAILOR'S SNUG HARBOR
SEAMEN'S FRIENDLY SOCIETY
SEAMEN'S CHURCH INSTITUTE
SEAMEN'S CHRISTIAN ASSOCIATION
AMERICAN MERCHANT MARINE LIBRARY ASSN.
MERCHANT SEAMEN'S BRANCH Y. M. C. A.
PROGRAMME
Overture (The Trio)
Piano Solo by Miss Bowe
Songs by Mrs. Austin
Prestidigitation by Dr. S. H. Hodgson
Songs by Mr. N. Vacthinas
Intermission
Vote of Appreciation
Collection in Aid of Seamen's Charities
Cornet Solo by Mr. R. Archibald
Reading by Miss Baxter
Negro Spirituals  by The Southerners
Piano and Saxophone by Miss Kiene & Dr. Stephenson
Community Singing (Ensemble)
STAR SPANGLED BANNER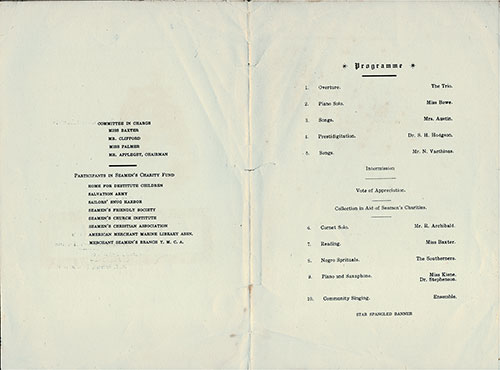 Musical Concert Program on Board the SS President Monroe on 10 August 1922 in Aid of Seamen's Charities. GGA Image ID # 12b4d80a5c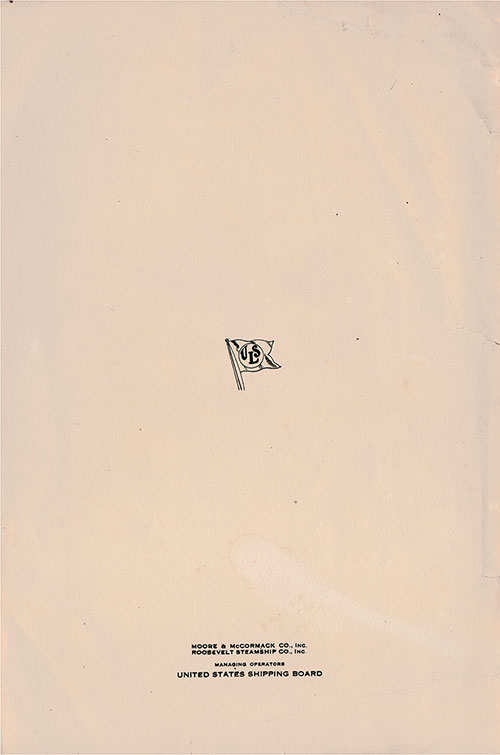 Back Cover, Musical Concert Program on Board the SS President Monroe on 10 August 1922 in Aid of Seamen's Charities. GGA Image ID # 12b5146e9f