Musical Concert Program - SS Republic - 3 October 1926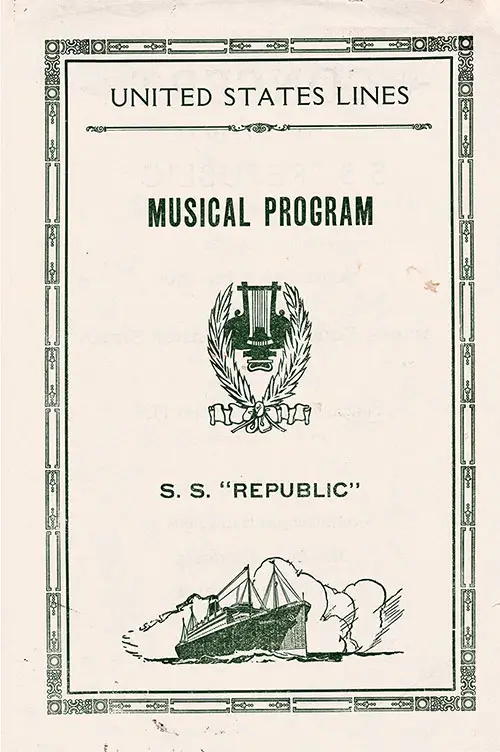 Front Cover, Musical Concert Program Held Sunday, 3 October 1926 on Board the SS Republic for the Benefit of Seamen's Charities and the Actors Fund of the United States. GGA Image ID # 12b5e2af53
Musical Concert Program held on the SS Republic of the United States Lines on 3 October 1926 to benefit various seamen's charities and the Actors Fund of the United States. Talented passengers likely performed in the concert in addition to the Ship's Orchestra.
CONCERT HELD ON BOARD S. S. "REPUBLIC"
Commander A. B. RANDALL, U. S. N. R.
FOR THE BENEFIT OF SEAMEN'S CHARITIES AND THE ACTORS FUND OF THE UNITED STATES

Sunday Evening, Oct. 3rd, 1926
At 9,00 o'clock sharp
Arranged for your Entertainment by Mr. Leon Kimberly Mr. Thomas Walsh
PROGRAM
S. S. Republic Orchestra - "The Sunny South" (Lampe)
Mrs. Anna Tietsort - "Good Night, Good Night, Beloved" (Ethelbert Nevin) and "Serenade" (Schubert) – Accompanist: Mr. Wasa
Mr. M. Bar – Pianist (Selected)
Miss Elsa Horz -"Spring Dream Dance" - Accompanist's Piano: Mr. Paul Leliahn and Violin : Mrs. Helen Busskamp
Miss Florence Gallon - "A Song Of Long Ago" (Emmett Adams) and "Just Her Way" (Aitken) – Accompanist: Mr. Bar
Mrs. Palma Wayne - "Why I Like Americans" (Edna St. Vincent Milley)
Mr. Vladimir Wasa – Pianist - "Concert Etude" – Eroica (Liszt) and "Fantasie Medley National Songs"     (Smetana)
Miss Helen Snyder – Songs (Selected) – Accompanist: Mr. Bar
Mr. Sedley Peck - "A Word Or Two" and "The Taxi Of The Marne"
Mr. Benar Barzelay – Violinist and Dr. Ernest Knoch - Pianist (Selected)
Miss Esther Wilshire - "The Highwayman" (Alfred Noyes) and "Willie, The Angelic Child" (Monologue)
Mrs. Caroline Biber Epstein – Pianist - "Hungarian Songs" (Selected)
Miss Kathrina Trendler - "Queen Of Night" – Magic Flute – (Mozart) and "Cavalleria Rusticana" (Mascagni) - Accompanist: Mr. Wasa
Mr. Joseph Kekuku - (Originator Of The Hawaiian Steel Guitar Method)
Finale -  "'The Star Spangled Banner" By Everybody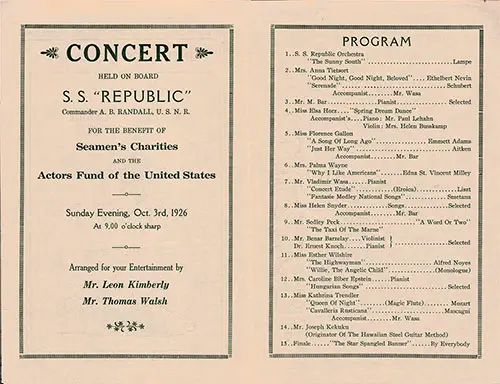 Musical Concert Program Held Sunday, 3 October 1926 on Board the SS Republic for the Benefit of Semen's Charities and the Actors Fund of the United States. GGA Image ID # 12b5fb4c31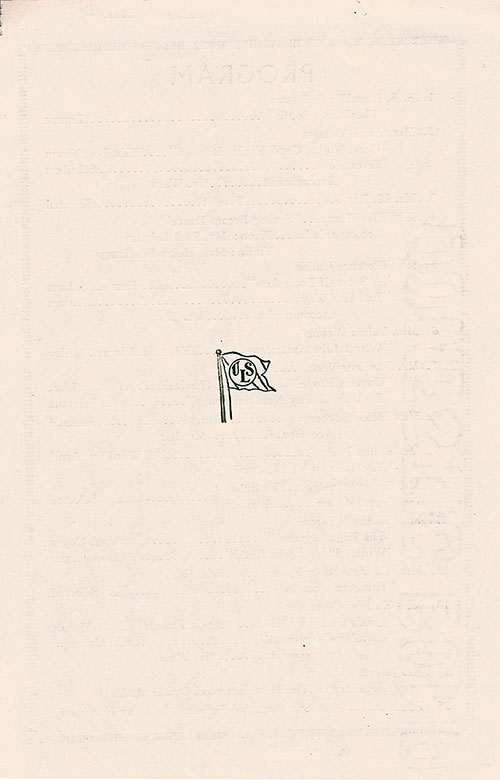 Back Cover, Musical Concert Program Held Sunday, 3 October 1926 on Board the SS Republic for the Benefit of Semen's Charities and the Actors Fund of the United States. GGA Image ID # 12b6022226