Program of Events - RMS Aquitania - September 1929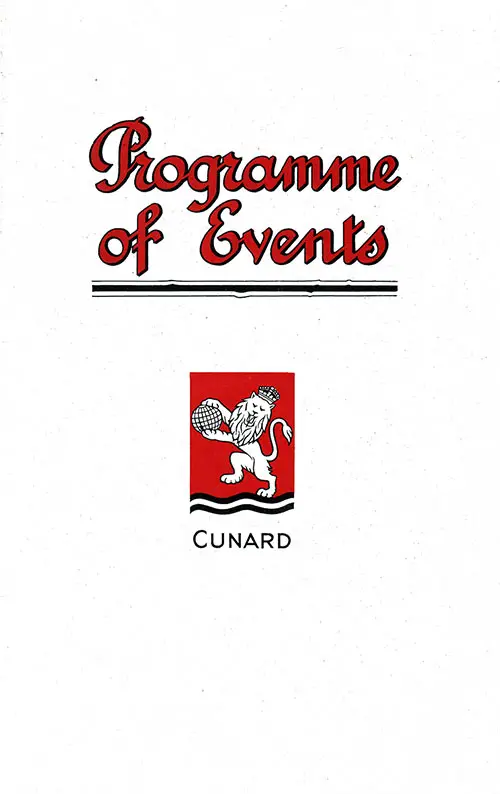 Front Cover, Events Program for a September 1929 Voyage of the RMS Aquitania of the Cunard Line. GGA Image ID # 12a069f878
Program of Entertainment Events onboard the RMS Aquitania of the Cunard Line. Covers Monday through Thursday during a Voyage in September 1929. The program includes the names of passengers on the Entertainment Committee. Primary activities include Deck Tennis, Shuffleboard, Bullboard, Bridge, Ping-Pong, Horse Racing, and Dancing.
PROGRAM
MONDAY
TUESDAY
Deck Sports 10:00 am
Deck Tennis and Shuffle Board 2:00 pm
Horse Racing 4:30 pm
Dancing 9:00 pm
WEDNESDAY
Deck Tennis & Shuffle Board 10:00 am
Bullboard 10:00 am
Ping-Pong 10:00 am
Tea Dance 3:30 pm
Fancy Dress Ball 9:00 pm (Costumes to be worn at Dinner)
THURSDAY
Final Deck Sports 10:00 am
Horse Racing 11:00 am
Tea Dance 3:30 pm
Concert and Prize Distribution 9:00 pm (Dancing after)
R.M.S. AQUITANIA SEPTEMBER 1929
ENTERTAINMENT COMMITTEE
Chairmen:
Miss St. Clair Baumgartner
Mr. Chas. J. Kappler
Deck Tennis:
Miss Betty Odell
Miss Jane Herman
Shuffleboard:
Miss Catherine Hobbs
Mr. Florence
Bullboard:
Bridge:
Miss Betty Farley
Miss St. Clair Baumgartner
Ping-Pong:
Concert:
Miss Dorothy Mathews
Mr. A. W. Mann
Collection for Prizes to be taken up at Dinner on Wednesday.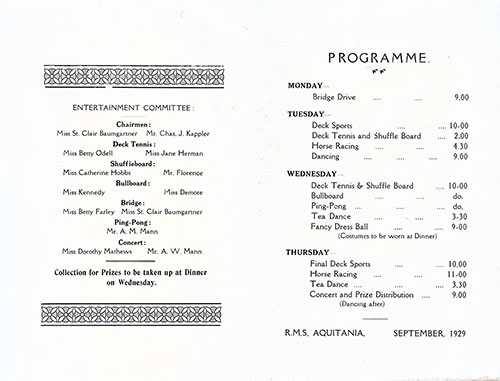 Events Program for a September 1929 Voyage of the RMS Aquitania of the Cunard Line. GGA Image ID # 12a07fa8df