Bermuda Suggestions - The National Tours - 1931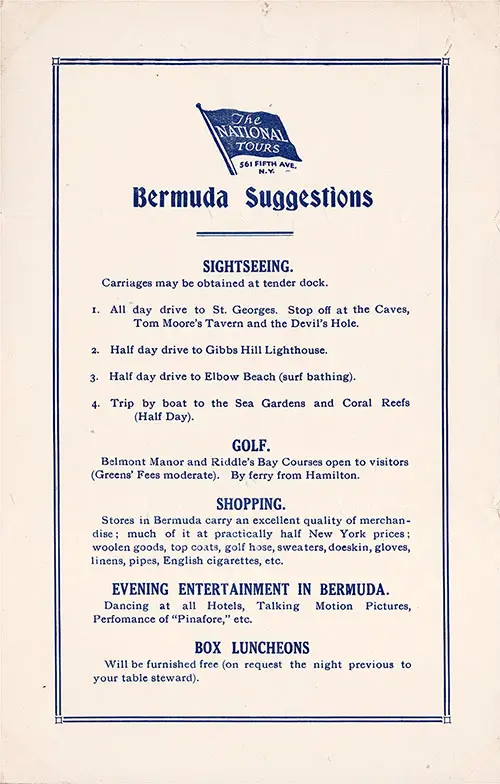 Suggestions for Visiting Bermuda from The National Tours on Board the SS California of the Anchor Line, February 1931. GGA Image ID # 128326dac4
List of suggestions for passengers on board the SS California of the Anchor Line, on visiting Bermuda, a tour-stop coordinated by The National Tours, during February 1931.
Bermuda Suggestions
SIGHTSEEING.
Carriages may be obtained at tender dock.
All day drive to St. Georges. Stop off at the Caves, Tom Moore's Tavern and the Devil's Hole.
Half day drive to Gibbs Hill Lighthouse.
Half day drive to Elbow Beach (surf bathing).
Trip by boat to the Sea Gardens and Coral Reefs (Half Day).
GOLF.
Belmont Manor and Riddle's Bay Courses open to visitors (Greens' Fees moderate). By ferry from Hamilton.
SHOPPING.
Stores in Bermuda carry an excellent quality of merchandise ; much of it at practically half New York prices ; woolen goods, top coats, golf hose, sweaters, doeskin, gloves, linens, pipes, English cigarettes, etc.
EVENING ENTERTAINMENT IN BERMUDA.
Dancing at all Hotels, Talking Motion Pictures, Perfomance of "Pinafore," etc.
BOX LUNCHEONS
Will be furnished free (on request the night previous to your table steward).