Gulf Stream Cruise Program of the Day - 25 February 1931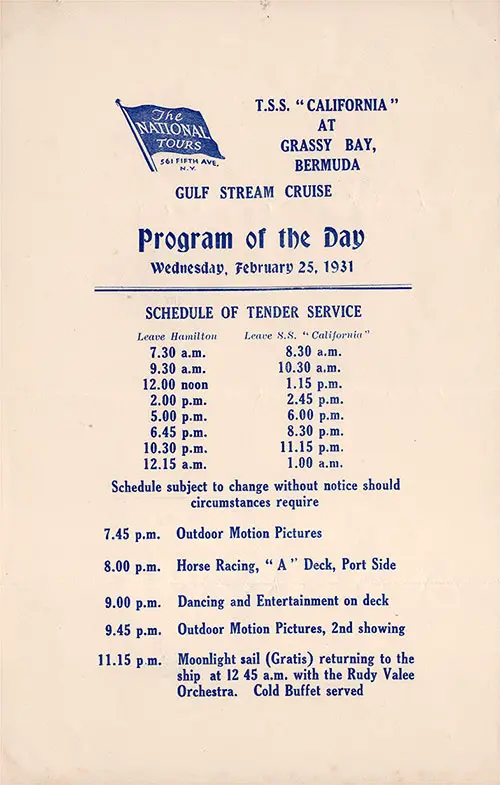 The National Tours Daily Program for 25 February 1931 during a Gulf Stream Cruise heading to Bermuda on the SS California of the Anchor Line. GGA Image ID # 129ad8c037
Wednesday's listing of events for passengers on the National Tours Gulf Stream Cruise on the SS California of the Anchor Line on 25 February 1931. Schedule for the Tender Service between the SS California and Hamilton, Bermuda. Other activities were scheduled from 7:45 pm Outdoor Motion Picture to 11:15 pm Rudy Valee Orchestra Concert.
SCHEDULE OF TENDER SERVICE
Leave Hamilton
7.30 a.m.
9.30 a.m.
12.00 noon
2.00 p.m.
5.00 p.m.
6.45 p.m.
10.30 p.m.
12.15 a.m.
Leave SS California
8.30 a.m.
10.30 a.m.
1.15 p.m.
2.45 p.m.
6.00 p.m.
8.30 p.m.
11.15 p.m.
1.00 a.m.
Schedule subject to change without notice should circumstances require.
Other Events Scheduled for Wednesday, 25 February 1931
7:45 pm Outdoor Motion Pictures
8:00 pm Horse Racing, " A " Deck, Port Side
9:00 pm Dancing and Entertainment on deck
9:45 pm Outdoor Motion Pictures, 2nd showing
11:15 pm Moonlight sail (Gratis) returning to the ship at 12 45 a.m. with the Rudy Valee Orchestra. Cold Buffet served.