Gulf Stream Cruise Program of the Day - 26 February 1931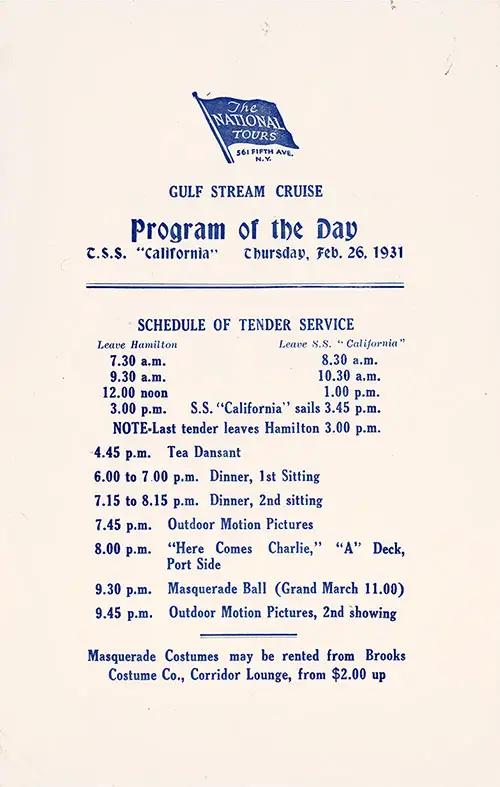 The National Tours Daily Program for 26 February 1931 during a Gulf Stream Cruise heading to Bermuda on the SS California of the Anchor Line. GGA Image ID # 129b6adc62
Wednesday's listing of events for passengers on the National Tours Gulf Stream Cruise on the SS California of the Anchor Line on 26 February 1931. Schedule for the Tender Service between the SS California and Hamilton, Bermuda. Other activities were scheduled from 4:45 pm Tea Dansant to 9:45 pm Outdoor Motion Picutres, 2nd Showing.
SCHEDULE OF TENDER SERVICE
Leave Hamilton
7:30 am
9:30 am
12:00 noon
3:00 pm
SS California Sails at 3:45 pm.
NOTE: Last tender leaves Hamilton at 3:00 pm.
Other Onboard Events Scheduled for 26 February 1931
4:45 pm Tea Dansant
6:00 pm to 7:00 pm Dinner, 1st Sitting
7:15 pm to 8:15 pm Dinner, 2nd sitting
7:45 pm Outdoor Motion Pictures
8:00 pm "Here Comes Charlie," "A" Deck, Port Side
9:30 pm Masquerade Ball (Grand March 11:00 pm)
9:45 pm Outdoor Motion Pictures, 2nd showing
Masquerade Costumes may be rented from Brooks Costume Co., Corridor Lounge, from $2.00 up.