Our Movies Show Tonight - Theodora Goes Wild (Theodora Wird Wild) 1937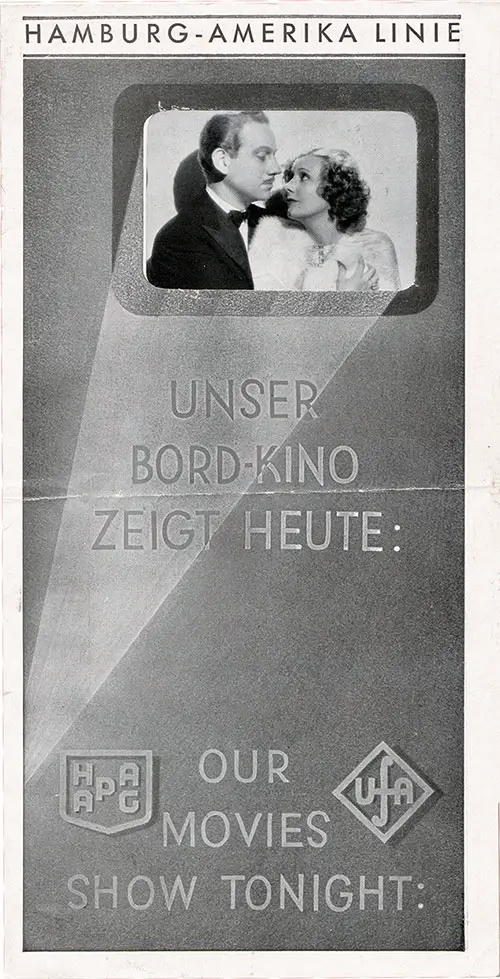 Pamphlet announcing the evening's movie being shown on board a steamship of the Hamburg America Line from 1937. Featured movie was "Theodora Wird Wild" or "Theodora Goes Wild."
Initial release: November 12, 1936
Director: Richard Boleslawski
Cinematography: Joseph Walker
Costume design: Bernard Newman
Screenplay: Sidney Buchman, Mary McCarthy
Running time: 94 minutes
Language: English
Theodora Lynn (Irene Dunne) is secretly the author of a salacious novel written under a pen name. She must hide her identity from the residents of her small, conservative Connecticut town, who disapprove of the book. When Theodora goes to New York to visit her publisher (Thurston Hall), she meets the book's cover artist, Michael Grant (Melvyn Douglas), who tries to convince her to reveal herself as the real author. When Theodora falls for Michael, she soon finds that he has secrets of his own.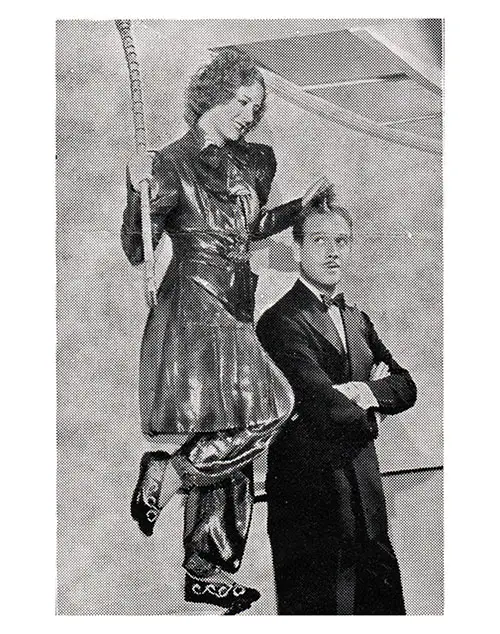 Irene Dunne and Melvyn Douglas
Cast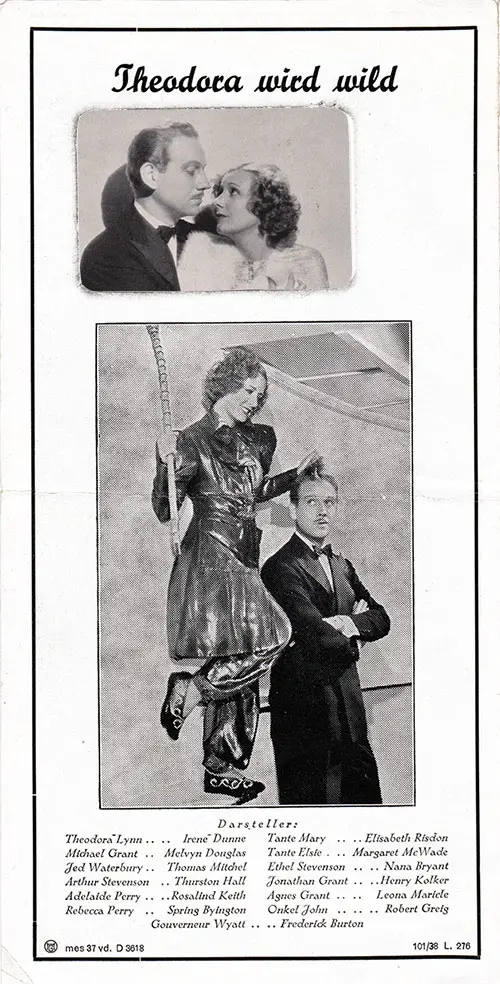 Theodora Lynn --|-- Irene Dunne
Michael Grant --|-- Melvyn Douglas
Jed Waterbury --|-- Thomas Mitchel
Arthur Stevenson --|-- Thurston Hall
Adelaide Perry --|-- Rosalind Keith
Rebecca Perry --|-- Spring Byington
Gouverneur Wyatt --|-- Frederick Burton
Tante Mary --|-- Elisabeth Risdon
Tante Elsie --|-- Margaret McWade
Ethel Stevenson --|-- Nana Bryant
Jonathan Grant --|-- Henry Kolker
Agnes Grant --|-- Leona Maricle
Onkel John --|-- Robert Greig
101/38 L. 276 ® mes 37 vd. D 3618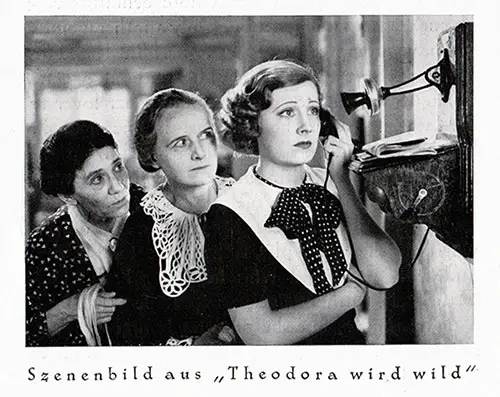 Theodora goes wild
"Have you heard the scandal about the pretty Theodora Lynn?" The good "bourgeois"' of Lynnfield her native-town are beside themselves with indignation. WTio would ever have thought that this shy young girl/ who is so decent and well- behaved and who always followed the pious advice given by her aunts and who modestly lowered her glance when confronted by fellow-citizens of the male sex/ is leading a double-life?
Could anybody possibly imagine that she is the writer of thrilling love-stories which enjoy great popularity and in which the joys and sufferings of lovers are portrayed with such striking comprehension that one cannot help drawing highly significant conclusions concerning the personality of the authoress herself?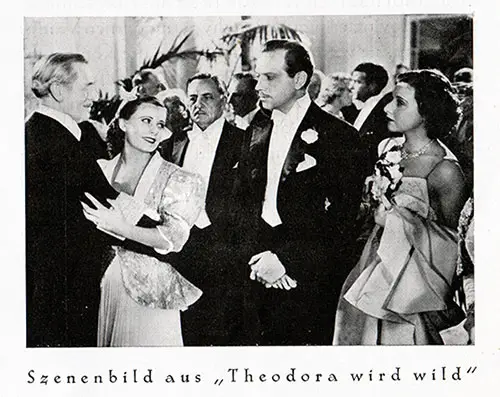 But this alone does not suffice to satisfy her craving for creating sensation/ and in her unabashed conduct she actually goes so far as to engage the designer at her publishing-office/ with whom she is in love/ as her aunt's gardener. This she does in order to always have him near her/ whereas any child can see at once that this man has no idea whatever of gardening!
The scandalmongers of Lynnfield have now abundant material for gossip.The charmingTheodor a/however who is the cause of all this excitement, takes no notice whatever of what is being said about her. She has worries of her own of an entirely different character, for she has been deserted by her selected lover who simply left her a note behind, giving obscure reasons for his action.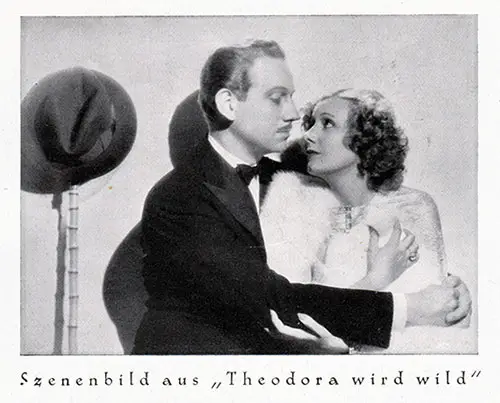 Only another woman can have prompted him to leave her! But Theodora is not the sort to meet her fate without a fight. Taking a rapid decision/ she follows her lover to the large city where he has gone. In one night she has been transformed from a shy girl from the provinces into an ultra-modern vamp; she turns the heads of the men in order to make the one she loves best jealous.
She causes confusion and uproar wherever she goes/ plays the most foolish and audacious tricks and wins her lover back. Unfortunately truth compels us to confess that he is a married man/ but she pillories bourgeois ideas7 narrow-mindedness/ false morality and love of idle gossip.