The California Follies - A Musical Revue - National Tours - 1931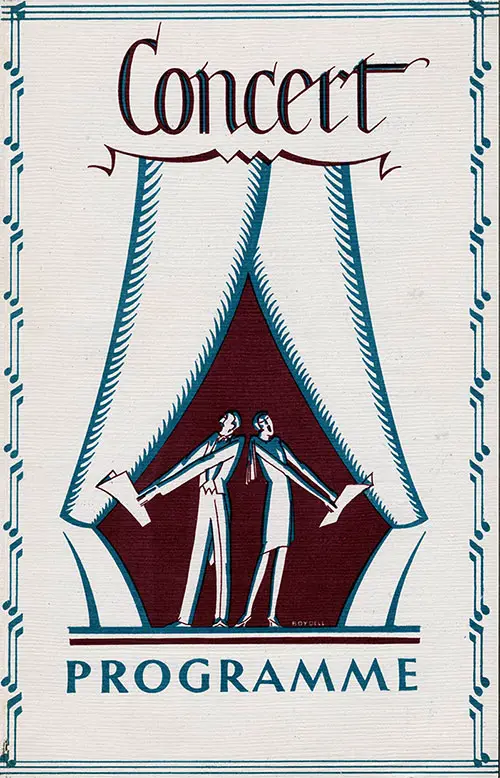 Front Cover, Concert Program on Board the SS California of the Anchor Line, Friday, 27 February 1931. GGA Image ID # 128338aeb4
An adorable musical review concert program provided delightful entertainment to the passengers on board the SS California of the Anchor Line, during a Bermuda Cruise on 27 February 1931.
THE NATIONAL TOURS PRESENTS
(Not Too Seriously)
"The California Follies "
A MUSICAL REVUE
ONE ACT AND FIFTEEN FOLLIES
STAGED BY STANLEY ADAMS
Orchestra under the direction of Kal Katz
Friday, February 27, 1931
FOLLY 1. Overture Orchestra
FOLLY 2. Don't Hold Everything Stan Adams, Adeline Bendon, Minor and Root, and Ensemble
FOLLY 3. Jack and Jill Bill Burns and Ensemble
FOLLY 4. Songs Karol Kane
FOLLY 5. On the High C's Bill Burns and Ivy Scott
FOLLY 6. Some Tenor, Hey Kid? Andy
FOLLY 7. She's Got Rhythm! Marilyn Millan
FOLLY 8. Za-Za J. Woodman Babbit
FOLLY 9. Beyond the Blue Horizon Ivy Scott
FOLLY 10. Waltz Interpretation Minor and Root
FOLLY 11. A Minute or Two Stan. Adams
FOLLY 12 My Man Ethel Littel
FOLLY 13 Whoops, Dearie Leading Lady: Karol Kane, Leading Man: Stan Adams, Director: Bill Burns
FOLLY 14 Young McCormick Charles Bogul
FOLLY 15 Hittin' the Bottle Adeline Bendon, Stan Adams and Ensemble
Ladies of the Ensemble—Ivy Scott, Anne Rozin, Lucille Grimm, Gloria Rozin, Rose Felt, Agnes Donahue, Anne Sheridan, Marion Weinberger, Joan Sohmer, and Syd Barach
Costumes by Brooks
Props thru courtesy of Chief Steward Woodrow
NEXT WEEK—" EAST LYNNE."
Should there be a collection taken (and there wont be) this theatre can be emptied in three minutes.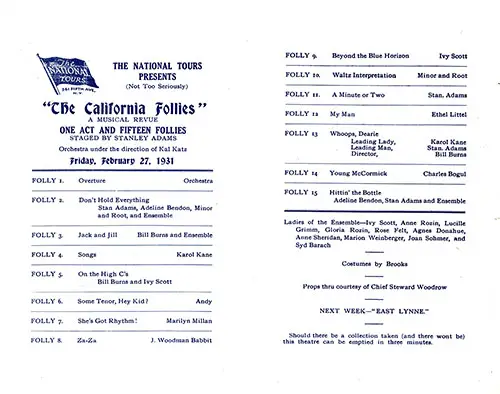 Concert Program - "The California Follies" Presented by The National Tours On Board the SS California of the Anchor Line. GGA Image ID # 12836d6365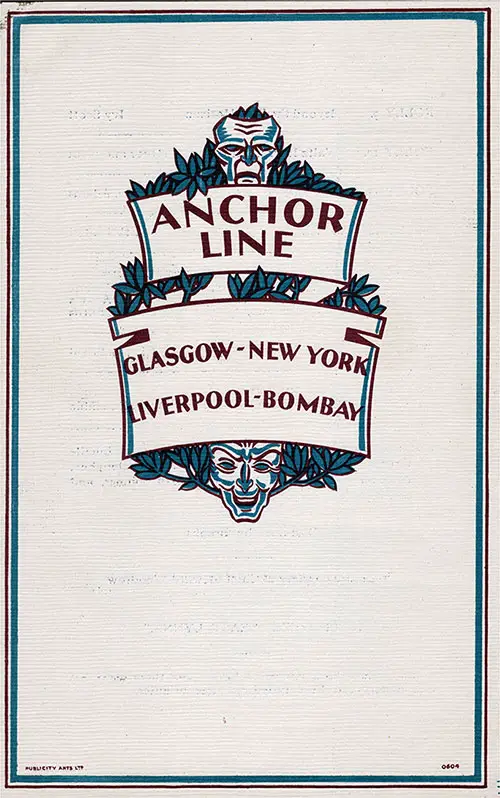 Back Cover, Concert Program on Board the SS California of the Anchor Line, Friday, 27 February 1931. GGA Image ID # 1283de4751