Events Program - RMS Queen Mary - 30 March 1953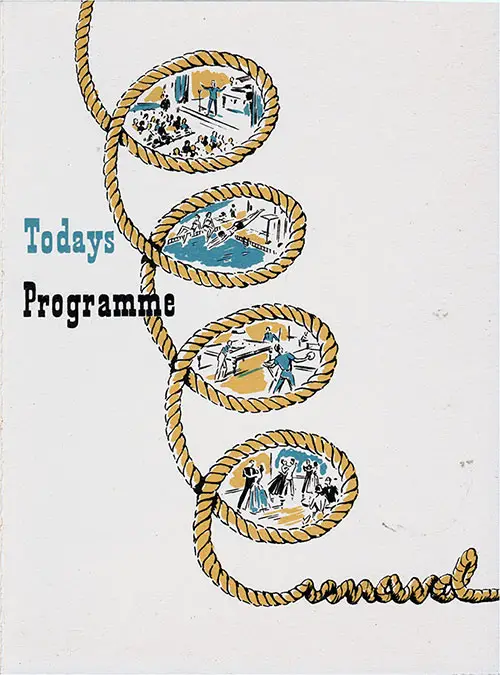 Front Cover, Tourist Class Events Program for Monday, 30 March 1953 onboard the RMS Queen Mary of the Cunard Line listing meetings, instructions for British immigration inspection process, and upcoming competitions. Other activities included movies, concerts, news broadcasts, KENO Bingo, and Dancing. GGA Image ID # 12a6b1c64f
NOTICES
MEETING OF ROTARIANS
Rotarians travelling are invited to inspect the Rotary Register at the Purser's Office and subscribe their names. A meeting will be held in the Drawing Room, Promenade Deck, today (Monday), at 10.45 a.m.
BRITISH IMMIGRATION INSPECTION
The following passengers, landing at SOUTHAMPTON, are kindly requested to present their Landing Cards and Passports to the British Immigration Officer in the Smoke Room on "A" Deck today:
9.15 to 9.30 a.m.: Any passenger holding a RED Landing Card who did not see the Immigration Officer yesterday
9.30 a.m. to Noon:  Passengers holding BLUE Landing Cards
It will be necessary for all adult members of families to attend this inspection
FANCY HEAD-DRESS COMPETITION
It is proposed to hold a FANCY HEAD-DRESS COMPETITION during the voyage. Prizes will be awarded for the most artistic, original and amusing entries. Passengers wishing to enter the competition are requested to register their names at the Purser's Office, "R" Deck
INFORMAL CONCERT
It is proposed to hold an informal Concert during the voyage. Will passengers who are able and willing to assist please give their names to the Purser as soon as possible to enable a programme to be prepared.
CLOCKS
Clocks will be ADVANCED 20 minutes at 5.00 p.m., 10 00 p.m. and 2.00 a.m.
PROGRAMME OF EVENTS
a.m.
8.00 Passenger List Competition
10.00 Movie: "LILI" - Leslie Caron, Mel Ferrer, and Jean Pierre Aumont
10.15 Orchestral Selections - Queen Mary String Orchestra, directed by Raoul Bacot - Winter Garden
10.45 Meeting of Rotarians – First Class Drawing Room
11.30 Charles Saxby at the Hammond Organ (relayed) - Winter Garden
p.m.
2.00 Movie: "LILI" - Leslie Caron, Mel Ferrer, and Jean Pierre Aumont
3.45 Melody Time - Charles Saxby at the Hammond Organ—relayed - Smoke Room
3.45 Music for Teatime - Queen Mary String Orchestra, directed by Raoul Bacot - Winter Garden
4.30 Movie: "LILI" - Leslie Caron, Mel Ferrer, and Jean Pierre Aumont
5.00 Recorded Concert: Brahms - Symphony No. 1 in C Minor" - The Vienna Philharmonic Orchestra. Conductor: Wilhelm Furtwangler - Winter Garden
6.00—7.00 Cocktail Music - Smoke Room
6.15 News Broadcast (British) - Winter Garden
6.30 News Broadcast (American) - Winter Garden
9.00 Orchestral Selections (relayed) - Queen Mary String Orchestra, directed by Raoul Bacot - Winter Garden
9.30 Movie: "LILI" - Leslie Caron, Mel Ferrer, and Jean Pierre Aumont
9.30 KENO (Bingo-Lotto) - Dining Room
10.30 DANCING - Queen Mary Dance Trio, directed by Barney Desmond - Winter Garden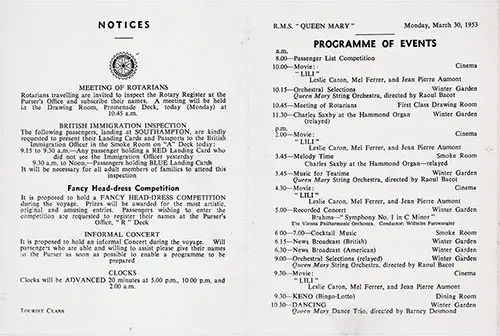 Program of Events for Monday, 30 March 1953 on Board the RMS Queen Mary. GGA Image ID # 12a6e9db94