Events Program - RMS Queen Mary - 8 June 1952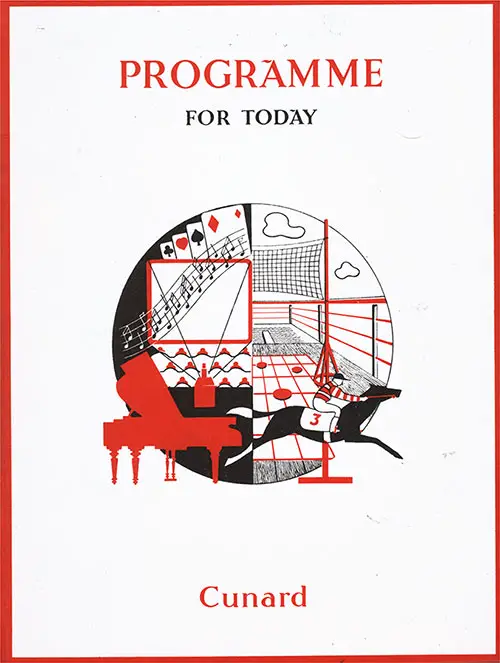 Front Cover, Cabin Class Program of Events for Sunday, 8 June 1952 onboard the RMS Queen Mary of the Cunard Line. Scheduled activities included a table tennis tournament, "Age Please" competition, movies, swimming gala, news broadcasts, concerts, horse races, dancing, and more. GGA Image ID # 12a4f463b8
Cabin Class
NOTICES
TABLE TENNIS TOURNAMENT
Remaining competitors are requested to assemble by the tables at 2.30 p.m. today.
CHILDREN'S TEA PARTY
Children and their parents are requested to assemble on "B" Deck Square at 3.30 p.m. They will then be conducted to the party.
CLOCKS
Clocks will be RETARDED One Hour at Midnight
PROGRAMME OF EVENTS
а. m.
7.00—7.00 p.m. Swimming Pool and Gymnasium open for Exercise (weather permitting)
8.00 "Age, Please" Competition
p.m.
2.00 & 10.00 Movie: "DERBY DAY" - Anna Neagle, Michael Wilding, Googie Withers, John McCallum - Cinema, Prom. Deck
3.45 Melody Time (Jack Bath at the Hammond Organ—relayed) - Main and "A" Deck Lounges
3.45 Children's Tea Party - First Class Dining Room
4.30 Swimming Gala (weather permitting) - Swimming Pool (" E " Deck)
5.00 PIANOFORTE RECITAL By DUBRAVKA TOMSIC -   MAIN LOUNGE
6.00 News Broadcast (British) - Main Lounge
6.30 News Broadcast (American) - Main Lounge
6.45 Cocktail Music - Mermaid Bar, Prom. Deck
7.45 Orchestral Selections - Queen Mary String Orchestra (Directed by Raoul Bacot) - Main Lounge
9.15 Horse Races followed by DANCING (Queen Mary Dance Orchestra, directed by Norman Hill) – Cabaret commences at approximately 10.30 - Main Lounge
a.m.
12.30 DANCING in the Rose Room (Queen Mary Dance Orchestra, directed by Norman Hill) - "A" Deck Aft.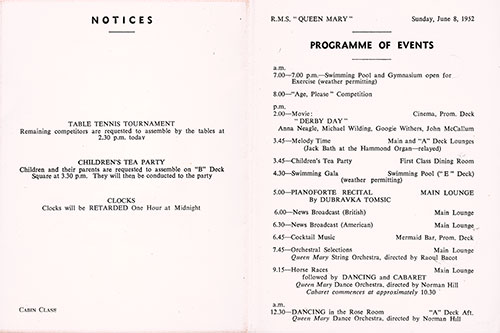 Program of Events for Sunday, 8 June 1952 on Board the RMS Queen Mary. GGA Image ID # 12a4ff263a