Cunard Line Charity Program - RMS Aquitania - 21 August 1924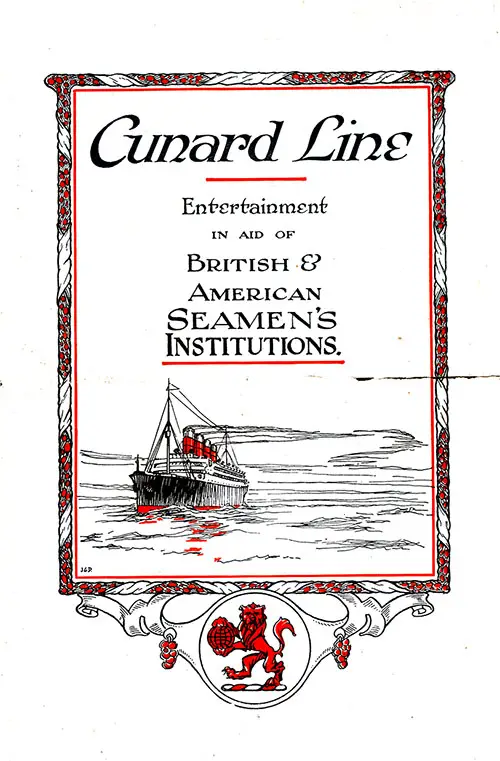 Front Cover, Cunard Line Entertainment in Aid of British and American Seamen's Instituions, 21 August 1924. GGA Image ID # 12a027acca
Program of Entertainment in Aid of British & American Seamen's Institutions Held on Board the RMS Aquitania of the Cunard Line in the Second Class Dining Room on Thursday, 21 August 1924 at 9:15 pm. Mr. William Ryan, Chairman; Commodore Sir James Charles, K.B.E., C.B., R.D., R.N.R. (Rtd.), Captain.
PART I
Overture - "Aquitania" Orchestra
Sleight of Hand - Mr. G. Clayton
Song - "My Dear Soul" by Miss Olive Thomas
Baritone Songs - Mr. Dennis Hoey
"The Lute Player" (Ellison)
"The Floral Dance" (Kate Moss)
Accompanied by Mr. Douglas Burbidge
A Dance By the Six Tiller Girls (Of the " Lollipop Company," Knickerbocker Theatre, N.Y.C.)
Chairman's Remarks
Collection
PART II
Selection - "Aquitania" Orchestra
Song - "Asthore" (Trotere) - Mr. W. A. Bishop
Pianoforte Selection - Mr. W. Mayerl
Song - "The Slave Song" - Miss V. E. Olney
English Concertina Selections - Mr. E. S. Smalley
"America"
"God Save the King"
Entertainments in Aid of Seamen's Children
MONEY DERIVED from the various Entertainments held from time to time on Cunard Steamers is distributed to various organizations working in the interests of necessitous children of all classes of Seamen or Seafaring Men. It is divided between British and American Institutions.
A large number of these Children have lost their fathers by the penis of the sea in crossing the Atlantic, and conveying passengers and cargo to and from America. A still larger number of Children have been rendered destitute owing to the death of their fathers from diseases contracted by exposure to the weather, in all seasons and at all hours.
The Institutions which permanently benefit are:
BRITISH
Royal Liverpool Seamen's Orphan Institution
Home for Aged Mariners, Egremont
AMERICAN
New York Port Society
American Seamen's Friend Society
Seamen's Church Institute
Seamen's Christian Association
Y.M.C.A. Mariners' Branch
Society for the Relief of Destitute Children of Seamen. Mariners' Family Asylum
St Mary's Episcopal City Mission, East Boston.
CANADIAN
Montreal Sailors' Institute
Montreal Catholic Sailors' Club
Other British Charities which are helped from time to time are:
Royal Merchant Seamen's Orphanage, London
Royal National Lifeboat Institution
Mercantile Marine Masters' and Officers' Relief Fund
Seamen's Orphanage, Southampton
Sailors' Home, Southampton
Missions to Seamen
Seamen's Friend Society, Liverpool
Seamen's Convalescent Hospital, Limpsfield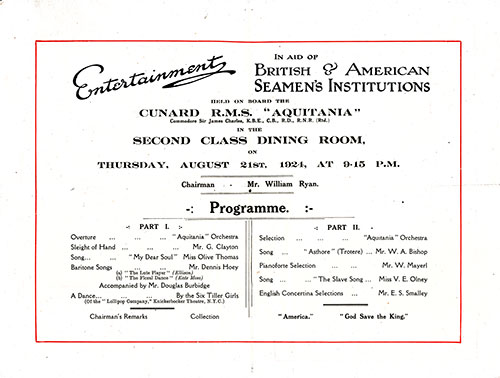 Cunard Line Entertainment in Aid of British & American Seamen's Instituions, 21 August 1924. GGA Image ID # 12a0567a65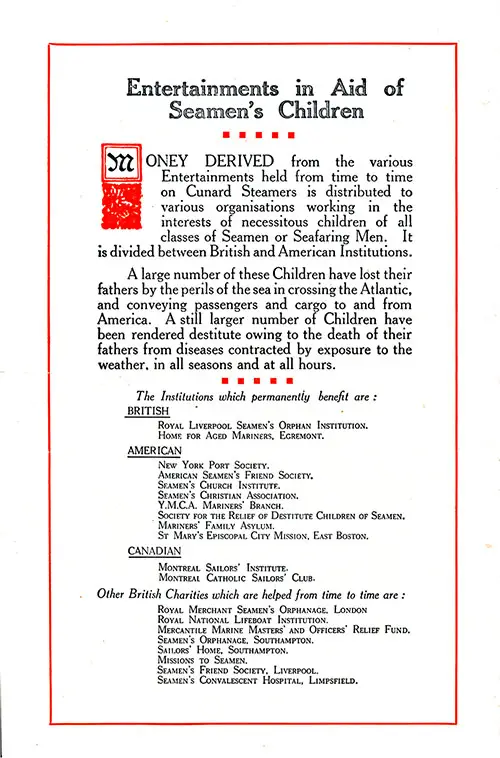 Institutions Benefiting from Aid, Cunard Line Entertainment in Aid of British & American Seamen's Instituions, 21 August 1924. GGA Image ID # 12a061199f