Cruise Tour B Souvenir Program - SS Carpathia - 2 July 1913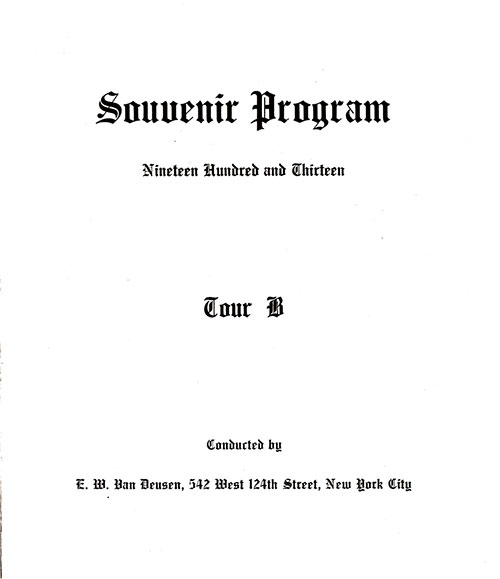 Front Cover of Tour B Itinerary Souvenir Program - European Cruise on the SS Carpathia of the Cunard Line, 2 July to 23 August, 1913. GGA Image ID # 12a266d622
Very rare Itinerary and Souvenir Program for a European Cruise on the SS Carpathia of the Cunard Line in the year following its involvement in the rescue of the RMS Titanic.
ITINERARY
Wednesday, July 2—Sail at noon on the Carpathia of the Cunard Line from foot of Fourteenth Street, West, New York City.
Sunday, July 13: Call at Gibraltar
Tuesday, July 15: Call at Genoa
Wednesday, July 16 through Friday. July 18: Naples - Hotel Royal (Sorrento, Capri-Pompeii)
Saturday, July 19 through Tuesday, July 22:  Rome - Fisher's Park Hotel
Wednesday, July 23 through Friday, July 25: Florence - Hotel Berchielli
Saturday, July 26 and Sunday, July 27: Venice -  Hotel Milan
Monday, July 28: Milan to Baveno.
Tuesday, July 29: Simplon Pass to Brigue - Hotel Couronne et Poste
Wednesday, July 30: Interlaken - Royal Hotel St. George
Thursday, July 31: Lucerne - Hotel Minerva
Friday, August 1 and Saturday, August 2: Heidelberg – Hotel Shrieder
Sunday, August 3: Rhine - Steamer to Cologne
Monday, August 4: Cologne and to Paris
Tuesday, August 5 through Friday, August 8: Paris - Hotel Calais
Saturday, August 9 and Sunday, August 10: Brussels - Hotel Royal Nord  
Monday, August 11 and Tuesday, August 12: The Hague-  Hotel du Passage
Wednesday, August 13 through Saturday, August 16: London. West Central Hotel
Sunday, August 17: Stratford-on-Avon.
Monday, August 18: Coaching trip through the Shakspere district to Kenilworth and Warwick.
Tuesday, August 19: By train and coach to Grasmere - Rothay Hotel
Wednesday, August 20: Melrose
Thursday, August 21 and Friday, August 22: Edinburg – Cockburn Hotel
Saturday, August 23: Glasgow - Windsor Hotel. Sail by Steamship Caledonia of the Anchor Line for New York.
Cablegrams or mails should be addressed to the hotels named above in care of E. W. Van Deusen. Allow twelve days from New York for letters.
The headquarters of this party will be The Martha Washington Hotel, 29 East 29th Street, New York.
Mr. Van Deusen may be communicated with by telephone at The Florentine, 542 West 124th Street, New York.
All should be at the pier an hour before sailing. Baggage should be sent to the pier twenty-four hours in advance. Claim your baggage at the pier and deliver it to the ship's baggage-master.
Members of Party
Miss Abby D. Baker - Detroit. Mich.
Miss Helen Craig Baker - Montclair, N. J.
Miss Minnie Creath – London, Ohio
Miss Mernie Mac Corvie - Rochester. N. Y.
Miss Laura Mac Corvie - Toronto. Canada
Mrs. Wilhelmina Schadee - Florence. Mass.
Miss Helen F. Schadee - Florence. Mass.
Miss Sarah J. Thomas  - Chicago. Ill.
Miss Hazel Ward -  Aidsley. N. Y.
Mrs. Nellie P. Waymire - Springfield, Ohio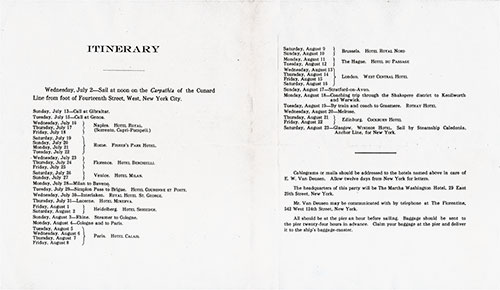 Tour B Itinerary Souvenir Program - European Cruise on the SS Carpathia of the Cunard Line, 2 July to 23 August, 1913. GGA Image ID # 12a27c5b18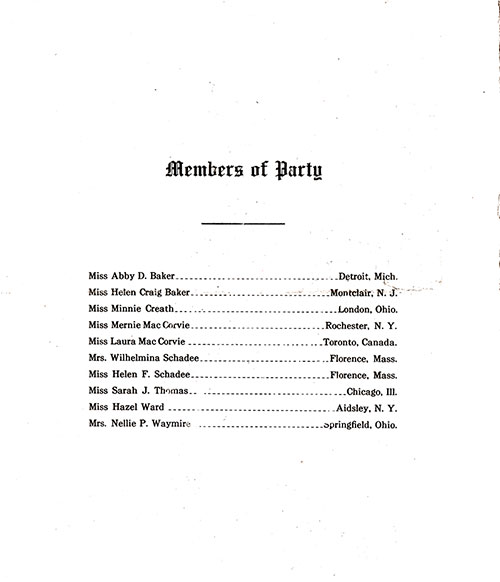 Members of Party on Tour B Itinerary Souvenir Program - European Cruise on the SS Carpathia of the Cunard Line, 2 July to 23 August, 1913. GGA Image ID # 12a39cad71