Charity Concert Program - RMS Scythia - 24 August 1922
Front Cover, RMS Scythia Concert Program in Aid of the Seamen's Charities of New York and Liverpool, Thursday, 24 August 1922. GGA Image ID # 12a83ecdc4
Benefit Musical Concert onboard the RMS Scythia of the Cunard Line to aid various seamen's charities of New York and Liverpool. These concerts were conducted several times during each voyage, with separate performances for each class of passenger.
PROGRAMME
PART I
Selection: " Pomp and Circumstance " (Elgar) - "SCYTHIA" ORCHESTRA
Songs: Indian Love Lyric (Finden) - "Less Than Dust" - MISS ETHEL L. GRIERSON
Song: MR. EDWARD LLOYD
"Smilin' Through" (A. Penn)
''There is no Death"(O'Hara)
Songs on the Fiddlephone: MR. GEO. DODD
Song: Selected by MR. EUGENE HOWARD (Of the Howard Bros., New York Winter Garden)
CHAIRMAN'S REMARKS
COLLECTION
PART II
Song: "Sea Fever" (Ireland) - MISS ETHEL L. GRIERSON
Song: MR. WILLIAM BALLYN
" Hats off to the Stoker '' (Arundale)
"Nothin" (Carpenter)
Character Studies: MR. E. RAWLINSON.
Suppliants: MRS. S. PULLINGER and MISS SHERWOOD.
"AMERICA."      
"GOD SAVE THE KING."
DANCING UNTIL 11.00 p.m.
GOD SAVE THE KING
God save our gracious King,
Long live our noble King,
God save the King !
Send him victorious,
Happy and Glorious,
Long to reign over us,
God save the King.
AMERICA
My Country, 'tis of thee,
Sweet Land of Liberty,
Of Thee I sing.
Land where my fathers died,
Land of the pilgrims pride,
From every mountain side
Let Freedom ring.
ENGLAND AND AMERICA
Two Empires, by the sea,
Two peoples, great and free
One anthem raise.
One race of ancient fame,
One tongue, one faith, we claim,
One God, whose glorious name,
We love and praise.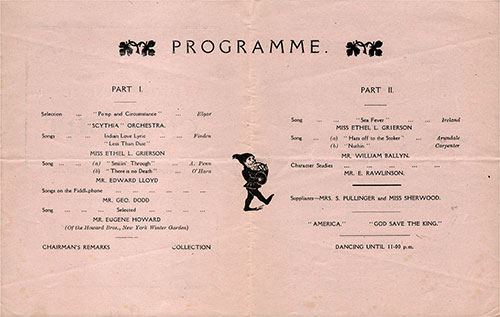 RMS Scythia Concert Program in Aid of the Seamen's Charities of New York and Liverpool, Thursday, 24 August 1922. GGA Image ID # 12a85e4aae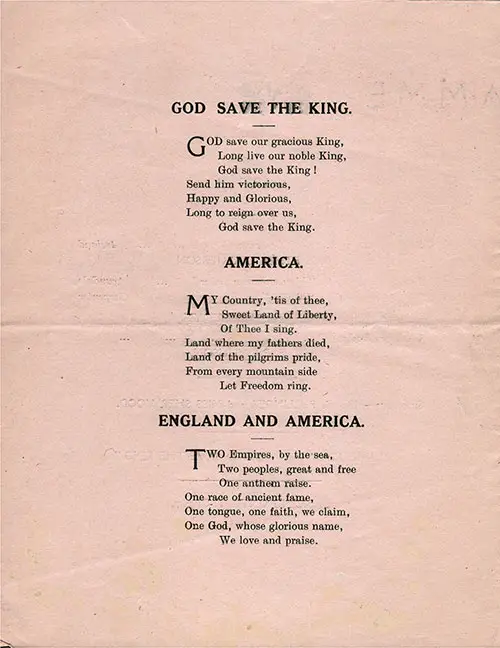 Lyrics for "God Save the King," "America," and "England and America," on the Back Cover, RMS Scythia Concert Program in Aid of the Seamen's Charities of New York and Liverpool, Thursday, 24 August 1922. GGA Image ID # 12a87de4d5