Grand Concert Program - RMS Albertic - 21 June 1928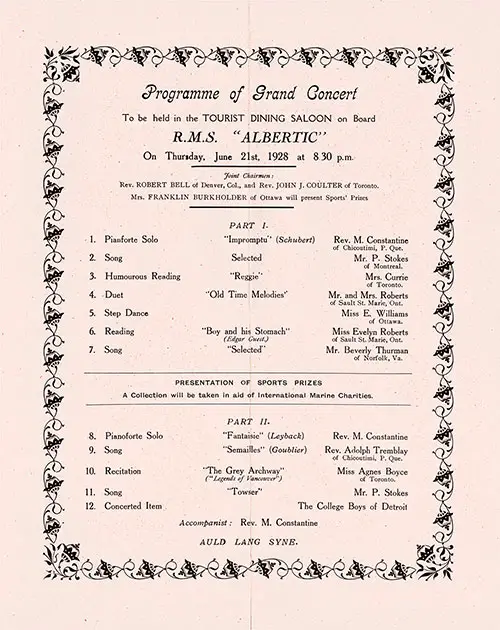 Tourist Class Grand Concert Program Held on Board the RMS Albertic on 21 July 1928. GGA Image ID # 12b69e6d8d
Program of a grand concert held in the tourist dining saloon on board RMS Albertic of the White Star Line on Thursday, June 21st, 1928 at 8 30 p.m. Variety show included musical numbers, readings, recitation, step dance, and the presentation of sports prizes.
Program
Joint Chairmen: Rev. ROBERT BELL of Denver, Col., and Rev. JOHN J. COULTER of Toronto.
Mrs. FRANKLIN BURKHOLDER of Ottawa will present Sports' Prizes
PART 1       
Pianforte Solo - "Impromptu" (Schubert)      by Rev. M. Constantine of Chicoutimi, P. Que.
Song (Selected) by Mr. P- Stokes of Montreal.
Humourous Reading - "Reggie" by Mrs. Currie of Toronto.
Duet - "Old Time Melodies'' by Mr. and Mrs. Roberts of Sault St. Marie, Ont.
Step Dance - Miss E. Williams of Ottawa.
Reading - "Boy and his Stomach" (Edgar Guest.) by Miss Evelyn Roberts of Sault St. Marie, Ont.
Song - "Selected'' by Mr. Beverly Thurman of Norfolk, Va.
PRESENTATION OF SPORTS PRIZES
A Collection will be taken in aid of International Marine Charities.
PART II
Pianoforte Solo - "Fantaisie" (Leyback) by Rev. M. Constantine
Song - "Semailles" (Goublier) by Rev. Adolph Tremblay of Chicoutimi. P. Que.
Recitation - 'The Grey Archway" - (Legends of Vancouver) by Miss Agnes Boyce of Toronto.
Song - "Towser" by Mr. P. Stokes
Concerted Item - The College Boys of Detroit - Accompanist : Rev. M. Constantine
AULD LANG SYNE