Charity Concert Program - RMS Berengaria - 19 July 1929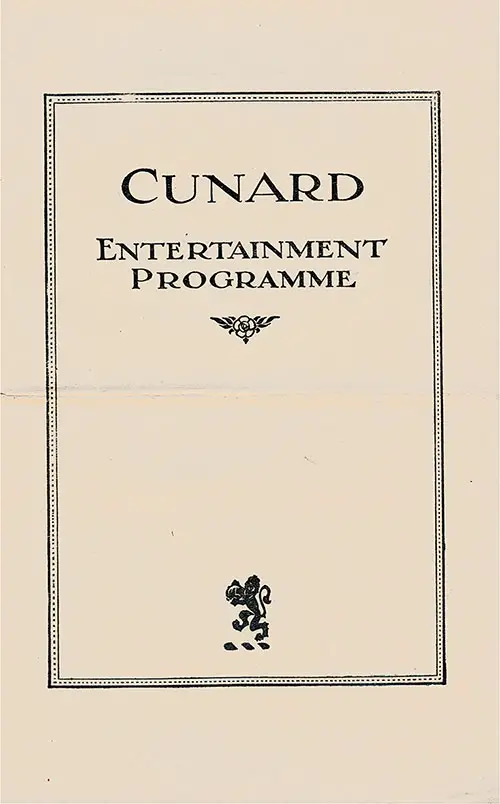 Front Cover, Concert Program on Board the RMS Berengaria in Aid of British and American Seamen's Institutions, 19 July 1929. GGA Image ID # 12a092ba0c
Variety show and musical extravaganza for the benefit of British and American seamen's institutions performed onboard the RMS Berengaria of the Cunard Line for First Class passengers. Sir Arthur H. Rostron, former captain of the SS Carpathia, was the Commodore and Commander of the Berengaria.
Concert in Aid of British and American Seamen's Institutions - on Board RMS Berengaria
Commodore Sir Arthur H. Rostron, K.B.E., R.D., R.N.R.
In the Saloon Lounge - JULY 19, 1929, AT 9.15 P.M
Chairman: Hon. James W. Gerard
Supported by: The Marchioness of Townsend of Raynha
PROGRAMME
Overture
"Pomp and Circumstance" (by request): Elgar - BERENGARIA ORCHESTRA
"The Old Refrain": Kreisler - BERENGARIA STRING QUINTET
(a) "Heart's Ease"  (Charles Willeby)
(b) "As I went a-roaming" .(May H. Brake)
Songs: MR. W. E. JONES 
"Do not go My Love" (Hageman)
"Trees" (Rasbach)
Dances        
Buck Dance: MISS JULIA NEALIS
Novelty Violin Number: MR. RAYMON DREXLER
Toe Tap: MISS JULIA NEALIS
Classical Valse: MADEMOISELLE THEO HEWES
Songs: MISS AMALIA RIVERA
(a) "La Maja" (Eruesto Lecuona)
(b) "Jurame"  (Maria Grever)
CHAIRMAN'S REMARKS AND COLLECTION
"Star Spangled Banner"         
"God Save The King"
To Be Followed by a Dance in the Ballroom

Distribution of Proceeds
The proceeds resulting from the various entertainments held from time to time on Cunard Steamers are distributed to various seamen's institutions and other organizations working in the interests of those who "go down to the sea in ships."
The institutions which benefit are:
BRITISH.
Royal Liverpool Seamen's Orphan Institution.
Home for Aged Mariners, Egremont
AMERICAN.
American Seamen's Friend Society.
Seamen's Church Institute.
Y.M.C.A. Mariners' Branch.
Y.M.C.A. Boys' Dept. (Mariners' Branch.)
Society for the Relief of Destitute Children of Seamen. Mariners' Family Asylum.
Toc H—Ships' Boys' Hostel.
St. Mary's Episcopal City Mission, Elast Boston.
CANADIAN.
Montreal Sailors' Institute.
Montreal Catholic Sailors' Club.
Other British Charities which are helped from time to time are :
Royal National Lifeboat Institution.
Royal Merchant Seamen's Orphanage, London.
Seamen's Orphanage, Southampton.
Sailors' Home, Southampton.
Missions to Seamen.
Seamen's Friend Society, Liverpool.
Seamen's Convalescent Hospital, Limpsfield.
Seamen's "Dreadnought" Hospital, Greenwich.
Concert Program on Board the RMS Berengaria in Aid of British and American Seamen's Institutions, 19 July 1929. GGA Image ID # 12a0ac1551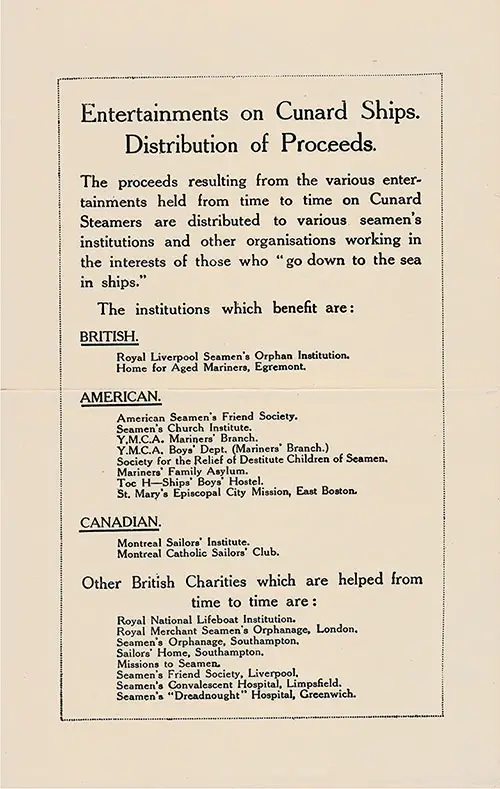 Distribution of Proceeds from Concert Program on Board the RMS Berengaria in Aid of British and American Seamen's Institutions, 19 July 1929. GGA Image ID # 12a0b5f56f