Program of Today's Events - RMS Queen Elizabeth - 30 August 1949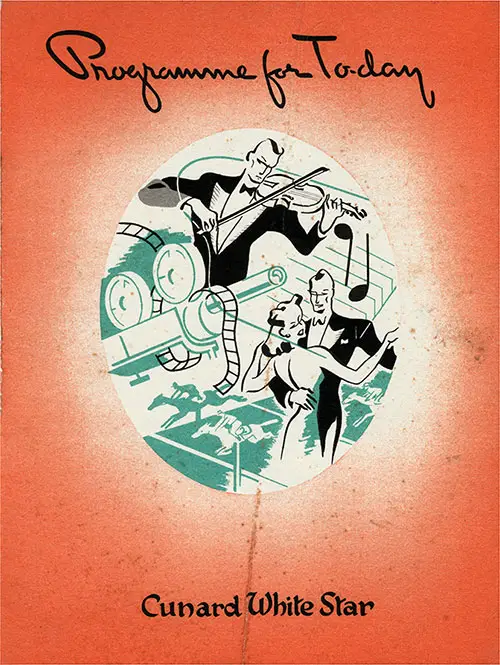 Front Cover, Today's Program of Events for Tuesday, 30 August 1949 on Board the RMS Queen Elizabeth of the Cunard White Star. GGA Image ID # 12a409453e
Program of Social and Sporting events onboard the RMS Queen Elizabeth of the Cunard White Star Line for Tuesday, 30 August 1949. Today's activities included movies, concerts, Rotary meeting, children's tea party, horse racing, cocktail hour, BBC newscast, dancing, and community sing-a-long.
Cabin Class CONCERT
It is proposed to hold a Concert during the voyage. Will any Passengers who are willing and able to assist please hand their names in at the Purser's Office.
CLOCKS
Clocks will be retarded one hour daily at 11.59 p.m.
KORN OFF THE OLD KOB
Two drunks were sitting in the train. One said to the other, as the train pulled into a station:
" Is this Wembley? "
" No, Thursday," came the answer.
" So am I," said the first drunk. " Let's get out and have one!"
PROGRAMME OF EVENTS
10.00 a.m.    Cinema: Film entitled OBSESSION - Cinema
10.45 a.m.    Mid-Morning Music - Winter Garden
11.00 a.m.    Rotary Meeting - Press Room Sun Deck
11.30 p.m.    Selections on the Hammond Organ (Relayed) - Smoke Room and Winter Garden
2.15 p.m.      Cinema: Film entitled OBSESSION - Cinema
3.30 p.m.      Selections on the Hammond Organ (Relayed) - Smoke Room and Winter Garden
4.00 p.m.      Children's Tea Party - Dining Room
5.00 p.m.      Music for Tea-Time - Winter Garden
5.15 p.m.      Horse Racing - Smoke Room
5.30 p.m.      Cocktail Hour - Shelter Lounge
8.30 p.m.      Dancing Time - Winter Garden
9.00 p.m.      B.B.C. News Broadcast - Smoke Room
9.15 p.m.      Cinema: Film entitled OBSESSION - Cinema
9.30 p.m.      Keno (Housie-Housie or Bingo) - Smoke Room
10.30 p.m.    On with the Dance (Music by the Garden Quartet) - Winter Garden
11.15 p.m.    "Kloud Klub" (Kommunity Singing) Shelter Lounge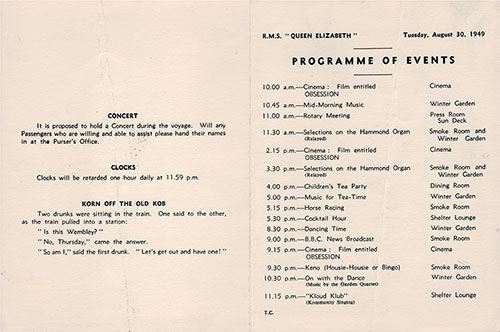 Today's Program of Events for Tuesday, 30 August 1949 on Board the RMS Queen Elizabeth of the Cunard White Star. GGA Image ID # 12a42bcb58