Cabaret Concert Program - RMS Samaria - 30 July 1936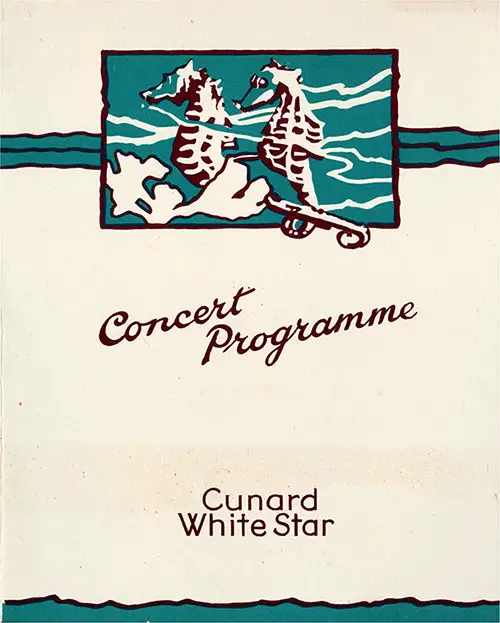 Front Cover, Cabaret Concert Program on Board the RMS Samaria, Thursday, 30 July 1936. GGA Image ID # 12ab632940
A Cabaret Concert in the Tourist Class Smoking Room onboard the RMS Samaria of the Cunard White Star Line on 30 July 1936. This charity concert benefited British, American, and Canadian Seamen's charitable organizations.
In The Tourist Smoke Room
Thursday, July 30th, 1936, at 9.15 p.m.
The following Artistes will contribute items during the Dancing :—
Mrs. L. Buxbaum
Miss L. Erihart
Miss Shannon Green
Mr. R. H. W. Parker     
Mr. P. McDermott
Mr. J. McKeown
Mr. J. Baguley
Mr. J. Harrison  
Mr. J. Reynolds
"Samaria" Orchestra
"Arkansas" Orchestra
A Collection will be taken on behalf of the Seamen's Institutions of Great Britain, Canada and U.S.A.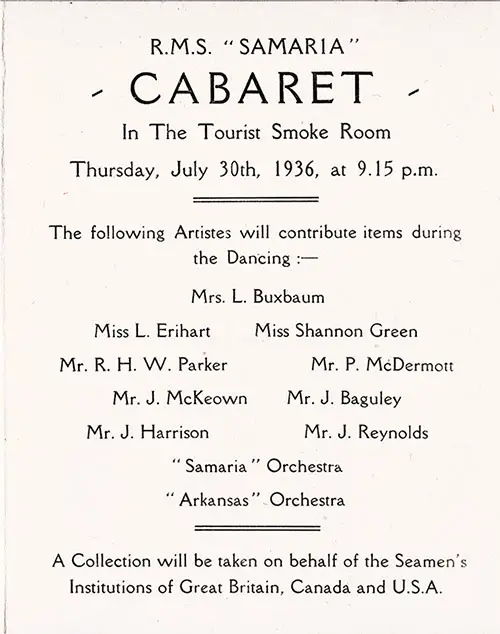 Cabaret Concert Program on Board the RMS Samaria, Thursday, 30 July 1936. GGA Image ID # 12ac2bbc22