Horse Racing Program - RMS Laconia - 1930s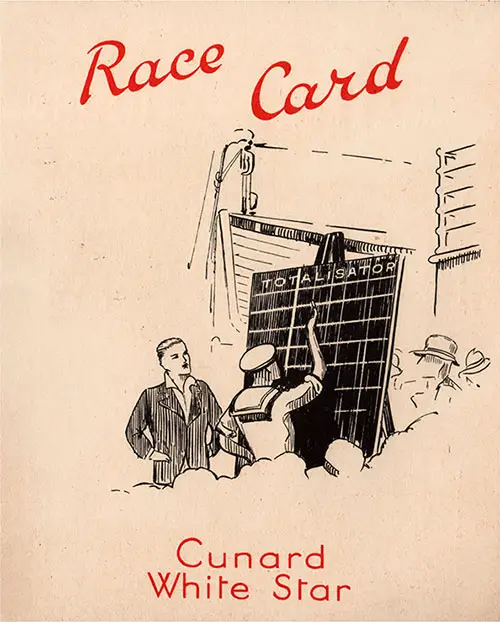 Front Cover, Horse Racing Program on Board the RMS Laconia, Undated but Circa 1930s. GGA Image ID # 12aa686ba8
Hilarious Horse Racing Program dating from the 1930s performed on the deck of the RMS Laconia of the Cunard White Star Line. Entries included Eve by Rib out of Adam, Jealousy by Nose out of Joint, Stampede by Sale out of Basement, etc.
HORSE RACING - TODAY AT 4:45 p.m.
R.M.S. LACONIA - CAPT. B. B. ORAM, R.D., R.N.R.
First Race              NEW YORK STAKES
Argument           by Hibernian out of Nothing
Bromo              by Head out of Condition
Curly                 by Barber out of Tongs
Don Juan           by Husband out of Sight
Eve                   by Rib out of Adam
Rats                  by Piper out of Hamelin
Second Race         BOSTON HANDICAP
Helen                 by Paris out of Troy
Jealousy            by Nose out of Joint
Kicker                by N out of Knicker
Solelost             by Nail out of Shoe
Nymph               by Goddess out of Mythology
Winkle               by Pin out of Shell
Third Race             DELAWARE PLATE
Relict                 by Survival out of Fittest
Stampede          by Sale out of Basement
Thrills                by Hugs out of Arms
Unpopular          by Skunk out of Temper
Weather            by Squalls out of Infant
Yodel                 by Gargling out of Exhilaration
Fourth Race           BELMONT PARK CUP
Anti                   by Opposition out of Anything
Cunard White Star by Fastidious out of Choice
Eggs                  by Skipper out of Hatch
Game                by Poacher out of Covert
Joan                  by Maid out of Orleans
Indolence           by Wontget out of Bed
No bets accepted after the bell rings.
"Tote" 1/- tickets will be sold on the course for each race. Winners will be paid immediately after each race.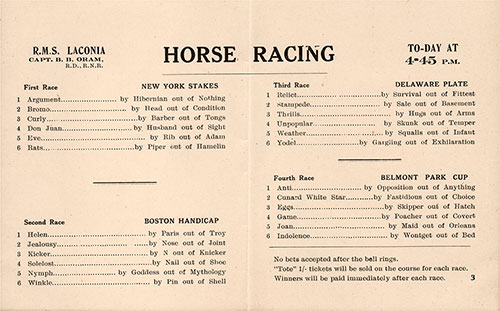 Horse Racing Program on Board the RMS Laconia, Undated but Circa 1930s. GGA Image ID # 12ab278ae9